A fresh and vibrant spring pea shoot salad, with sliced radishes and freshly chopped mint, topped with a sweet-and-tangy lemon-garlic dressing (with a dash of honey-Dijon). It's springtime in a bowl. Easy to make, and with only a few ingredients. It's naturally allergy-friendly and paleo. Can easily be made vegan, Whole30 and keto.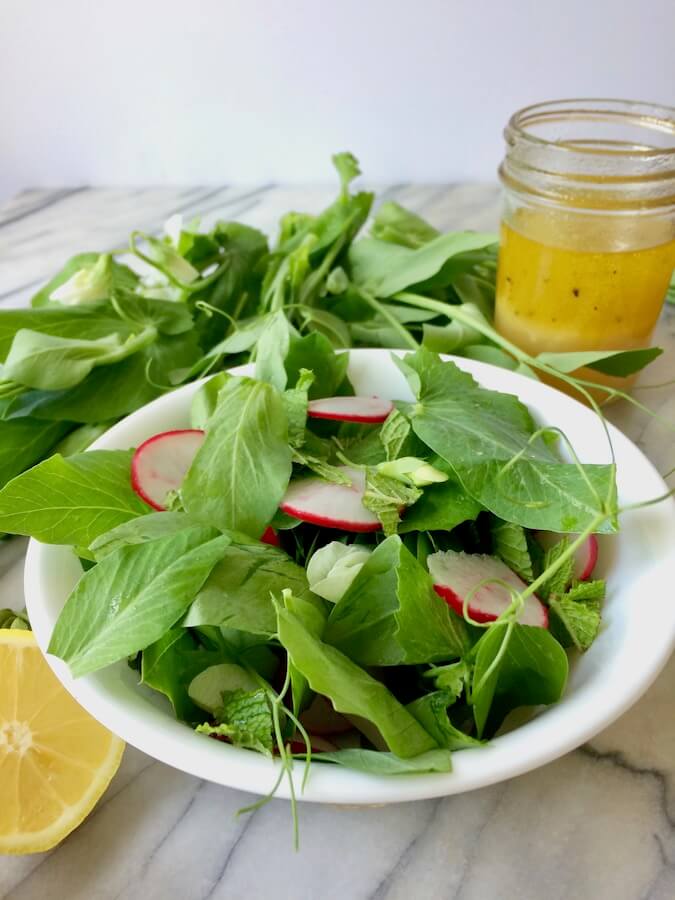 It's CSA season! We joined our local farm's weekly CSA (community-supported agriculture) this year, which means we get to pick up our share of each week's harvest directly from the farm, and then figure out what fun and delicious recipes we can make with what we get.
Our kids love it. We love it.
And you get so many new vegetables (read: purslane?!) to try that you may not have the space to grow yourself.
In this week's CSA box we got the three main stars of today's pea shoot salad recipe:
1 bunch pea shoots (also known as pea tendrils)
1 bunch radishes
1 bunch mint
(For those who may be curious, we also received some bok choy, a bag of nettles — which I'll be making into Nettle Tea — fresh oregano, rhubarb, and chives w/ chive flowers.)
So, I decided to make a quick, springtime pea shoot salad for two, using quite a bit of this week's bounty!
But first, for those wondering…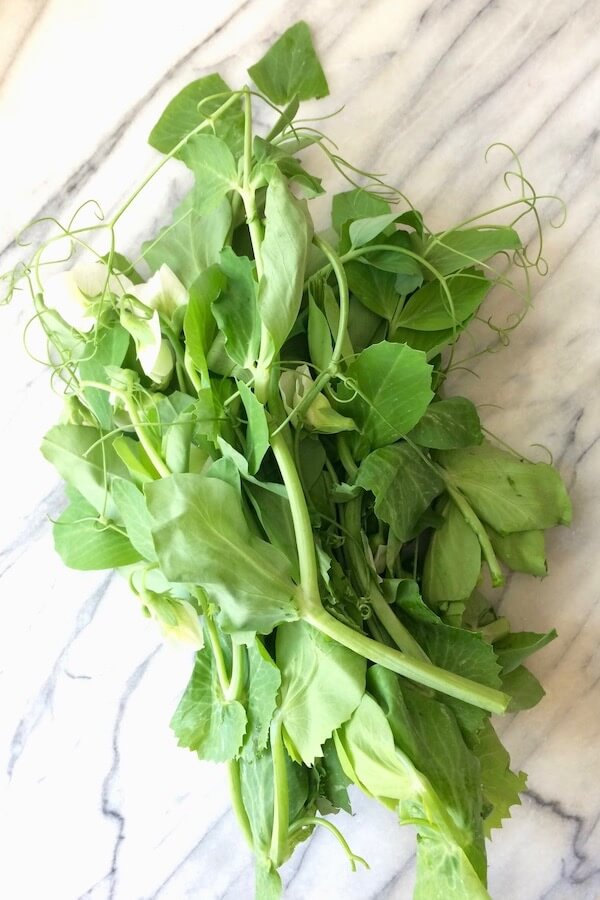 What is a Pea Shoot?
You'll sometime see recipes calling for pea shoots or pea tendrils, but these names are interchangeable and both refer to the leaves of the pea plant (usually snow peas or snap peas). And, as you'd imagine, they do have a slight pea flavor.
I love it when the leaves of plants offer another edible way of maximizing the uses of your harvest. (For example, see this recipe for a delicious Turnip and Radish Greens Sauté).
How to Use Pea Shoots
The leaves (and flowers!) are wonderful to use in place of lettuce in salads, or as a supplementary green to a salad mix. You can also add them to soups, stir fry, or simply sauté them. Another yummy and simple preparation is to gently cook them in some broth with garlic, and serve over rice.
Where to Buy Pea Shoots
Pea shoots are one of those veggies that you typically either need to grow yourself, or source at your local farmer's market. But, pea shoots have long been a popular ingredient in Asian cuisine, so if you have a specialty Asian market near you, you may have some success there.
Or, you know, buy your own micro-farm pea shoot starter kit on Amazon! You'll be up and running and in the pea shoot business in not time.
Pea Shoot Nutrition
Pea shoots are a nutrient-rich superfood in their own right! They are full of Vitamins A, B-6, C, E and K. And they're also a low-calorie source of beta carotene, folate, fiber, riboflavin and thiamine. Basically, they fall into the overarching "greens are good for you" category. So, eat them up and enjoy!
Now, one more thing I'd like to cover before diving in to the point of today's post — our pea shoot salad recipe — is the salad dressing.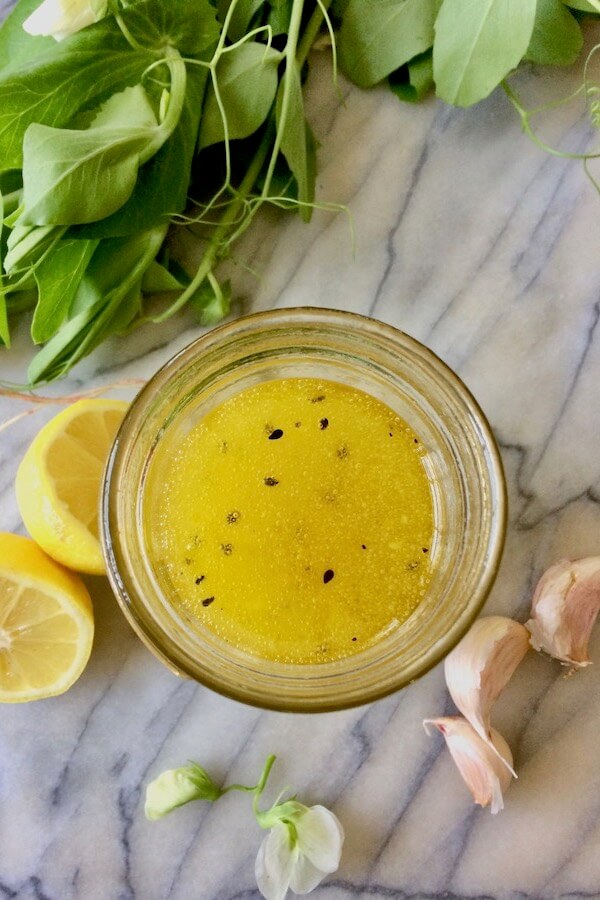 Lemon-Garlic Dressing (with Honey-Dijon)
This is one my favorite salad dressings to make, and it's great on all types of salads. It's basically a flavor-packed mashup of lemon-garlic dressing and honey-mustard dressing.
I love both dressings, so why not have it all?!
For the salad dressing recipe below, I kept the garlic levels on the tame side, but I have been known to throw as many as 4 or 5 garlic cloves into the mix. I like the spice! For our delicate spring pea shoot salad, though, I went with a more mild blend of all the flavors.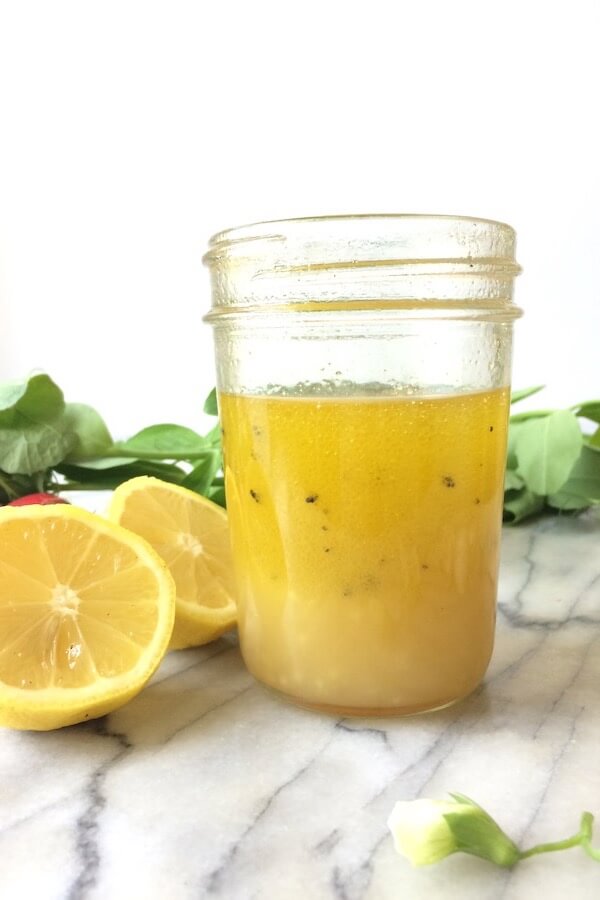 Please note that if you're on a low carb or keto diet, this salad dressing is not for you. But, fear not! I have a great roundup post that lists several store-bought keto salad dressings, as well as some DIY recipes you can whip up at home.
Also, as with most salad dressings, you can't really go too wrong with experimenting. For example, this dressing would still taste AMAZING without the honey (for Whole30). It would also taste great without the vinegar, and just using olive oil and lemon juice. See what you like!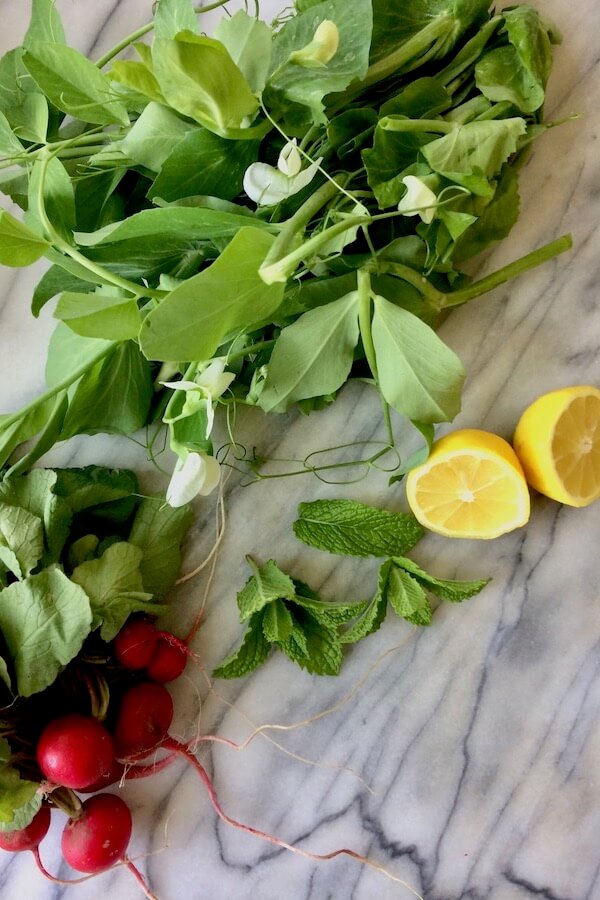 Special Diet Notes
As noted above, this recipe can easily fit into a low-carb or keto diet, as long as you use a keto-approved salad dressing. Same goes for Whole30. The veggies themselves are great for all types of diets, so it's all about sourcing a salad dressing that will work for you.
This salad, as well as the dressing are Paleo! Just make sure the Dijon mustard you're using is pure and doesn't have any artificial ingredients or added sweeteners. The honey in the dressing makes it okay for Paleo, but (sadly) not Whole30.
It's also an allergy-friendly recipe, although mustard, though not a Top 8 allergen, is fairly high on allergenic foods lists, so please be aware of that.
This recipe works well with vegetarian, and paleo diets, and is free of the Top 8 allergens (peanut free, tree nut free, egg free, dairy free, gluten free, soy free, and fish/shellfish free). It can be made vegan my omitting the honey from the salad dressing.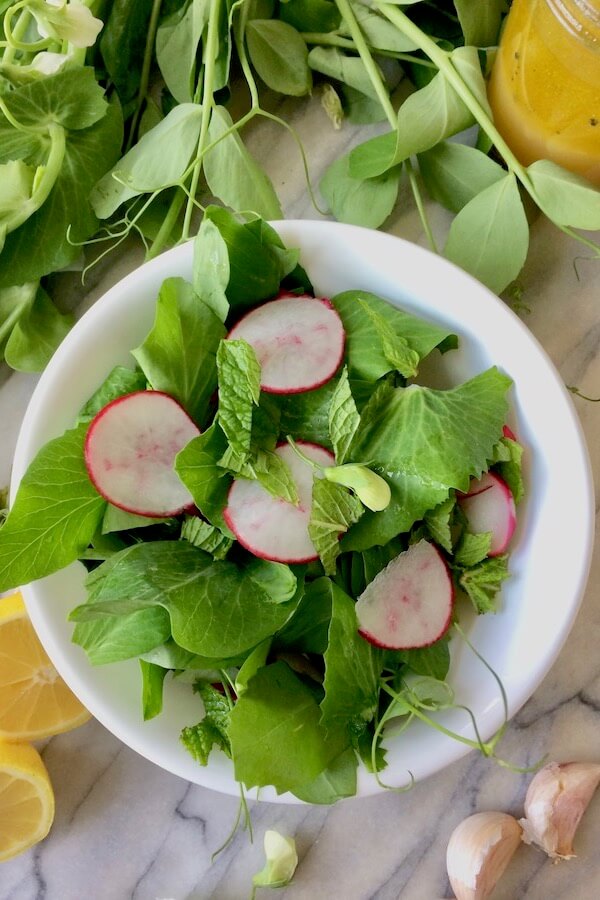 DID YOU MAKE THIS RECIPE?
Add a rating below, share it on Instagram, or save it to Pinterest! You can also find us on Facebook, too.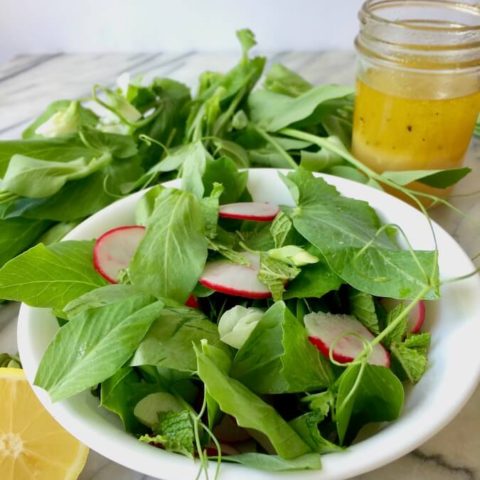 Spring Pea Shoot Salad with Lemon-Garlic Dressing
Yield: 2 servings

Prep Time: 5 minutes

Total Time: 5 minutes

A salad that tastes like spring, with garden fresh pea shoots, sliced radish, and chopped mint leaves, topped with a sweet lemon-garlic dressing (with a dash of honey-Dijon).
Ingredients
For the salad:
1 bunch pea shoots
5 radishes, sliced
1/4 cup fresh mint leaves, chopped
For the dressing:
2 tablespoons olive oil
1/2 garlic clove, minced
1 tablespoon lemon, juiced
1/4 teaspoon Dijon mustard
1/4 teaspoon honey
salt and pepper, to taste
Instructions
For the salad:
Wash the pea shoots in water and either pat dry with a towel or use a salad spinner.
Remove the leaves and flowers and place in a bowl.
Add sliced radish and chopped fresh mint and toss.
For the dressing:
Place all ingredients into a jar, put on the lid and shake to incorporate.
Taste, and adjust seasonings as needed.
Pour desired amount onto your pea shoot salad, toss and enjoy!
Nutrition Information
Yield 2 Serving Size 1
Amount Per Serving Calories 197Total Fat 14gSaturated Fat 2gTrans Fat 0gUnsaturated Fat 11gCholesterol 0mgSodium 173mgCarbohydrates 15gFiber 5gSugar 6gProtein 5g

This nutrition label is a product of an online calculator. Even though I try to provide accurate nutritional information to the best of my ability, these figures should still be considered estimates.

Please note this post may contain affiliate links and I will earn a commission if you purchase through these links (at no additional cost to you). Thank you for your support!