Whether you're specifically on a ketogenic (keto) diet, or just trying to make more daily low-carb food choices, a staple for eating more salads — with some pizazz — is to source some amazing, low-carb, keto salad dressings. I did some research, and here's my list of the best store-bought keto salad dressings (plus, a few homemade recipe ideas!)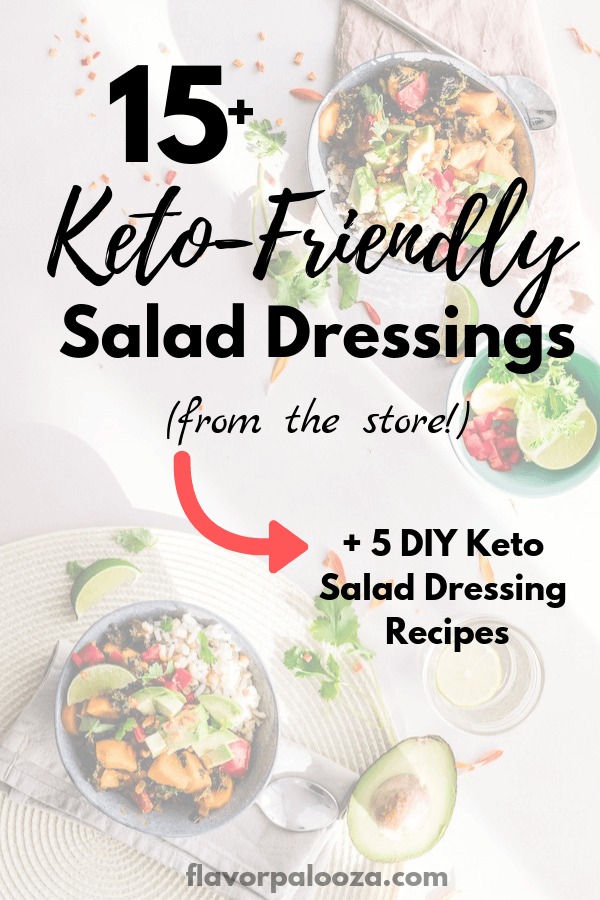 This post contains affiliate links, which earns us a commission if you click through and make a purchase (at no additional cost to you!). Please note that we only share products that we use and recommend.
Introducing: my roundup of some of the most talked about store-bought salad dressings in the keto community. PLUS, I'm including five DIY, homemade keto salad dressing recipes that you can whip up with simple ingredients you likely already have on hand in your kitchen and pantry.
Keep an eye out for the recipes at the end of the post (along with a quick-reference infographic of our top 5 keto salad dressing picks!)
Bonus: These salad dressings can also be used as keto-friendly marinades to jazz up your proteins too!
Let's get to it!
Best Store-Bought Keto Salad Dressings
In addition to being a fan of several of the salad dressings in this list myself, these are also the salad dressing choices I see recommended the most often on various keto community forums I'm a part of.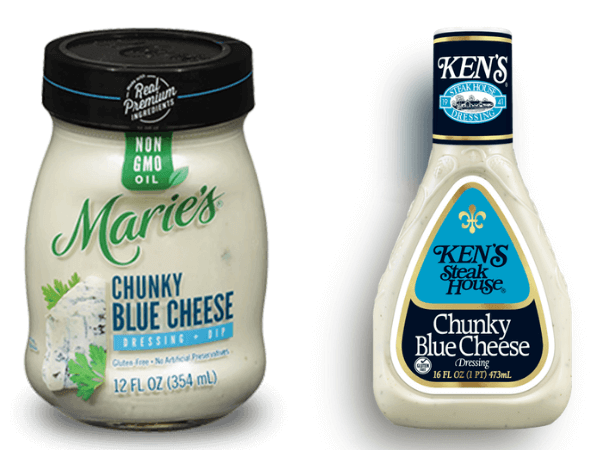 Best Keto-Friendly Blue Cheese Salad Dressing
The two store-bought blue cheese salad dressings that seem to get the most votes in the keto community are hands down Marie's Chunky Blue Cheese (1g carbs per 2 Tbsp serving) and Ken's Steak House Chunky Blue Cheese
(1g carbs per 2 Tbsp serving). And, both are typically very easy to find at most big grocery store chains.
Best Keto-Friendly Ranch Salad Dressing
In the ranch dressing category, Marzetti's Avocado Ranch (1g carbs per 2 Tbsp serving) salad dressing is an excellent choice. Marie's also has a creamy ranch dressing (1g carbs per 2 Tbsp serving) and Primal Kitchen
also has a tasty ranch dressing that's 2g carbs per 2 Tbsp serving).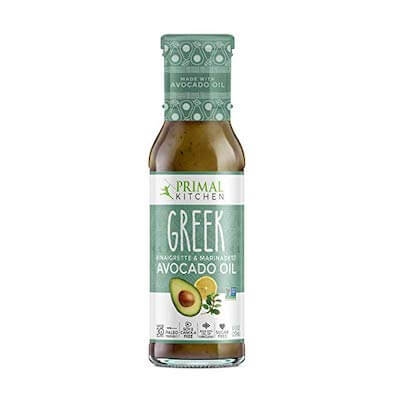 Best Keto-Friendly Greek Salad Dressing
Primal Kitchen has several keto-friendly salad dressings, but their Greek salad dressing
is definitely a favorite. It's made with avocado oil and has less than 1g of carbs per 2 Tbsp serving.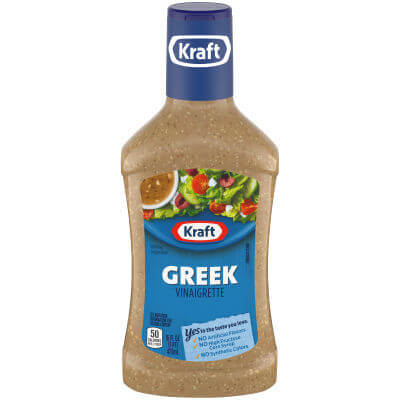 Available at a lower price point, another great Greek keto salad dressing option is Kraft Greek Vinaigrette
, which has 2g of carbs per 2 Tbsp serving.

Best Keto-Friendly Caesar Salad Dressing
One thing I love about Tessemae's products is that they're all clearly labeled on their website for the various diets. So, their Organic Creamy Caesar Dressing
(another favorite!) is Whole30 approved and Keto Friendly. It's also dairy free, sugar free and gluten free, and has 1g of carbs per 2 Tbsp serving.
A yummy honorable mention in the keto-friendly caesar dressing department is Ken's Steak House Creamy Caesar Dressing
, which also has 1g of carbs per 2 Tbsp serving.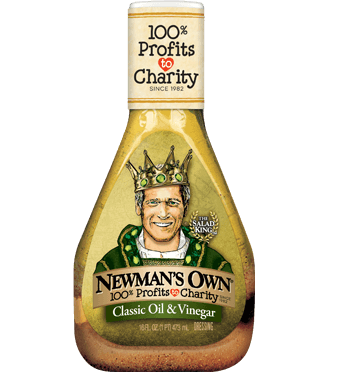 Best Keto-Friendly Vinaigrettes
My big winner in this category, clocking in at ZERO CARBS, is Newman's Own Classic Oil & Vinegar Salad Dressing
. You can't beat that! As the name suggests, it's a classic choice and it's so, so, so good.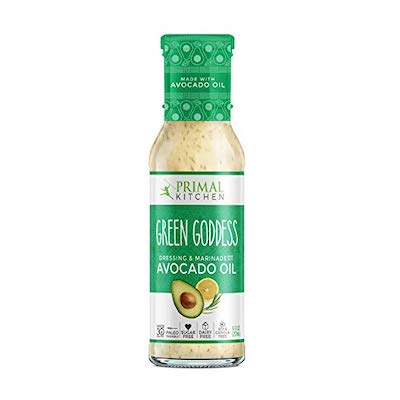 Another extremely popular choice is Primal Kitchen Green Goddess Dressing
. It has less than 1g of carbs per serving and is made with avocado oil, apple cider vinegar (ACV), tarragon, black pepper, garlic cloves, chives and parsley.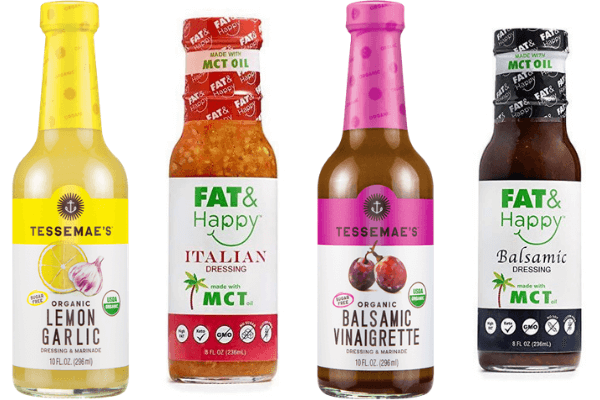 Then, there's FAT & Happy. The keto salad dressings from FAT & Happy are made with MCT oil, which is supposed to allow for a less restrictive fat to protein and carbs ratio when trying to remain in ketosis while on a ketogenic diet. In fact, here's what they say on their website:
A low carb, moderate protein, high fat diet that pushes the body into a state of ketosis. Traditionally, a ketogenic diet calls for a 4:1 ratio of fats to protein and carbs. Several alternative versions now exist, including modified Atkins and MCT Oil diets.

Adding MCT's into a traditional ketogenic diet allows for a less restrictive 2:1 ratio of fat to protein and carbs.
Both the FAT & Happy Balsamic Dressing
and Italian Dressing
are super good. The Italian boasts ZERO carbs per serving (cha-ching!) and the balsamic has only 1g of carbs per 2 Tbsp serving.
So many great choices.
I also love Tessemae's Organic Balsamic Vinaigrette
and Organic Lemon Garlic Dressing
. The Lemon-Garlic dressing is AWESOME as a marinade (or for salads, too) and has ZERO CARBS per serving. And, their balsamic vinaigrette only has 1g of carbs per 2 Tbsp serving, which ain't bad. Another excellent product.
What do YOU think the BEST store-bought keto-friendly salad dressings are?
Let me know in the comments below! Also, I'd love to hear some of your favorite ways of using them to complement your meals as marinades and such.
If you'd prefer to make your own salad dressings, which is typically a more budget-friendly choice, I'm including 5 do-it-yourself recipes for homemade keto salad dressings below!
5 DIY Keto-Friendly Salad Dressing Recipes
1. Easy Greek Salad Dressing (Keto) from Flavor the Moments – The quick and easy way to make Greek salad dressing with just a few simple ingredients. You'll never buy it again!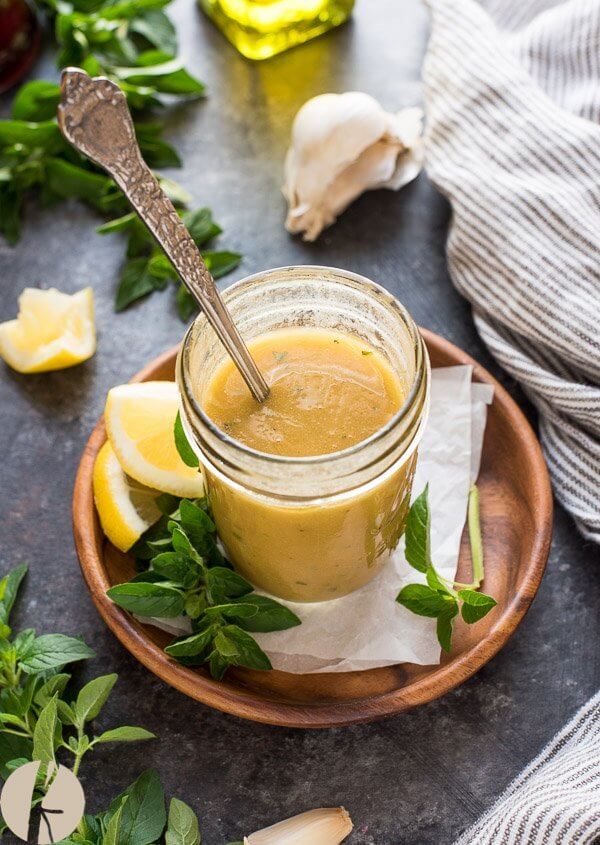 2. Italian Dressing Recipe (Paleo, Keto, Whole30) from Cook Eat Paleo – This Italian dressing recipe is so easy to make and tastes so much better than store bought. Just throw a few fresh ingredients into a bottle and shake. This paleo, keto, and Whole30 salad dressing will become your go-to Italian dressing!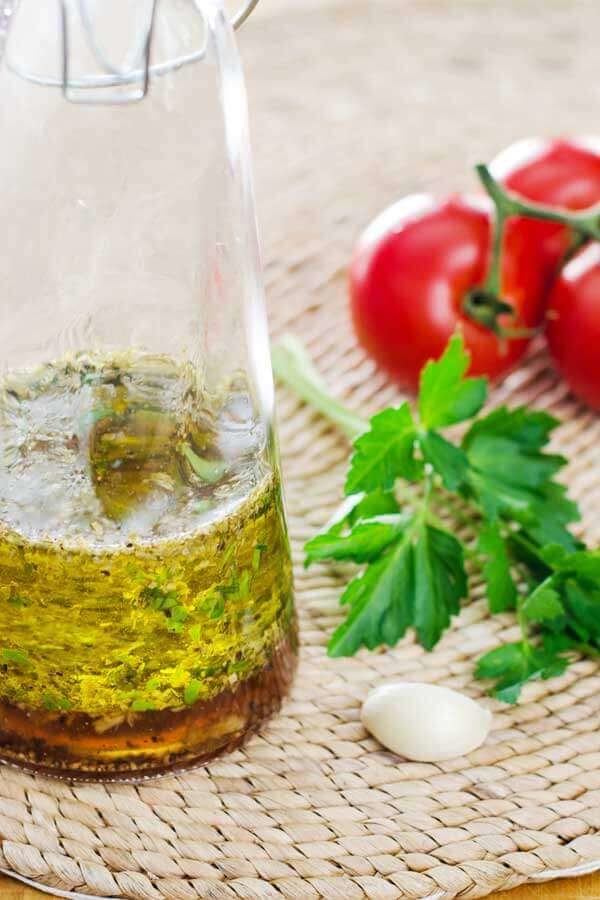 3. Five-Minute Creamy Ranch Dressing (Keto, Paleo, Whole30) from The Organic Kitchen – Fresh, homemade Creamy Ranch Dressing. It's the best for salads, dipping veggies, and topping burgers. And you know what's even better? When you can make that dreamy dressing in five minutes and make it Paleo, Whole30 or Keto compliant.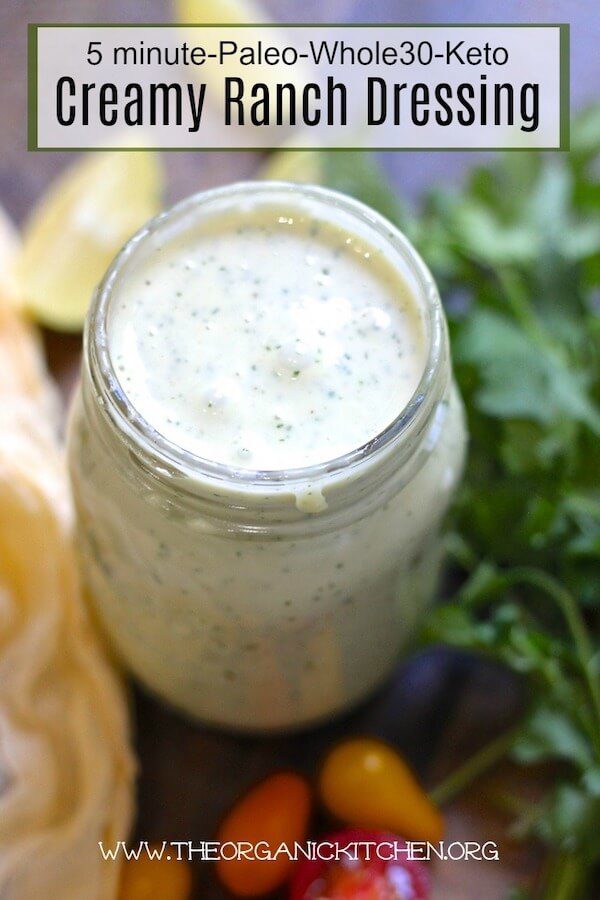 4. Paleo Ranch Dressing (Dairy-Free, Keto, Whole30) from Peas and Crayons – Ditch the sketchy processed bottled dressing and whip up this super quick, super easy, homemade paleo ranch dressing!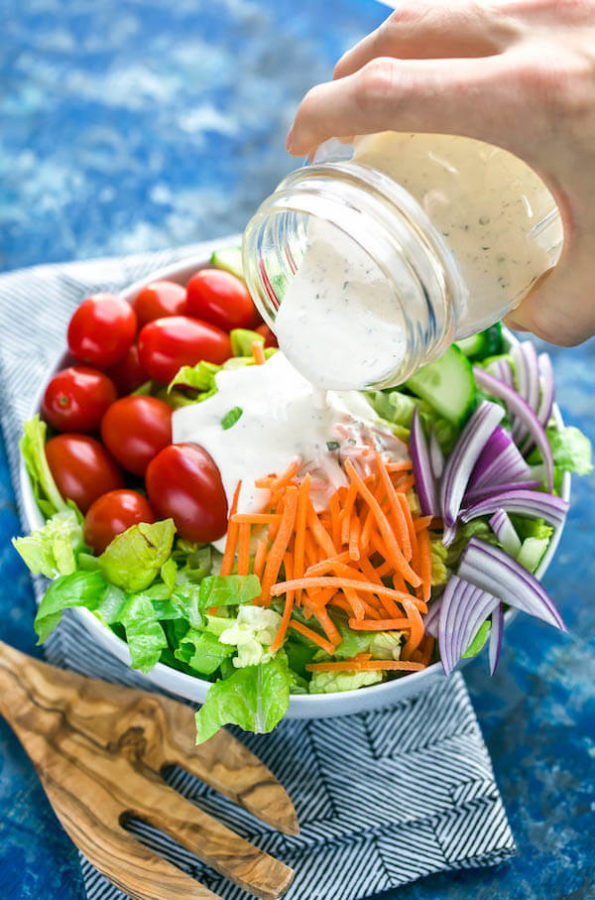 5. Creamy Balsamic Dressing from Wholesome Yum – An easy, creamy balsamic dressing recipe – versatile for so many salads. Creamy balsamic vinaigrette needs just 5 ingredients and takes 5 minutes!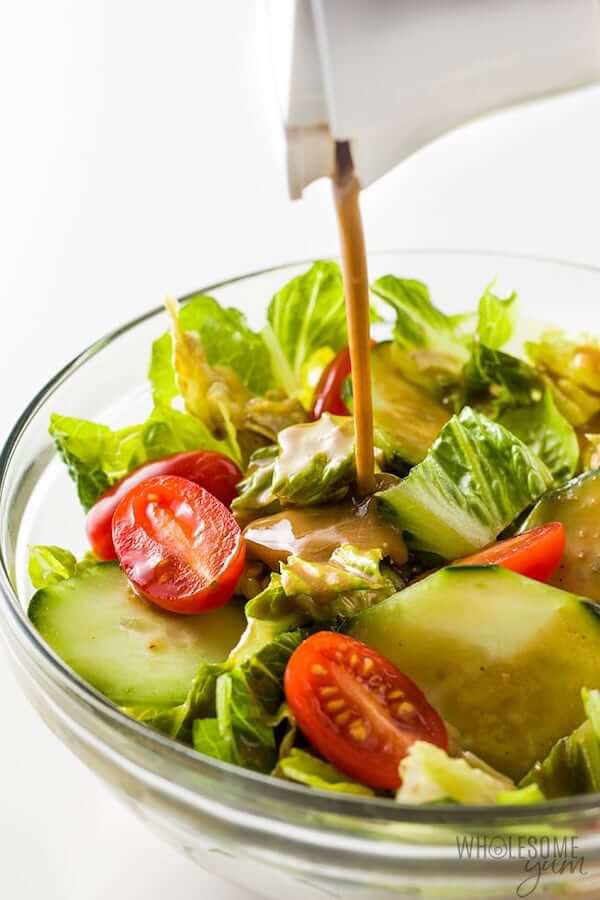 I hope you found this roundup of keto salad dressings (from the store and from your pantry) helpful!
Bonus: Here's a pin-able infographic cheat sheet of the "winning" store-bought choices for you (including their total carbs for easy reference)!
Best sure to Pin it! And, while you're at it, why not follow me on Pinterest — thanks!