This hearty Instant Pot split pea soup recipe can be made in less than an hour! It's a healthy and filling dinner, and is the perfect recipe to make when you have a leftover ham bone from the holidays (Easter, Christmas, etc.)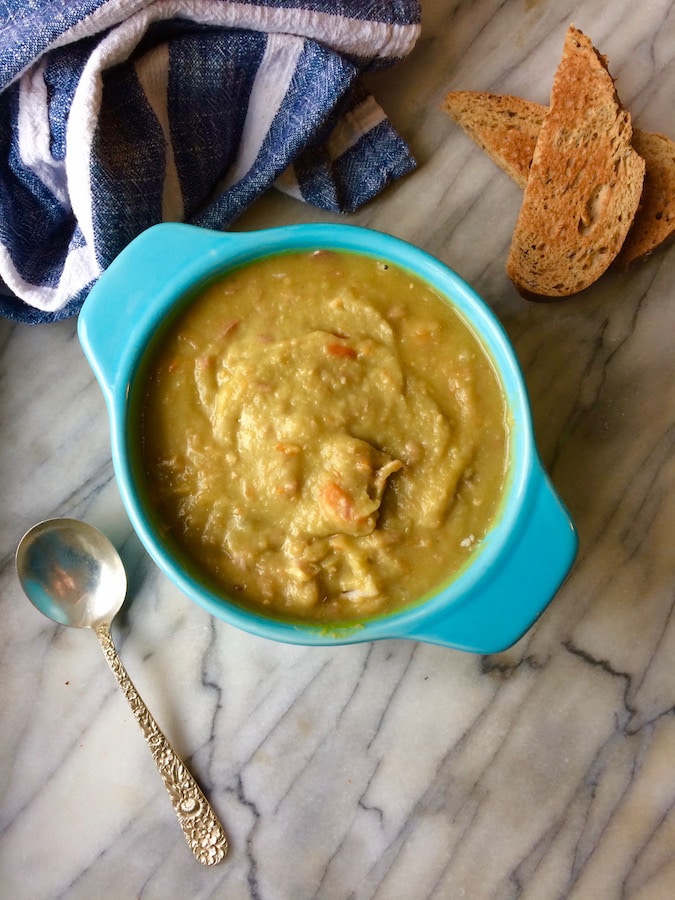 This hearty, delicious bowl of Instant Pot split pea soup magically appeared in less than an hour this weekend. Yep, quick! Less than an hour is magic time warp speed for good split pea soup. And all thanks to our Instant Pot.
Did you get an Instant Pot
recently? Have you joined in on the Instant Pot
craze? I hope so! It's such a time saver — for busy moms, busy dads, busy people, really. My husband is a renegade Instant Pot master. He doesn't even look up recipes anymore. He just tosses things in, all experimental-style, does some guesswork on timing, hits some buttons and (voilà!) we suddenly have an amazing dinner on the table that seemingly appears out of thin air. MAGIC. Pure magic, I tell you.
We've had our Instant Pot for a few years now, but up until recently, we'd really only used it quick-cook beans, without having to presoak, etc. But lately we've been inspired to lean on it HARD for insta-dinners, since out little ones are making it harder and harder to find the extra time to pull meals together. One of my favorite resources for Instant Pot ideas lately has been the Pinch of Yum food blog. They even did a big Instant Pot recipe series recently, which you really should check out.
So, back to this yummy, warming bowl of Instant Pot split pea soup, filled with straight-off-the-bone ham, carrots, onion and celery. We had a huge ham bone, with LOTS of meat still on it, that we'd saved in our freezer after enjoying several wonderful meals from the big, holiday ham we'd purchased. The key to this recipe is that ham bone, so if you don't have one on hand, you can either do the same (buy a ham, prepare several meals, and save the bone for soup), or you can source a ham bone from the grocery store just for making this tasty soup. Either way, you gotta have a tasty ham bone.
After that, all you need is a one pound bag of split peas, your basic mirepoix (onion, carrots, celery), some broth (or water), a dash of spice and an Instant Pot. Note: Remember you won't need to add salt to this recipe. I had to remind myself, since I'm so used to adding S&P in the seasoning process. But, this soup will be salty enough just from the ham/ham bone.
In terms of prep and cook time, I'm listing a more realistic pot-to-table timeline. Quite often I'll see Instant Pot recipes that list the Instant Pot cook time (e.g. set your pot to 25 minutes) as the actual cook time, when, in reality, it can take the pot 15 to 20 minutes to get up to pressure, before the 25 minutes of IP cook time starts to count down. So, for this recipe, I'd say between the saute portion, the "get up to pressure" timeline + the actual pressure cooking time, you're looking at just under an hour from start to finish. Which, when it comes to split pea soup, ain't bad at all! Plus, one of the biggest bonuses when using the Instant Pot, is you really get "set it and forget it." Once you pop that lid on and get it going, you can go about your busy life and get back to it when it's done. Awesome.
Special Dietary Notes
No allergy substitutions necessary for this one! Just check your split pea package to make sure they're safely sourced (no "may contains" notes, etc.), and otherwise this is a naturally Top 8 Free meal. WOO HOO! Very allergy friendly.
Note: This post contains affiliate links to the Instant Pot we own on Amazon. Although we receive some $$ if you purchase one through this link (thank you!), it's being included here because we love it and highly recommend it.
Hearty Instant Pot Split Pea Soup
A hearty Instant Pot split pea soup recipe that can be made in less than an hour!
Ingredients
1 lb bag dried split peas, rinsed, sorted
1 ham bone
1 onion, diced
2 carrots, diced
2 stalks celery, diced
2 tablespoons olive oil
3 cloves garlic, pressed or minced
2 bay leaves
Dash dried thyme or marjoram
6 cups stock (or water)
ham, from bone, or diced separately
Instructions
Place the olive oil, onion, carrots, celery and your spices of choice into the Instant Pot and hit the "Sauté" button. Let your mirepoix soften a bit, stirring occasionally.
Add the garlic, bay leaves, ham bone and stock/water to the Instant Pot and let everything come to a simmer. Then, add in split peas. Close the lid. Make sure the vent is closed. Then, set it to Manual High Pressure for 25 minutes.
When the cycle completes, release the pressure vent and allow the pressure to escape.
Remove the ham bone and bay leaves and cut off any remaining ham to add back into the soup. And/or, add diced ham that you've prepared separately to the pot. Give the pot a stir and then you're ready to serve!
Nutrition Information
Yield

6
Serving Size

1
Amount Per Serving
Calories

295
Total Fat

10g
Saturated Fat

2g
Trans Fat

0g
Unsaturated Fat

7g
Cholesterol

36mg
Sodium

802mg
Carbohydrates

29g
Fiber

7g
Sugar

8g
Protein

23g
Recipe originally published in January, 2018 — occasional updates and recipe adjustments made.