If you or someone you love has a peanut allergy and/or a tree nut allergy, then this nut free candy list is for you! We did the research, and we've included links to brand allergen statements for your peace of mind. Note: This list is updated regularly + feedback is encouraged.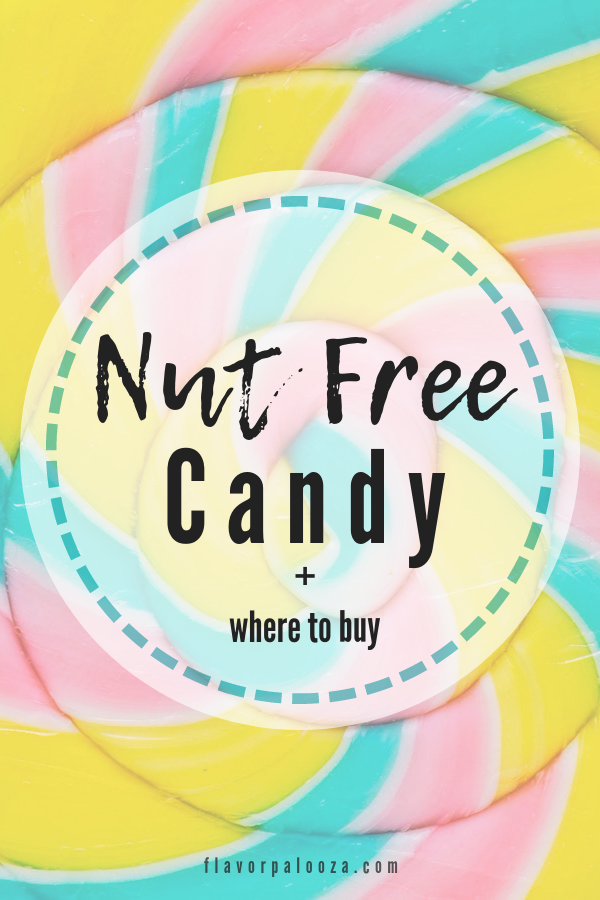 When my son was first diagnosed with his peanut allergy and tree nut allergy, my head felt like it was going to explode — as I began thinking about all of the things he may miss out on: treats at school, casual trips to the candy store, trick-or-treating on Halloween, Easter egg hunt goodies, Valentine's Day sweets, classic movie theater candies, and on and on and on.
Luckily, with a bit (read: a lot) of research, I discovered there are actually quite a few tree nut and peanut free chocolate and candy options for him! I've also found that it's crucial that I have some of these safe treats on hand at all times, in case we're faced with "treat situations" when we're out and about. I call them "treat situations," because you just never know when an ice cream truck is going to pull up, or something similar, and you need a safe option on hand!
If you've discovered any other nut free chocolate or nut free candy options out there, please let me know. I'm always updating these lists.
Note: Please use these lists as a guide, but do your own research to make sure the products listed are 100% safe for your family and your situation. Where available, I included links to brand allergen information pages, for your easy, up-to-date reference. Check and recheck and recheck, as manufacturing processes change constantly. Also, although peanuts are technically a legume and not a nut, I often use the term "nut free" to mean both peanut free and tree nut free.
Please note that some of the links in this post are affiliate links and I will earn a commission if you purchase through these links (at no additional cost to you).
The Ultimate Nut Free Candy List
Last Updated: January, 2020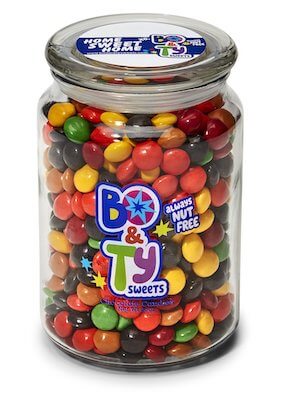 This nut-free company was founded by two allergy moms. They specialize in allergy friendly lunchbox treats, party favors and gifts for holidays and special occasions, and they ship nationwide!
>> Buy Bo and Ty Sweets on their website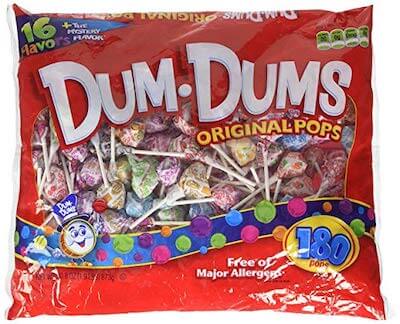 (Spangler) – These classic lollipops are free of the Top 8 allergens! (Allergen Information)
>> Buy a grab-bag variety of Dum Dum Pops on Amazon
Gimbal's candies, including jelly beans and other assorted candies, are peanut free, tree nut free, gluten free, dairy free, soy free and egg free.
>> Buy some of their allergen-free jelly beans (made with real fruit juice!) on Amazon!
They offer a large selection of gummy candies, including seasonal treats. Most packages I've seen label as being peanut and tree nut free. Plus, I received an email from their customer service team (February, 2019) stating that all of their products are peanut and tree nut free, and that they're made in a peanut-free facility. However, their facilities in Germany handle coconuts.
If the package you're holding specifically says "Peanut Free" on it, then you can be confident they were manufactured in a peanut-free facility. This is not the case 100% of the time, though, so look for the label on your package. For tree nuts, they currently manufacture almonds and coconut in their facilities, so while there aren't any tree nuts in the jelly beans themselves, they're not manufactured in a tree nut free facility. (FAQ)
(Hershey's) – Of the Top 8 allergens, this product only contains soy, so Jolly Ranchers are peanut and tree nut free. View Hershey's allergen policy here, and click the name of the product to view its "smart label" for more info. I also received an email from Hershey's (June, 2019) confirming that Jolly Rancher Hard Candy is "made in plants that do not manufacture peanut or tree nut containing products."
They have a bunch of candy offerings that are free of the top 8 allergens, and they have a really cool "filter by" search system that allows you to find candies that are tailored to your exact allergies / dietary restrictions. Pretty cool!
PEZ Candy is peanut, tree nut, soy and gluten free! A great option for holidays, since PEZ typically offers seasonal dispensers for Halloween, Easter, Christmas, etc.
On their website, they state that Red Vines do not contain peanuts or peanut oil and that they are manufactured in a nut-free facility. (FAQ) I received an email from their customer service (August, 2019) inquiring about tree nuts and this is what they confirmed that their products are peanut and tree nut free, and that their manufacturing facility is peanut and tree nut free. They did warn that their facilities are not completely nut free, because vendors and employees are not restricted from bringing nuts into the administrative offices and lunch room areas, but that they are required to wash hands, etc. before entering production areas.
A chocolatey candy that's nut free and gluten free.
(Wrigley) – I wasn't able to find proper info on their website, but received this reply from their customer service (Feb, 2019): None of our products sold in the U.S. contain any peanuts or tree nuts. All of our products are made on lines that aren't shared with peanut or tree nut products, and they also don't contain peanuts, tree nuts or traces of them. Please note, that all of Wrigley's products are labeled within strict compliance of applicable laws and FDA regulations, including the Food Allergen Labeling and Consumer Protection Act of 2004.
(Spangler) – A classic candy that's always been a Halloween trick-or-treat favorite. And it's free of the Top 8 allergens!
Makers of organic, allergen-free mints, candy and cocoa. Free of the Top 8 allergens.
(Wholesome) – A selection of peanut free and tree nut free gummy candies and more.
(Ferrero USA) – These popular, colorful, tiny mints are peanut free and tree nut free, made in an entirely peanut and tree nut free facility.
(Hershey's) – I received an email from Hershey's (June, 2019) confirming that Twizzler Twists are "made in plants that do not manufacture peanut or tree nut containing products."
Peanut free and tree nut free lollipops, gummies and beans. Yum. Buy online or use their store locater.
Nut Free Tootsie Candy
All of Tootsie's confections are completely peanut and tree nut free. YES! They have no peanut or tree nut products in any of their manufacturing plants, with the exception of their Andes Cookie Mix, which is made in a separate facility. Note: At this time, all of their confections are also gluten free.
Here's an at-a-glance list of some of the popular Tootsie-brand candies you know and love (and can safely give to your peanut/tree allergic child!):
Andes Mints
Charleston Chew
DOTS
Dubble Bubble
Junior Mints
Sugar Babies
Sugar Daddies
Tootsie Pops
Tootsie Rolls
Curious About Nut Free Wonka/Nestle Candy?
Here's what the company sent to me (July, 2018):
"We always label the eight major food allergens on our package by their common name. If the product does not contain one of the known eight allergens, but is made on the same line with potential for cross contact, or in the same facility with potential for cross contact, we add at the end of the ingredient listing that it 'May Contain' the allergen. We do not have dedicated peanut or tree nut free lines or facilities. Precautionary measures include thorough cleaning of our production lines and equipment and a strict separation of materials that contain the eight allergens.
Bummer. That means their seemingly nut-free candies, like Bottlecaps, Fun Dip, Chewy Gobstoppers, Laffy Taffy, Nerds, SweeTARTS Chewy Sours, SweeTARTS Mini Chewy, and SweeTARTS Ropes are NOT ideal for families that need to avoid shared facilities and/or lines.
Luckily, there are a lot of other ideas on this list to choose from!
***
If you're a parent of a child with any type of food allergy, or if you're simply an allergy-aware parent looking for safe, non-food holiday and birthday treats to bring to school, then Oriental Trading Company is your friend. They have all sorts of fun party favors, and holiday-themed toys and gifts.
***
Does your child have a peanut allergy? I love recommending the book Peter Can't Eat Peanuts
to parents. It's an approachable story that has really resonated with and empowered my son. Available on Amazon!
Another favorite is Daniel Has an Allergy, featuring the beloved Daniel Tiger. Also available on Amazon.
More Nut Free Lists: