A comprehensive, up-to-date guide to nut free Los Angeles, including nut free bakeries, nut free restaurants, nut free ice cream shops, and other allergy-friendly restaurant options.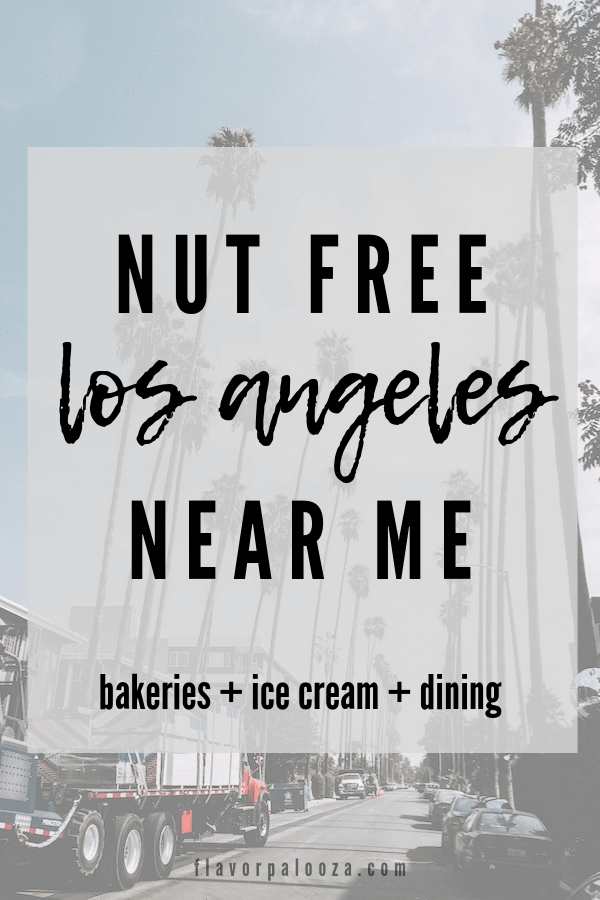 Los Angeles is my home away from home (I'm currently living in Boston), so I wanted to create this Nut Free Los Angeles or Nut Free LA list ASAP. I lived in LA for, gosh, something like 12 years I think? All of my 20s and the beginning of my 30s. So yeah, I have some fun memories from living there, and I hope to call it "home" again someday.
If you're looking for another Nut Free Near Me city guide, check out our current list of cities (note: more being added soon!).
If there's a great nut free restaurant, nut free bakery, nut free ice cream parlor or nut free, well, venue of any sort that's near you, please send me an email with the name, phone number and address so I can add it to our listings!
Nut Free Los Angeles Guide
Last updated: February, 2019
Looking for peanut free and tree nut free bakeries, restaurants, ice cream shops and more in Los Angeles, CA? You'll find a (hopefully) comprehensive list of options by category below. We're constantly updating and editing the list, so it should be accurate. Of course, venues are always opening and closing, so please call ahead to confirm. And, if you see any edits/errors or if you know of any listings that are missing, please let us know!
Nut Free Bakeries in Los Angeles
Looking for nut free cupcakes, nut free cookies, nut free breads, nut free cakes and more in Los Angeles? Here's our list!
Erin McKenna's Bakery NYC – This bakery is gluten free, vegan and kosher. They don't bake with peanuts or tree nuts (except for coconut), but the gluten free flour they use (Bob's Red Mill) is processed in a shared facility with tree nuts. Use your own judgment and caution.
855-462-2292
236 North Larchmont Blvd.
Los Angeles, CA 90004
Sensitive Sweets – Serving freshly baked breads, cookies, cupcakes, and custom cakes that are gluten free, dairy free, egg free, soy free, peanut free, tree nut free, and sesame free, and are baked in a dedicated gluten-free and nut-free facility.
714-968-9169
17431 Brookhurst St.
Fountain Valley, CA 92708
Nut Free Ice Cream in Los Angeles
Cocobella Creamery – Their menu is 100% dairy free, vegan and gluten free. They also claim to be "allergen friendly," noting the menu items that have nuts or soy in them, and none of their menu items currently feature peanuts (in fact, they have a sunbutter cup flavor). Proceed w/ proper questions and caution.
(323) 848-4672
1253 Vine St., #12
Los Angeles, CA 90038
Kippy's! Ice Cream Shop – Serving raw, organic, non-dairy, coconut-based ice cream sweetened with raw local honey or organic dates (vegan). All ice creams are peanut free, tree nut free, dairy free, soy free, and gluten free. Note that they do serve spiced pecans as a topping, so cross-contact with tree nuts is possible.
424-387-8765
245 Main Strert #3D
Venice, CA 90291
Nut Free Restaurants in Los Angeles
Hugo's Restaurant – They have a 100% peanut free kitchen. Plus, they have a downloadable menu PDF that clearly outlines which menu items contain the other common allergens.
Studio City
(818) 761-8985
12851 Riverside Dr.
Valley Village, CA 91607
West Hollywood
(323) 654-3993
8401 Santa Monica Blvd.
West Hollywood, CA 90069
Allergy-Friendly Los Angeles Restaurants
These are restaurants with excellent allergy training in place, separate menus indicating items containing allergens, etc. One recommendation is to ASK QUESTIONS, because most of these restaurants are ensuring you there aren't any nuts in your meal, and that it will be prepared in a clean space, safe from cross contamination. But, most cannot guarantee that all ingredients are made in dedicated, allergen-free facilities. So, it all depends on the severity of your allergy and your comfort level with each venue.
Maggiano's Little Italy (locations at The Grove in Los Angeles, Woodland Hills and Costa Mesa) – peanut-free kitchen; staff is allergy trained and dedicated to providing a safe dining experience
P.F. Chang's (multiple locations in the greater Los Angeles area) – an allergen matrix is available for all menu items
Red Robin Gourmet Burgers & Brews (multiple locations in the greater Los Angeles area) – they have an interactive online allergen menu, which you can find here. Cool!
Real Food Daily (Pasadena, West Hollywood & LAX locations) – menu items are listed with allergen information, such as peanut free, gluten free, etc. Cross-contamination in the kitchen is a potential issue, but they claim to do their best to provide safe meals.
Nut Free Fast Food
Chipotle (multiple locations nationwide) – No items in their restaurants contain peanuts or tree nuts, but they cannot guarantee the complete absence of these allergens
In-N-Out Burger (multiple locations in the greater Los Angeles area) – Their food does not contain peanuts, tree nuts, sesame, shellfish or fish. Check out their downloadable allergen PDF here.
Does your child have a peanut allergy? I love recommending the book Peter Can't Eat Peanuts
to parents. It's an approachable story that has really resonated with and empowered my son. Available for only $5 on Amazon!