A comprehensive, up-to-date guide to nut free Boston, including nut free bakeries, nut free restaurants, nut free ice cream shops, nut free tourist information and more.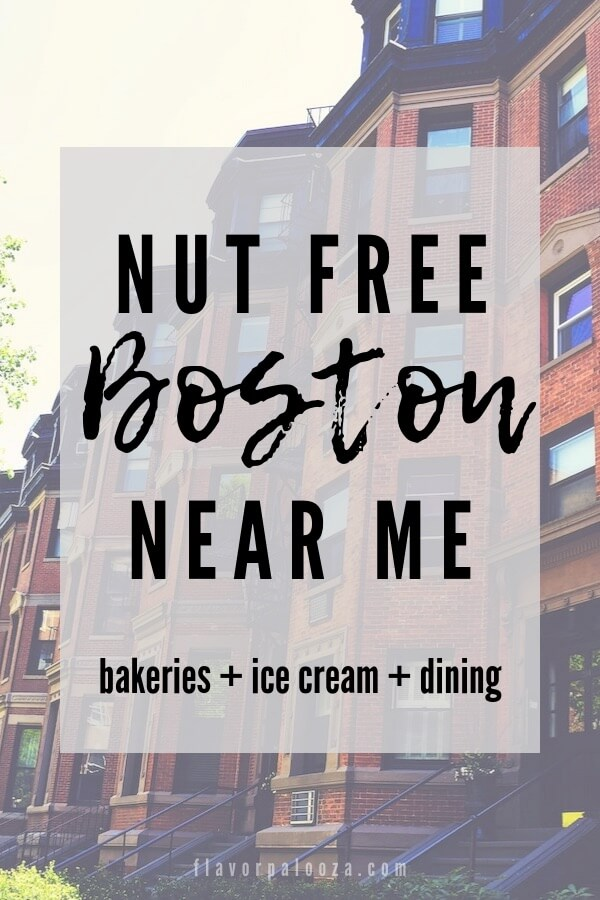 Some of the links in this post are affiliate links and I will earn a commission if you purchase through these links (at no additional cost to you).
Since I'm currently living in the suburbs of Boston, MA, I've decided to make Boston my first Nut Free Near Me city. Check back, as more cities will be added soon. And, if there's a great nut free restaurant, nut free bakery, nut free ice cream parlor or nut free, well, venue of any sort that's near you, please send me an email with the name, phone number and address so I can add it to our listings!
First, if you're heading to Boston, you should grab the Not For Tourists Guide to Boston:
Ok, on to our nut free city guide!
Nut Free Boston Guide
Last updated: May, 2020
Looking for peanut free and tree nut free bakeries, restaurants, ice cream shops and more in Boston, MA? You'll find a (hopefully) comprehensive list of options by category below. We're constantly updating and editing the list, so it should be accurate. Of course, venues are always opening and closing, so please call ahead to confirm. And, if you see any edits/errors or if you know of any listings that are missing, please let us know!
Nut Free Bakeries in Boston
Looking for nut free cupcakes, nut free cookies, nut free breads, nut free cakes and more in Boston? Here's our list!
Annie May's Sweet Cafe – This popular, allergy-friendly Louisville, KY bakery opened up a second location in the Boston area in November, 2019. They are a Top 8 allergen free bakery, except for coconut (Allergen Disclaimer). Great place for cakes and cupcakes!
(617) 928-5846
108 Madison Ave.
Newtonville, MA 02460
Blacker's Bakeshop – A kosher/pareve (dairy free) and nut-free bakery with vegan options
(617) 332-2008
543 Commonwealth Ave.
Newton, MA 02459
CAKE. – CAKE is a nut free bakery and also provides gluten free cakes
781-674-2253
1628 Massachusetts Ave.
Lexington, MA 02420
Cakes by Erin – 100% peanut and tree nut free (coconut is used)
978-469-9136
800 Broadway
Haverhill, MA 01832
Cakes for Occasions – nut-free, boutique-style gourmet cake and pastry shop
(978) 774-4545
57 Maple St.
Danvers, MA 01923
Donut Express & Custom Cakes – 100% peanut and tree nut free bakery, with all items baked from scratch on site. Custom-designed cakes, donuts and delicious coffee!
(508) 359-5686
258 Main St.
Medfield, MA 02052
Half Baked – 100% peanut free and tree nut free cafe and bakery
978-969-6177
1 West St.
Beverly Farms, MA 01915
Jeniffer Lee's Gourmet Bakery – Completely vegan, gluten free, nut free (PN/TN) and sesame free (a lot of items are also soy and coconut free as well!)
978-414-5180
Boston Public Market
100 Hanover St.
Boston, MA 02108
Lavender Bee Baking Co. – Offers peanut and tree nut free baked goods. The kitchen isn't 100% nut free, but the owner herself is allergic to peanuts and tree nuts, so she takes precautions to avoid cross-contamination
A pop-up bakery available at various farmer's markets in the Boston area. Check website for current schedule.
Sadie Mae's Cupcake Cafe & Bakery – An allergen-aware bakery, with a dedicated peanut free and tree nut free kitchen
(781) 740-1876
228 Main St.
Hingham, MA 02043
Twist Cafe & Bakery – Free from all gluten, peanuts, tree nuts and soy (except for coconut and soy lecithin)
(508) 376-1163
30 Milliston Road
Millis, MA 02054
NEW LOCATION NOW OPEN IN BURLINGTON, MA! (Opened May, 2019)
62 Second Avenue
Burlington, MA 01803
Allergy-Aware Honorable Mention: Blackbird Doughnuts – Their menu changes seasonally, and they often serve a doughnut that contains nuts. If a doughnut contains nuts, the nutty ingredient will either be a topping or a filling. They do not include nuts or nut products in the doughnuts themselves. Nutty doughnuts are kept separate from the nut-free doughnuts and are prepared with separate equipment. (FAQ)
South End
(617) 482-9000
492 Tremont St
Boston, MA 02116
Fenway
(617) 482-9000
20 Kilmarnock St.
Boston, MA 02115
Harvard Square
(617) 482-9000
15 Holyoke St.
Cambridge, MA 02138
Brighton
(617) 482-9000
100 Holton Street Bay 4
Brighton St, MA 02135
Tourist Tip: Mike's Pastry in Boston's North End is a popular spot for tourists and locals to visit for cannolis. You can call them ahead of time at 617-742-3050 to discuss your allergy needs (FAQ). I've heard they'll make fresh cannoli's on request with no risk of cross-contamination with nuts, but I haven't personally tried myself, so if you do go, please report back!
Nut Free Ice Cream in Boston
Tipping Cow Ice Cream – Homemade, nut-free ice cream
617-718-0558
415 Medford Street
Somerville, MA 02145
You can also find Tipping Cow Ice Cream at the following local shops:
Formaggio Kitchen (South End, Boston, MA)
Spindler Confections (Cambridge, MA)
Whole Foods Market (Medford, MA)
Whole Foods Market (Jamaica Plain, Boston, MA)
**I've visited several ice cream shops in the Boston area, including the popular J.P. Licks chain (various Boston-area locations) and Rancatore's (Lexington, MA), that will use fresh ice cream scoops and open up new ice cream containers in an attempt to prevent cross contamination with all of their ice cream flavors containing nuts and nut toppings, etc., so it depends on your comfort level. Ask at the counter and you'll learn very quickly if they have an allergy protocol/procedure in place.
Or, you could use our Nut Free Ice Cream & Popsicles Guide to find a safe frozen treat in a store near you!
Nut Free Restaurants in Boston
Blue Dragon – Chef Ming Tsai and the Blue Dragon staff are proud to serve from a nut free kitchen and serve all patrons with food allergies
(617) 338-8585
324 A St.
Boston, MA 02210
Myers + Chang – Offers a separate nut free lunch and dinner menu
617-542-5200
1145 Washington St.
Boston, MA 02118
Allergy-Friendly Boston Restaurants
These are restaurants with excellent allergy training in place, separate menus indicating items containing allergens, etc. One recommendation is to ASK QUESTIONS, because most of these restaurants are ensuring you there aren't any nuts in your meal, and that it will be prepared in a clean space, safe from cross contamination. But, most cannot guarantee that all ingredients are made in dedicated, allergen-free facilities. So, it all depends on your comfort level.
Aqua Pazza (135 Richmond St. on the Freedom Trail in Boston's North End, 857-350-3105) – an Italian restaurant in the North End. "Co-owner Mike Paquette is well-versed in food allergy protocol—his wife has celiac disease, one of his children can't eat dairy and another has a peanut allergy—so he promises no cross-contamination." (Boston Magazine)
Burton's Grill (multiple locations in the greater Boston area) – Noted as a very allergy-friendly restaurant, accommodating multiple food allergies
Legal Sea Foods (multiple locations in the greater Boston area) – discuss your specific needs with your server
Maggiano's Little Italy (Park Square, 4 Columbus Ave., Boston, MA 02116) – peanut-free kitchen; staff is allergy trained and dedicated to providing a safe dining experience
Not Your Average Joe's (multiple locations in the greater Boston area) – downloadable allergen chart available for the Top 8 allergens
P.F. Chang's (multiple locations in the greater Boston area) – an allergen matrix is available for all menu items
Puritan & Company (1166 Cambridge St., Cambridge, MA, 617-615-6195) – serving modern American cuisine, with an emphasis on traditional New England fare. "The chef has a 'food allergy matrix' hanging up in the kitchen, clearly showing his staff what substitutions can be made for diners avoiding gluten, dairy, and nightshades, as well as other common allergens like nuts and shellfish." (Boston Magazine)
Red Robin Gourmet Burgers & Brews (multiple locations in the greater Boston area) – they have an interactive online allergen menu, which you can find here. Cool!
Wagamama's (Prudential Center, Faneuil Hall & Seaport, Boston, MA) – downloadable allergen guide available for the Top 8 allergens
Whole Heart Provisions (locations in Allston, Central Square, Harvard Square) – An entirely vegan restaurant that has modified menus on display for the top allergens and can accommodate a variety of allergies and diets.
Nut Free Fast Food
Chipotle (multiple locations nationwide) – No items in their restaurants contain peanuts or tree nuts, but they cannot guarantee the complete absence of these allergens
Planning a visit to Boston's Faneuil Hall? They have a cheat sheet available to help guide you toward nut-free options in the marketplace. Cool!
Also, peanuts and baseball go hand in hand, but Fenway Park offers peanut-free seating areas at select games every year. For more information and to purchase tickets, head to www.redsox.com/peanutallergy.
Does your child have a peanut allergy? I love recommending the book Peter Can't Eat Peanuts
to parents. It's an approachable story that has really resonated with and empowered my son. Available for only $5 on Amazon!