A list of nut free granola bars that are free from peanuts and tree nuts (and made in either nut free facilities or on dedicated lines). Finding safe snacks that are easy to take on the go is critical when navigating food allergies. These nut free granola bars are great as healthy snacks, for packing into lunches, and more.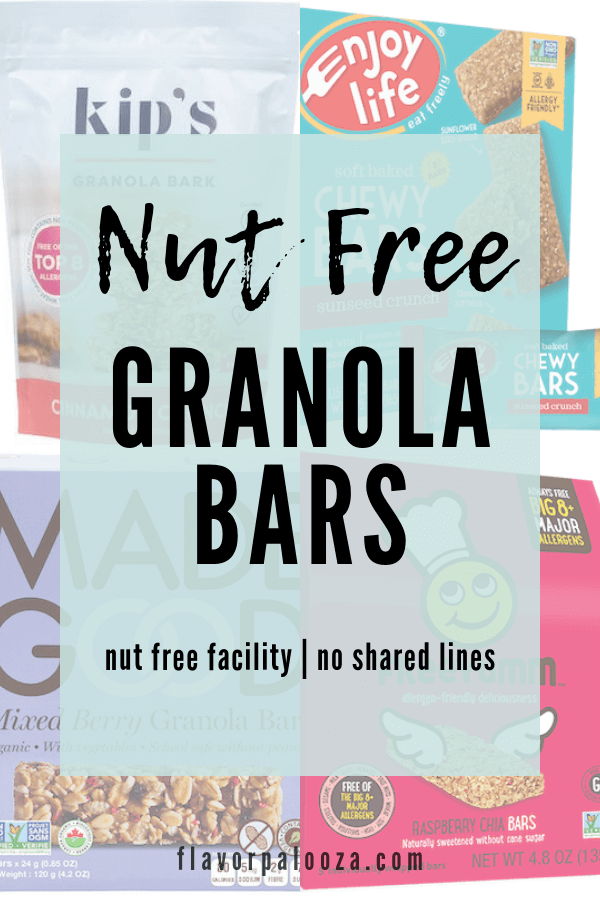 When doing research for our nut free protein bars guide, I discovered so many nut free granola bars, so I decided to make a separate list!
All of these options are:
✔ 100% Nut Free
✔ Available to buy online
Here's the information you'll find listed for each product:
Amount of protein per serving
Amount of net carbs per serving
Number of calories per serving
Links to product FAQ pages or Allergen Statements
Links to where to buy in stores and online
Please use these lists as a guide, and do your own research to make sure the products listed are 100% safe for your family and your situation. Where available, I included links to brand allergen information pages, for your easy, up-to-date reference. Check and recheck and recheck, as manufacturing processes change constantly. Also, although peanuts are technically a legume and not a nut, I often use the term "nut free" to mean both peanut free and tree nut free.
Also, please note that some of the links in this post are affiliate links and I will earn a commission if you purchase through these links (at no additional cost to you).
100% Nut Free Granola Bars
Last updated: January, 2021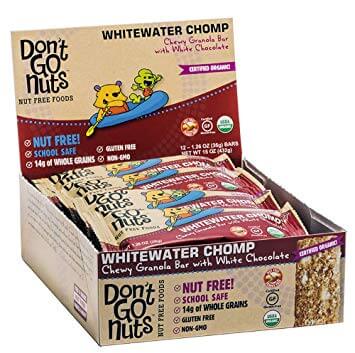 Protein: 2g
Net Carbs: 26g – 27g
Calories: 140 calories
Their energy bars are organic, non GMO, gluten free, nut free, and peanut free, and are made in a nut-free facility. They are also free of egg, sesame and coconut. Choose from three different flavors: Gorilla Power, Whitewater Chomp, and Blueberry Blast. (FAQ)
>> Find in a store near you or buy on Amazon
Protein: 1g – 2g
Net Carbs: 20g – 22g
Calories: 130-150 calories
All of Enjoy Life's products are free of the 14 most common allergens, including wheat, peanuts, tree nuts, dairy, soy, egg, sesame, casein, sulfites, lupin, mustard, fish, shellfish & crustaceans. And they're made in a dedicated nut free and certified gluten free facility. For healthy nut free snack options, choose from a variety of snack bars (Chewy Bars) and Grain & Seed bars. They also have a Fruit & Seed mix and a variety of Lentil Chips. (FAQ)
>> Find in a store near you or buy on Amazon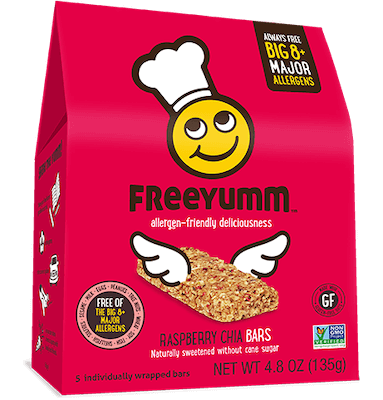 Protein: 1g – 2g
Net Carbs: 14g – 16g
Calories: 110 – 120 calories
FreeYumm built their own facility to ensure their products are all 100% free of the Top 8 allergens, plus sulfites and sesame. Awesome. Their healthy nut free snack options include a variety of oat bars and chia bars. (They also have a lot of tasty, allergy-friendly treats, too!). They have a variety of oat and chia bars in flavors like Blueberry, Raspberry, Honey Apple, and Chocolate Chip. (FAQ)
>> Find in a store near you or buy on Amazon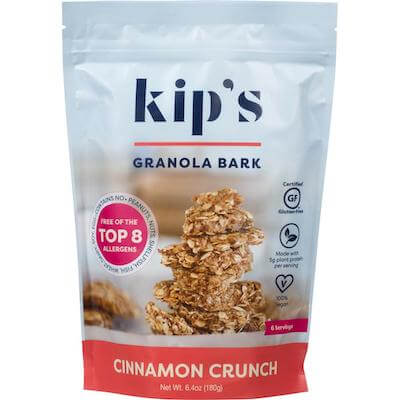 Protein: 4g – 5g
Net Carbs: 16g – 17g
Calories: 150 calories per serving (about 1/2 cup)
Kip's Granola Bark is free of the Top 8 allergens, and made in a facility that's peanut free and gluten free. There are tree nuts in the facility, however, so please read more info on their website to decide your own comfort level with this product. Choose from Cinnamon Crunch and Cocoa Crunch flavors. (FAQ)
>> Buy on the Kip's website <–FP readers get 10% using code "FLAVORKIPS"!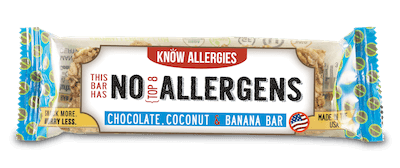 Protein: 2g – 4g
Net Carbs: 22g – 29g
Calories: 160 – 180 calories
Know Allergies granola bars are, as the package clearly shows, free of the Top 8 allergens. They are vegan, certified gluten free, non GMO, and made in the U.S.A. Choose from their Chocolate, Coconut & Banana Bar, Chocolate Chips & Pretzels Bar, Blueberry & Maple Bar, and Dates & Seeds Bar. Note: I would hope with this kind of clear labeling, that these are made in a peanut and tree nut free facility, but their website doesn't have an FAQ page with that stated clearly anywhere. So, I have sent the company an email for confirmation and will update this post once I hear back.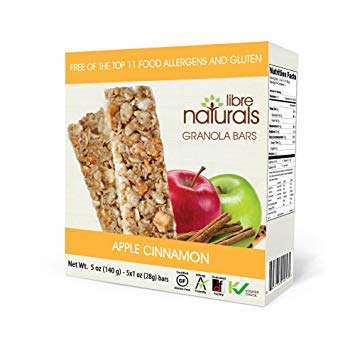 Protein: 2g – 3g
Net Carbs: 16g – 17g
Calories: 110 – 120 calories
Created by parents of a child with severe food allergies, Libre Naturals granola bars are completely nut free and made in a facility that's free from peanuts and tree nuts. They're very transparent about all ingredients present in their products and in their facilities, and are also free from dairy, egg, fish, gluten, mustard, sesame, shellfish, soy, sulfites, wheat and latex. Choose from the following flavors: Chocolate Chip, Apple Cinnamon, Double Chocolate Chip, and Red Berry. (Allergen Declarations)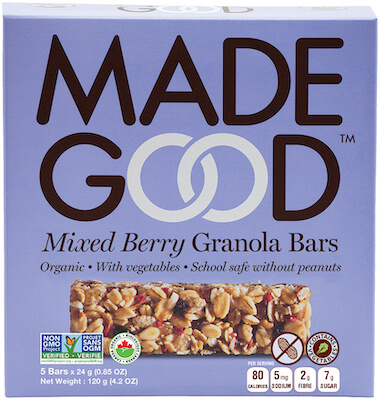 Protein: 1g – 2g
Net Carbs: 13g – 15g
Calories: 90 – 100 calories
These are our go-to snack bar. My kids love all of their granola bar and granola minis flavors, which include Mixed Berry, Apple Cinnamon, Chocolate Chip, Strawberry and more. They also include vegetable extracts from spinach, broccoli, carrots, tomatoes, beets, and shiitake mushrooms, which are hidden in the dominant flavors of the bars. They are clearly labeled as "school safe" and 100% nut free. "We manufacture in our nut-free facility and our products are free from most common allergens, are organic, and contain nutrients equivalent to a serving of vegetables." (Allergens)
>> Find in a store near you or buy now on Amazon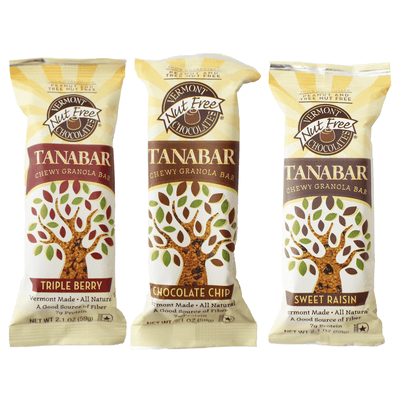 Protein: 7g
Net Carbs: 34g
Calories: 260 calories
Did you know Vermont Nut Free Chocolates has granola bars? I practically lived on these when I was pregnant with my second baby. They're seriously good. And they're 100% nut free — made in a dedicated, nut free facility. Flavors include Triple Berry, Sweet Raison, and (of course) Chocolate Chip. (Allergen Statement)
>> Find in a store near you or buy now on Amazon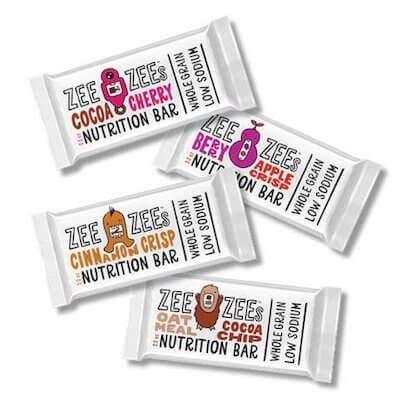 Protein: 2g – 4g
Net Carbs: 22g – 40g
Calories: 140 – 250 calories
Technically these aren't granola bars, they're nutrition bars, but they definitely serve a similar snacking-on-the-go purpose, so I'm including them here. Per their website, all of their products are nut free and made in a peanut and tree nut free facility. They make applesauce cups, fruit cups, graham cookies, and sunflower see snack bags, as well as nutrition bars and soft-baked bars. Their nutrition bars come in Berry Apple Crisp, Birthday Cake, Campfire S'mores, Cinnamon Crisp, Cocoa Cherry, Oatmeal Cocoa Chip, and Strawberry Crisp. (FAQ)
>> Buy a variety starter pack on Amazon
>>Also, if you're looking for a great-tasting, nut-free protein bar, don't miss our Built Bar review!<<