Our Built Bar review is here. Spoiler alert: We love them! Built Bars are a nut free protein bar that is high on taste and protein (15g per bar) and low on calories and, as they call it, "junk." Lots of great flavors to choose from.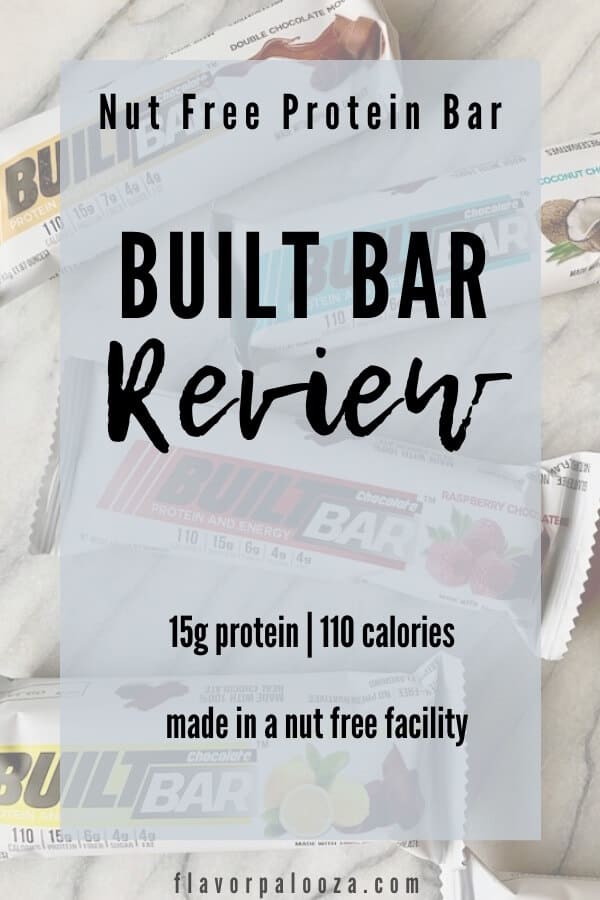 Some of the links in this post are affiliate links and I will earn a commission if you purchase through these links (at no additional cost to you). Disclosure: I was given free product for the purposes of this review at my request, but the opinions stated here are 100% honest and a result of my own personal experiences with the product.
I originally discovered Built Bars when doing research for this Nut Free Protein Bars list I created, which also resulted in me compiling a separate list for Nut Free Granola Bars, since I found a lot of nut free "bars" that were healthy and delicious, but didn't necessarily pack a huge protein punch.
Built Bars, though, do pack a huge protein punch, so they have quickly become the go-to nut free protein bar in our house.
For those of you that are new around here, you can learn more about my family's food allergy journey here. We prefer to purchase products that are made in either nut free facilities or on dedicated lines. We also like to support brands that are extra forthcoming about their manufacturing processes in terms of allergen statements and labels, as well as those that include easy-to-find allergen information on their brand website.
Ok, without further ado, here's my 100% honest Built Bar review!
>> Buy Built Bars directly from their website <–Flavorpalooza readers get 12% off with code: SAVE12 <<
Built Bar Review
STAR RATING: ⭐⭐⭐⭐⭐ (out of 5)
How Much Protein is in a Built Bar?
Protein: 15g
Clocking in at 15g of protein per bar, Built Bars are definitely one of the more protein-packed options I've found. Choose from a variety of rotating flavors, including: Double Chocolate, Lemon, Mint, Coconut, Orange, Raspberry, Salted Caramel, Strawberry, Vanilla, Banana, and Blueberry Cheesecake. Can't decide? Order a starter box that includes a mix of flavors!
Are Built Bars Healthy?
With 15g of protein per bar, and only 110 calories per bar, Built Bars are definitely a great option if you're looking for a low-calorie/high-protein bar you can snack on whenever you need a boost. One of the best parts, too, is they taste like a candy bar!
– 110 Calories, 15g Protein, 6g Fiber, 4g Fat, 4g Sugar
– Gluten Free
– NO Artificial Flavoring or Coloring
– NO Artificial Preservatives
– NO Nuts / NO Peanuts
– NO GMO
– NO Wax
– NO Junk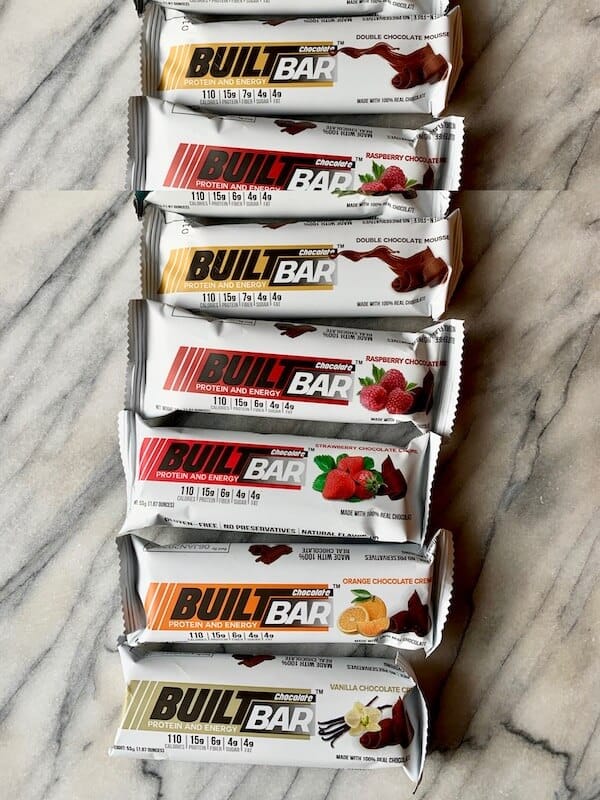 >> Buy Built Bars directly from their website <–Flavorpalooza readers get 12% off with code: SAVE12 <<
Are Built Bars Keto Friendly?
Net Carbs: 5g – 7g
Sort of! If you're on a keto diet, and you're nut free, Built Bars are a decent option, with such low net carb numbers compared to other protein bars on the market.
Built Bar Review: Taste
So far, I've tried the following flavors: Salted Caramel, Double Chocolate Mousse, and Vanilla Chocolate Creme. The texture is similar to biting into a See's marshmallow chocolate candy, or like a 3 Musketeers bar. It's soft, chewy and delicious. Honestly, it tastes like you're eating a candy bar. I keep mine in the fridge, based on a recommendation I read on a food allergy Facebook group I'm a member of, and it's a great suggestion! When you pull one out, it's cool and delicious. That being said, tossing one in your bag and eating at room temperature still tastes good.
Built Bar Review: Price
An 18-bar box currently costs $37.80, which means just over $2 per bar. They often run sales and special promotions, and they have a "the more you buy, the more you save" program that can bring the cost down. Flavorpalooza readers can get an instant 12% off w/ code SAVE12. They also offer FREE shipping on all orders.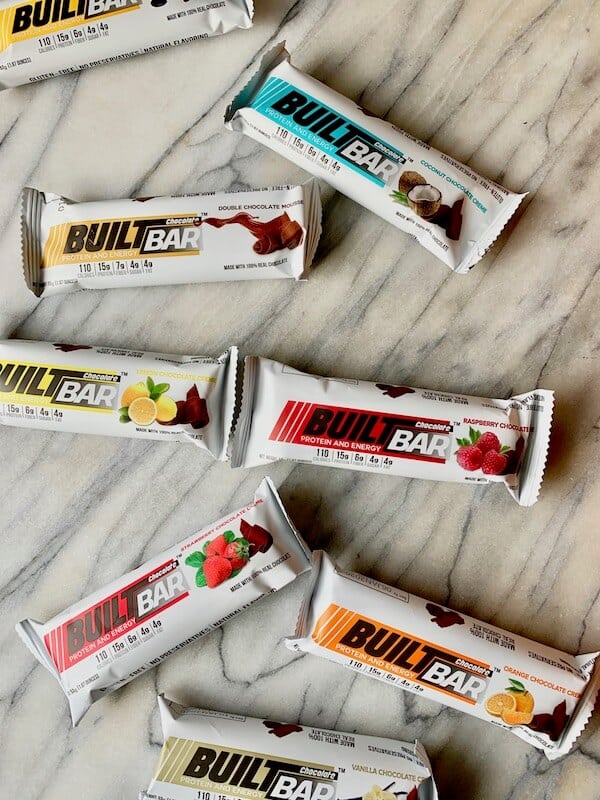 Are Built Bars Allergy Friendly?
Yes! In fact, when Built Bar released their Peanut Butter and Coconut Almond flavors, they made sure their consumers were made aware of their decision to produce these two flavors in a separate facility, to ensure the rest of their non-nut bar flavors remained truly nut free.
Although they don't have an FAQ or allergen statement to link to directly, if you look at the nutrition label they show on their website, you can see: Allergy Warning: Contains milk products. Built Bars are made in a peanut and tree nut free facility.
Disclaimer: Although Built Bars at the time of writing this post were deemed safe for my son's peanut allergy, you should always follow the advice of your doctor/allergist and do your own due diligence before deciding if a product is safe for you.
Built Bar Nutrition Label
Here's your virtual tour of the container and the labels so you can see the ingredients and allergen information for yourself.
I'm listing the ingredients for the 12 standard, nut free Built Bar flavors, which all share the same ingredients:
Double Chocolate Mousse
Lemon Chocolate Creme
Orange Chocolate Creme
Raspberry Chocolate Creme
Coconut Chocolate Creme
Salted Caramel Chocolate
Strawberry Chocolate Creme
Vanilla Chocolate Creme
Mocha Chocolate Creme
Banana Chocolate Creme
Mint Brownie Delight
Black Cherry Chocolate Creme
Ingredients: Protein mix (whey protein isolate [milk], partially hydrolyzed whey protein isolate [milk], gelatin, dark chocolate (chocolate liquor, sugar, cocoa butter, lecithin, vanillin [a natural flavor], water, cocoa, erythritol, glycerin, maltodextrin, natural flavor, citric acid.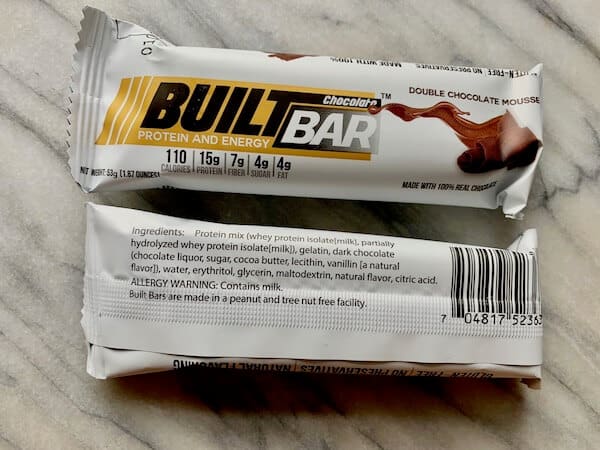 >> Buy Built Bars directly from their website <–Flavorpalooza readers get 12% off with code: SAVE12 <<
To find reviews and photos of more nut free products, check out our growing list of Nut Free Trader Joe's Groceries as well as our Nut Free Costco Products list.
Found a nut free product you love? Please share it with us!