If you or someone you love has a peanut allergy and/or a tree nut allergy, then this nut free chocolate list is for you! We did the research, and we've included links to brand allergen statements for your peace of mind. Note: This list is updated regularly + feedback is encouraged.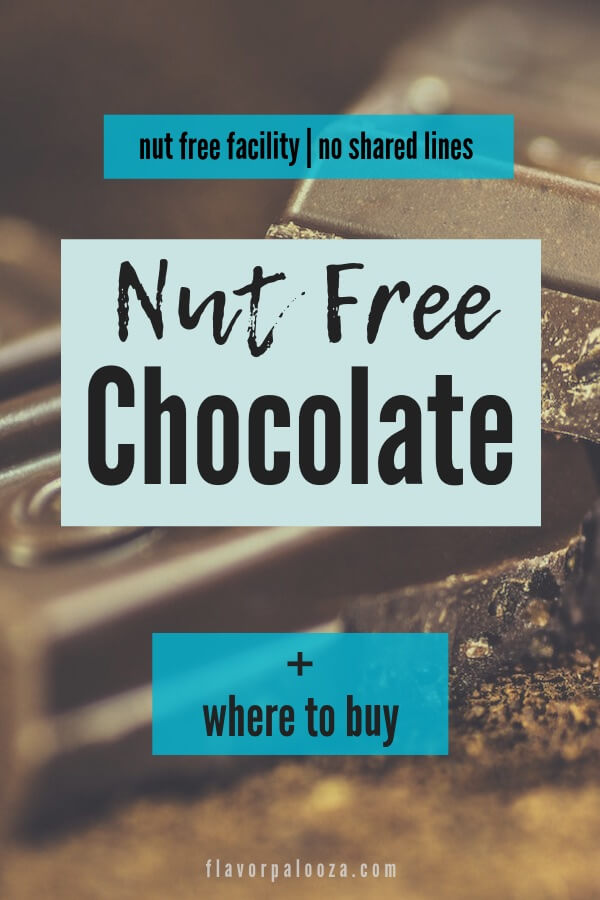 >> Looking for Nut Free Easter Candy? Click for our full guide! <<
When my son was first diagnosed with his peanut allergy and tree nut allergy, my head felt like it was going to explode — as I began thinking about all of the things he may miss out on: treats at school, casual trips to the candy store, trick-or-treating on Halloween, Easter egg hunt goodies, Valentine's Day sweets, classic movie theater candies, and on and on and on.
Luckily, with a bit (read: a lot) of research, I discovered there are actually quite a few tree nut and peanut free chocolate and candy options for him! I've also found that it's crucial that I have some of these safe treats on hand at all times, in case we're faced with "treat situations" when we're out and about. I call them "treat situations," because you just never know when an ice cream truck is going to pull up, or something similar.
If you've discovered any other nut free chocolate or nut free candy options out there, please let me know. I'm always updating these lists.
Note: Please use these lists as a guide, but do your own research to make sure the products listed are 100% safe for your family and your situation. Where available, I included links to brand allergen information pages, for your easy, up-to-date reference. Check and recheck and recheck, as manufacturing processes change constantly. Also, although peanuts are technically a legume and not a nut, I often use the term "nut free" to mean both peanut free and tree nut free.
Please note that some of the links in this post are affiliate links and I will earn a commission if you purchase through these links (at no additional cost to you).
The Ultimate Nut Free Chocolate List
Last Updated: March, 2020
Amanda's Own Confections – Allergy-friendly chocolates in a variety of fun shapes, ready for any occasion! All products are free of the Top 8 allergens and processed in a facility on dedicated equipment that's free of the Top 8 allergens. Available for purchase on their website (Allergen Information). Grab some Amanda's Own Chocolate Peppermint Bark on Amazon now!
Amore di Mona Chocolates – Ingredients and finished chocolates are certified Top 8 allergen free by 3rd party labs (free of peanuts, tree nuts, milk, soy, fish, shellfish, eggs and gluten). Available on Amazon. For local shops, check out their store locater. Buy their Classico Collection on Amazon!
Bo & Ty Sweets – This company was started by two allergy moms, and they sell nut free chocolate beads and chocolate discs in a variety of bright colors. (Allergen Information)
DOVE Chocolate – UPDATE (March, 2022): A reader wrote in about an update to this listing and I confirmed with DOVE parent company, Mars Wrigley North America, that DOVE no longer produces any of its products in an entirely nut-free facility. "Our products are manufactured in a shared facility, we utilize a stringent allergen management program during the manufacture of our products. Any allergen-containing products are followed up with specific cleaning procedures to prevent cross-contamination. With these procedures in place, we make every attempt to eliminate cross-contamination.We recommend that our consumers with sensitivities, no matter how minor, not consume any product where the source of the sensitivity is listed in the 'Contains' or 'May Contain' statement.'" I'm leaving the old info below for reference.
OLD INFO: DOVE offers several peanut and tree nut free products that are manufactured in a facility that does not handle peanuts or tree nuts (click for full list). Because other DOVE Chocolate varieties are produced at facilities with peanuts and/or tree nuts present, it is important to always read the label for accurate allergy information (Allergen Information). Buy a bag of DOVE PROMISES on Amazon now!
Enjoy Life Foods – Their chocolate bars (and other products) are produced in a dedicated nut- and gluten free facility. They are dairy free, peanut free, tree nut free, soy free and gluten free! (FAQ) Buy some Boom Choco Boom Dark Chocolate Bars on Amazon!
Free2B Sun Cups – All of their products are free of the Top 12 allergens (including corn, mustard, sesame and coconut). They're best known for their Sun Cups, as a safe Reese's Peanut Butter Cup alternative (Allergen Information). Buy some Dark Chocolate Sun Cups on Amazon!
HERSHEY'S – I received the following email from Hershey's (June, 2019): "Our HERSHEY'S Cocoa is made on a dedicated line, and the HERSHEY'S Milk Chocolate bar (1.55 oz. US bar only), along with our milk chocolate HERSHEY'S KISSES are made on lines that do not manufacture peanut or tree-nut items and are made in plants that do not process peanuts. Buy a bag of HERSHEY'S KISSES on Amazon now!
No Whey Foods – Their selection of baked goods, chocolate, truffles and such are all 100% dairy free, peanut free, tree nut free, gluten free, egg free, and soy free. They're also free of artificial colors and flavors, and are vegan and kosher. Order online or use their store locater to find their products near you. Buy a 3-pack of their chocolate bars on Amazon!
PASCHA Chocolate – Organic chocolates that are peanut free, tree nut free, wheat free, gluten free, soy free, egg free, dairy free and sesame free. Dark chocolate and rice milk chocolate bars, chips, etc available. Order online or use their store locater. (Allergen Information) Buy a PASCHA Organic Dark Chocolate bar on Amazon!
Righteously Raw Chocolate – Pure, raw, organic chocolate. They avoid all of the Top 8 allergens in their products and in their production facilities, with the exception of coconut. You can buy online or use their store locater (FAQ). Buy a box of Righteously Raw Caramel Mouthfuls on Amazon!
Safe Sweets – A family owned and operated company that makes allergen-friendly chocolates by hand. All of their chocolates are free of peanuts and tree nuts and are made in a dedicated peanut-, tree nut- and dairy-free facility (FAQ).
Skip's Candy Corner – They offer a line of nut-free chocolates (and some candies), made in a dedicated nut-free facility. Buy online. (Allergen Information)
Sweet William Chocolate – Dedicated dairy free, gluten free, peanut free, tree nut free and vegan chocolates. Available online or check out their store locater. (Allergen Information)
Taylor Made Chocolate – Their chocolate bars are free of peanuts and tree nuts. Click here to read their allergy statement. Your support of their chocolate products helps those freed from human trafficking in the Richmond, VA area and helps fight slavery in Haiti. (Allergen Information)
Vermont Nut Free Chocolates – Hand-crafted chocolates and other confections made in a dedicated nut-free facility. Available online and in over 500 stores nationwide (Allergen Information). Buy some Vermont Nut Free Chocolates Mini Chocolate Bars on Amazon!
***
If you're a parent of a child with any type of food allergy, or if you're simply an allergy-aware parent looking for safe, non-food holiday and birthday treats to bring to school, then Oriental Trading Company is your friend. They have all sorts of fun party favors, and holiday-themed toys and gifts.
***

Does your child have a peanut allergy? I love recommending the book Peter Can't Eat Peanuts
to parents. It's an approachable story that has really resonated with and empowered my son. Available for only $5 on Amazon!
Another favorite is Daniel Has an Allergy, featuring the beloved Daniel Tiger. Also available on Amazon.
More Nut Free Lists: