As a stay-at-home mom, making things work off of a single income meant we had to get serious about budgeting and saving money. Serious and creative. Here are 25+ creative things we do to save money each month on a very tight budget.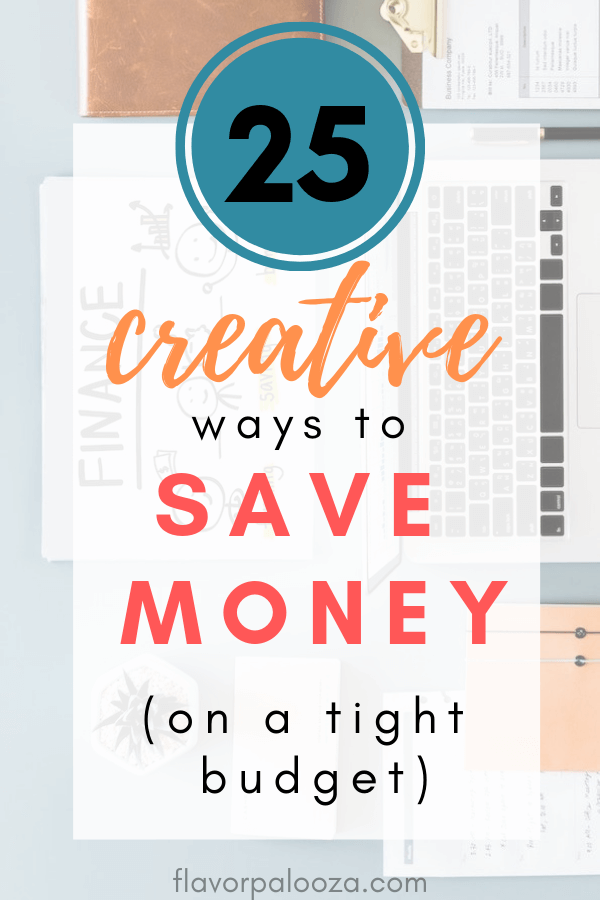 Saving money.
We all know it's something we have to do, but how do we do it?
No matter what stage of life you're in, figuring out creative ways to save money is crucial. You might be saving for a nice vacation, a new home, a college education (for you or for your kids), or even for retirement.
For us, we're trying to save for all of the above! And, we're trying to do it on one income, so that I can be a stay-at-home mom. So, yeah, there's a lot of saving that needs to happen to make everything work. Especially when we have so many monthly expenses as a growing family!
Once I realized we needed to get more organized and serious about our saving, the first thing I did was divide our monthly spending into specific buckets, then I started meticulously tracking and categorizing every single thing we spent money on each month. The tool I like to use to do this is Mint.com — because it's free, and, well, because I started using it back in 2008, so I'm used to how it works. But there are plenty of other tools you could use to do this.
Our spending buckets include:
Insurance (Health, Life, Dental, Etc.) – usually annually
Gas &/or Public Transportation – monthly
Auto Service & Parts – save some money monthly, for inevitable repairs throughout the year
Mobile Phone & Internet – monthly
Utilities & Home Services (like electricity, trash pick-up, yard maintenance, etc.) – monthly
Groceries – monthly
Doctor & Dentist – save monthly for trips to the doctor, prescriptions, etc.
Home Improvement – save monthly for regular maintenance and repairs to our home
Home Supplies – monthly (this includes things like toilet paper, toothpaste, vitamins, new vacuum, door mat, etc.)
Mortgage or Rent – monthly
Childcare and/or Preschool – monthly (for us, I'm a SAHM, so we're not saving for childcare, but we do need to save for preschool costs)
Beauty & Self Care – monthly (things like haircuts, yoga classes, etc.)
Pets – monthly (we have a senior doggie that has monthly medical costs, on top of monthly food costs, so we make sure we're budgeting for it)
Clothing – we save monthly for being able to purchase new clothes and shoes for the family throughout the year
Gifts – we put money aside every month for gifts (birthday, Christmas, etc.) for our kids, relatives, etc.
You'll notice there aren't currently any buckets for: entertainment, cable, restaurants, toys or travel. Like I said, things are tight right now, so we've really cut our spending down so that we can save for: a new home, college for the kids, retirement and (finger's crossed) a nice family vacation. We shall see!
Once I created these buckets, I started tracking exactly how much money we spent in each bucket over a 3 to 4 month period. Then, I created monthly budget targets for each bucket. Again, this is something you can track in Mint.
From there, you can track your progress throughout the month, set up goals for any of your monthly savings, and track your progress toward those goals. It's pretty neat.
Then, once you have your budgets set up, you're going to need to figure out creative ways to stretch your money each month, so that you're able to maximize your savings. Which brings us to…
How to Save Money Each Month on a Tight Budget
Earn your restaurant meals. I like to play a game with our monthly grocery budget, where if I'm able to find enough specials, cut coupons and meal plan effectively enough, then we can use whatever is left in our monthly grocery budget to go out to dinner. Sometimes it happens, sometimes it doesn't. If it doesn't, then we don't eat out that month. But, when you do dine out, remember to…
Order water at restaurants. Buying beverages, especially alcohol, at restaurants can sometimes almost double your bill. Instead, opt for water and have your glass of wine when you get back home.
For work or school…always pack a lunch. Leftovers make great lunches the next day. Or, make sure you always have groceries in the house to make a quick sandwich. Buying lunches can really be expensive!
Or, meal prep! When I'm extra organized, I'm able to meal prep on Sundays and make a stack of ready-to-eat lunches that I can store in the fridge. I like to use these lightweight, BPA-free, plastic containers, since they're easier for my husband to carry with him in his bag on his work commute via public transportation.
No more Starbucks. Most offices have free coffee. Most houses have coffee makers. When you're on a tight budget, spending money on fancy caffeinated beverages (especially as a daily ritual) is something to consider cutting out.
Shop "manager's specials" and "seconds" produce. Most grocery stores have sections where they place produce that's not perfect, and meat and bakery items that are close to their "sell by" date. Take advantage of these savings! In fact, I meal plan around what I'm able to find in these sections. For the meats, I still try to buy organic, but only if it's on a deep "manager's special" discount, and then I can use it ASAP or freeze it.
Price compare different grocery stores. When you're on a budget, to get the best prices on everything on your list, you usually end up having to hit more stores throughout the week. For example, our local Trader Joe's has the best prices on organic milk, cheese and a few other items. But, our local Stop & Shop has better weekly deals on produce, meat, cereal and pantry items. I used to not necessarily know what a good "price per pound" was for, say, broccoli, but now I do. So, I know a good deal when I see it. It's something you'll learn as you start paying closer attention to prices too.
Does your favorite store have an app? If so, download it and use it! Whether it's the Target app (formerly Cartwheel), the Stop & Shop app, the Wegman's app… There are so many stores that have apps that offer you all sorts of ways to save. So, take advantage! And, let's not forget the savings power of…
Consider getting a Costco membership. If you're buying groceries for a family (and if you have a big freezer and/or ample storage place for supplies), you might consider getting a Costco membership. The savings are amazing. For example, you can't beat their organic frozen fruit prices, organic egg prices, etc. They're not always the cheapest (you have to be careful, and shop smartly), but there are a lot of savings to be found there if you do your research and shop right.
Sign up for a local CSA. I used to buy all organic produce, but it was becoming way too expensive. Now, for 20 weeks out of the year, we're able to get organic produce from our local farm in their weekly CSA (Community Supported Agriculture) boxes. It's still more expensive than buying non organic "seconds" produce, but it's a more affordable way of getting fresh, local, organic fruits and veggies. Tip: Another creative way of cutting organic produce costs is to follow the EWG's "Dirty Dozen" and "Clean Fifteen" rules, and only buy organic on select produce. Or, if you have the space…
Try growing your own vegetables! We grow our own herbs, and in the summer we grow tomatoes, peppers and strawberries. We're hoping to expand on this list soon!
Shop sales on household products. I tend to be a brand loyal type. I have certain brands I like, and I like to stick to what I know. But, when you're on a budget, this kind of mindset can be costly. Instead, I've learned to become more flexible with which products I use, and instead focus on purchasing what's on sale (It's a no brainer, but sales + coupons = huge savings!). Also, when possible, if I see my favorite brands go on sale, I try to stock up. Check manufacturer's websites to find coupons, look through the circulars you get in the mail… those coupons are out there. It takes some extra time, but it's worth it if you're on a really tight budget.
Go to your local library. There are always free activities for kids at your local library, which is why I originally started visiting our local library more often. But now I find myself going there all the time to check out books and movies too. Bonus: Our local library also has a certain number of discount tickets to area museums, zoos and other tourist-type attractions that you can sign up for online. Check to see if yours does too!
It might be time to go less luxe. Depending on what matters most to you, here are some examples of going "less luxe": change from cushy, 2-ply toilet paper to cheaper, single ply; reduce the amount of haircuts you get per year; consider doing your own nails, etc. at home; this list is endless. Look at what you spend money on that might fall into the "luxury" category, and see what you can cut back on or remove completely.
Stop buying as many "single use" items as possible. Things that fall into the "single use" category are: disposable straws, paper napkins, paper lunch sacks, plastic cups, etc. Instead, invest in longer-lasting alternatives, like water bottles, metal straws, cloth napkins, and more. You get the idea. It really does save you money (and helps out the environment, too!) over time.
Make coconut oil a household staple. Seriously. Have you read about all the things coconut oil can do? In our house, we use it regularly for things like moisturizing your skin, using as a natural deodorant, and using to cook up our favorite homemade popcorn recipe. It's so versatile!
Buy whole chickens. For this one, I try to buy organic whole chickens that are on "manager's special," because otherwise they can cost a lot. But, I always try to buy whole chickens when possible, because we're usually able to get 2 -3 meals out of the meat, and then we're able to make bone broth for soups afterward. Basically, you're getting more bang for your buck! Speaking of, this is a great segue for my next creative money saving tip…
Start a meal planning routine! This can be a tough one for people who aren't naturally planners. Luckily, I like to plan. But I feel you. With everything going on in our lives, sometimes it's hard to sit down on a Sunday and plan out the next week's worth of meals. But, doing this can save you quite a bit of money. For example, when I find a whole chicken on sale, I immediately know we have about three dinners covered (plus some lunch). The key is to see what you can find on sale at the store, and then build a meal plan that utilizes all of your leftovers, so that there's no waste, and (usually) less cooking required. Here's an example meal plan that immediately comes to mind when I find a whole chicken on sale:

Dinner 1: Roasted Chicken w/ Crispy Roasted Potatoes and Salad
Dinner 2: Shredded Chicken Tacos w/ Cilantro-Lime Rice and Curtido (Mexican Cabbage Slaw)
Dinner 3: Then, make bone broth with the chicken bones, and make some sort of hearty soup w/ a slice of crusty, homemade bread on the side.
Lunch: If there's any extra shredded chicken from taco night, then I'll usually make some chicken salad or pasta salad with shredded chicken and chopped veggies.
See how one meals leads in to another? Leftover veggies you made earlier in the week can be tossed into a stir fry later in the week, and on and on. Pull out a sheet of paper and sketch out your meal plan, knowing that it may change a bit depending on what you find at the store and/or how much people eat and what's left. But having a general template to work from is not only a huge time saver, but a huge money saver.

Buy a water filter. If you're still buying bottled water, I urge you to look into buying some sort of water filtration system for your home. This is another tip that will not only save you money over time, but is also better for the environment. This is the one we use, which we buy regular replacements for on Amazon.
Does your town have an "Everything is Free" Facebook group? Our town, and a lot of our neighboring towns, have "Everything is Free" Facebook groups that you can join if you're a resident of the town. People constantly post things that they'd like to give away for free. All you have to do is be the first person to respond, and then they'll DM you with their address to pick it up (usually an easy porch pickup). We've gotten all sorts of great items this way, from a Thule car topper to snow boots for our kids to hardly-used toys to expensive dog food. It's awesome!
Shop for deals on your Internet and cell phone plans. It never hurts to call your Internet provider, cable TV provider (if you're still paying for cable) and cell phone carrier, to see if they're offering and deals for existing customers. They're constantly promoting various offers to keep customers, so hop on the phone and see what you can do about getting those monthly charges reduced.
Watch TV online. First of all, between work and kids, we don't really have time to watch TV. But, on top of that, monthly cable bills are expensive! Instead, we have a TV that gets the free, local channels. And we do pay for a fast Internet plan, so we can watch things online if we want to. Note: I've heard this method doesn't work well for sports fans that really need cable to watch games live. But, for the rest of us, it's definitely do-able!
Make homemade gifts and greeting cards. We have kids, so we put the kids on greeting card-making duty. The result is usually a much more personalized and fun handmade crafty card that our relatives love. All of those $3-$6 greeting cards for birthdays and other holidays can really add up throughout the year! I bought a box of these greeting card envelopes to send our homemade versions in — works great! We're not the best at making homemade gifts yet, but this is on our to-do list…
Beware of credit cards and interest rates. I've never been the type to carry a balance on a credit card. As you can probably tell from this post, I try to spend very carefully and within my means. But, there are definitely those times when having a credit card handy can be a lifesaver. And maybe you're still carrying some credit card debt from a time in your life when you were a little more freestyle with your spending. Regardless, if you have credit card debt, that's the first thing you should be paying off with any extra savings. And you might want to try shopping around for better interest rate options in the meantime — anything you can do to get that monthly cost down is helpful, as you work to pay them off.
Ask for gift cards as gifts. This one has been huge for us. We ask family members to get us gift cards now, so we can use them for things we need throughout the year — even groceries!
Creative Ways to Make Extra Money
Of course, another way to increase your monthly savings is to make some extra cash. Some ideas would be:
Trade your free time for money. If you have any free time, think of small things you could do to make a few extra bucks a month. Some ideas would be: finding items around the house you no longer need and selling them on Craigslist, or taking on some freelance assignments, or … the sky is really the limit here. More income = more potential savings.
Ask for a raise at work. Depending on your situation, consider asking for a raise. In most cases, as long as you approach the topic in the right way, and as long as you feel your work is deserving of a raise, then it can't hurt to at least broach the subject. It often helps if you also offer to take on new responsibilities or challenges in exchange for a raise in pay.
Start your own blog! Yep, blogging is one way I make extra money each month, and you can too! Check out my Definitive Guide to Starting a Blog (for Beginners). It's easier than you might think!
Ok, now it's your turn…
What are some of your favorite tips and tricks for saving money on a tight budget? I'm still learning as I go, so if you know of ways to save even more, or know of additional tips that work for you, I'd love to hear them.