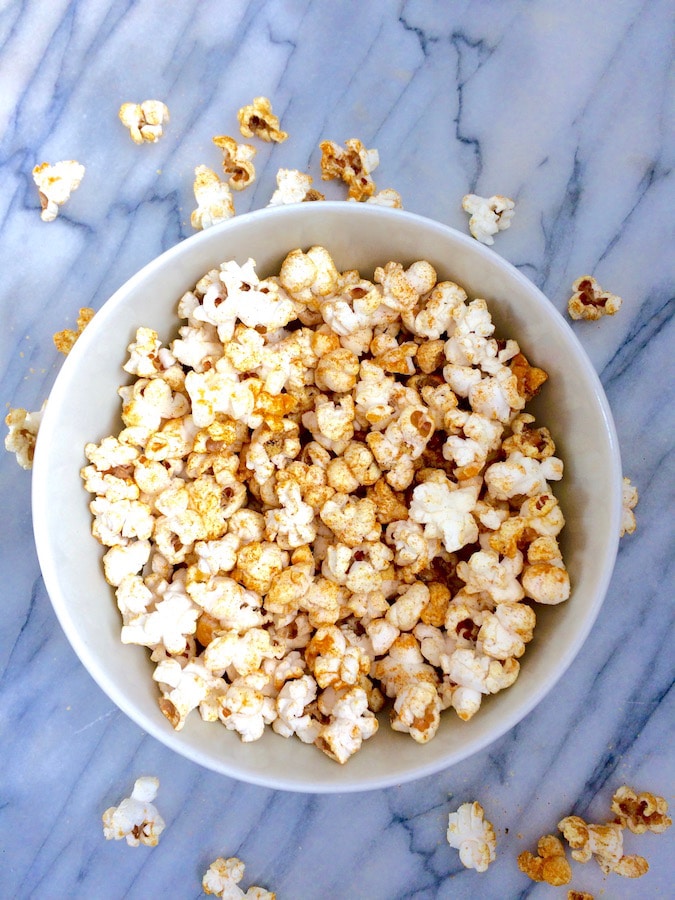 Snacking made legit. That's what this super yummy, salty garlic turmeric popcorn recipe brings to the table. Or couch.
First, I should mention that I'm on a turmeric kick right now. See also:
And I just made Dessert For Two's Healthy Mac and Cheese with Turmeric for my kiddos for dinner the other night and IT WAS A HIT! I'm actually thinking of posting a variation on this recipe at some point soon, since (as moms of toddlers often do) I had to make a few adjustments to the original recipe to suit the particular picky palates of my crew.
The inspiration for this turmeric popcorn recipe was really my adventurous husband. He likes to make popcorn at some point for snacking most weekends. The turmeric was within reach on the countertop from me having recently made a batch of Golden Milk. He knows about all of the claimed health benefits of turmeric (immunity boosting, anti-inflammatory, detoxifying). Popcorn is really a great blank canvas for adding flavor to. So, he just went for it. For this batch, he didn't stop at adding turmeric though. He also added salt (naturally), garlic powder (why not?), and black pepper (supposed to help with absorption of the curcumin in the turmeric).
If you want to boost the healthy snacking factor even further, you can also sprinkle on some nutritional yeast. (I've seen quite a few vegans claim nutritional yeast adds a "cheesy" flavor to the popcorn, but I'm not entirely sold on that concept. But, it does taste good. And it does add a lot of nutritional boost, so I'M SOLD.)
STAIN WARNING: A general warning about cooking, eating, cleaning turmeric is that it stains. Eating the popcorn will add a little bit of yellow to your fingertips, so just make sure to wash your hands after snacking and avoid touching the furniture. Maybe even have a few paper towels nearby to keep your fingers clean.
Special Dietary Notes
This recipe is free of the Top 8 allergens. It's naturally gluten free, dairy free, soy free and egg free. And as long as you source popcorn kernels from a peanut and tree nut safe production facility, it's also peanut free and tree nut free. It's also vegan (no butter necessary!).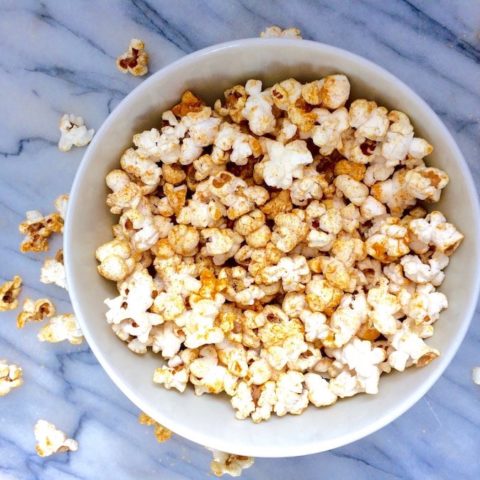 Salty Garlic Turmeric Popcorn
A quick and easy healthy snack option that's full of color and flavor.
Ingredients
2 tablespoons coconut oil
1/3 cup popcorn kernels
1/2 teaspoon turmeric powder
1/2 teaspoon salt
1/2 teaspoon garlic powder
1/4 teaspoon black pepper
Instructions
Melt the coconut oil over medium high heat.
Add a few kernels of popcorn to the pot and cover. Stand close by so you can hear when the first kernel pops. Then, pour in the rest of your kernels, give the pot a shake to make sure they're in a single layer at the bottom of the pan, and cover again.
Shake the pot every once in a while to prevent any kernels from sticking/burning on the bottom of the pan. Once there's about a 3 second pause between pops, remove the pot from the heat and crack the lid to release any steam.
Pour your popcorn into a large bowl and then add your seasonings. Shake and stir to mix. Then serve.
Nutrition Information
Yield

8
Serving Size

1
Amount Per Serving
Calories

40
Total Fat

4g
Saturated Fat

3g
Trans Fat

0g
Unsaturated Fat

0g
Cholesterol

0mg
Sodium

136mg
Carbohydrates

1g
Fiber

1g
Sugar

0g
Protein

1g