This tasty frittata recipe is a great weekend breakfast or brunch option that can utilize all sorts of leftovers (or fresh veggies!) to make a variety of delicious flavor combinations.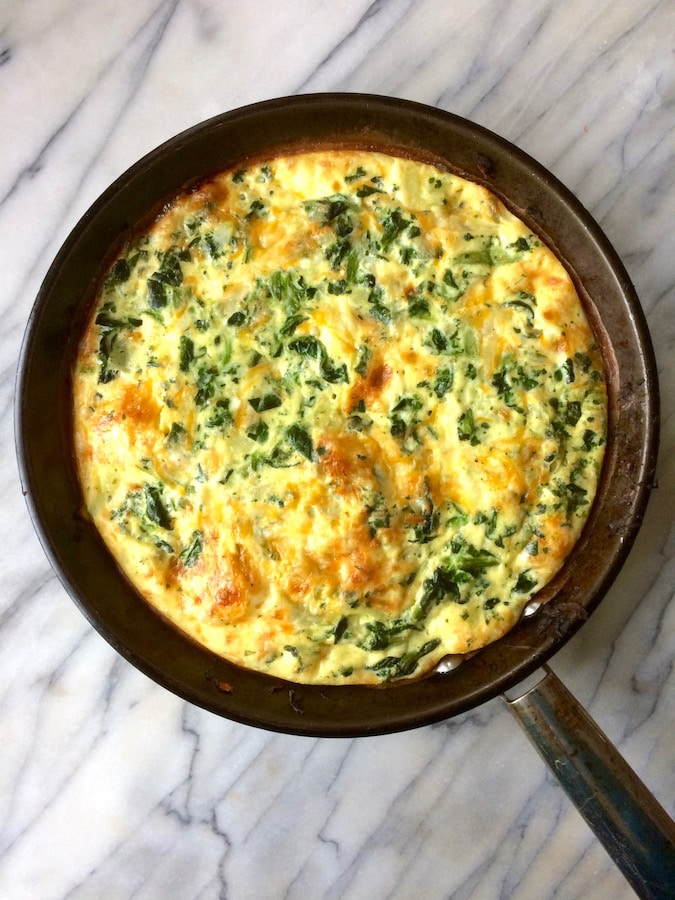 The beauty of the lazy Sunday kitchen sink frittata is that it's designed to quickly put an easy and delicious hot breakfast on the table for the family, while also helping to repurpose some of the week's tasty leftovers hanging out in the fridge.
Meaning: Every Sunday, our frittata is the same but different, depending on what we had for dinner that week.
The basic recipe is the same, but the cheese and the veggies used are always different, depending on what we have on hand. And, if it was a low leftover week, we'll often dip into our frozen veggie selection to mix things up.
FOR THE CHEESE: You can experiment with all sorts of cheese, depending on what you have on hand. Some of our favorites include a variety of cheddars, jack cheese, Gruyère, and Swiss cheese.
FOR THE VEGGIES: Repurpose leftover veggies from the week, use frozen veggies, use fresh veggies from your garden (seasonal), whatever! Almost any combo of veggies would work with the lazy Sunday frittata. Some of our favorites include: broccoli, peppers, asparagus, spinach, mushrooms, onions, tomatoes, potatoes, peas.
Special Dietary Notes
This recipe is naturally gluten free, peanut free and tree nut free. And, it's vegetarian!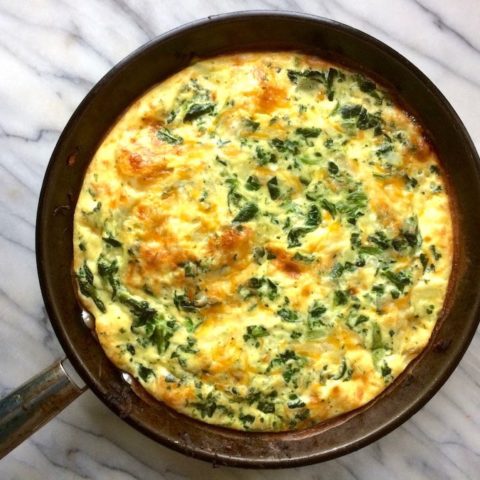 Lazy Sunday Kitchen Sink Frittata
A tasty frittata recipe that's great for quick and delicious weekend breakfasts or brunch.
Ingredients
6 eggs, beaten
1/4 cup milk
1 cup cheese (cheddar, Swiss, etc.), shredded
2 cups assorted chopped veggies
2 tablespoons butter
salt and pepper, to taste
Instructions
Preheat oven to 400℉.
In a large bowl, beat the eggs and whisk in the milk. Then, stir in the cheese and set aside. (For the cheese, use whatever you have on hand. I like cheddar, jack, Gruyère, or Swiss the best.)
Place an oven-safe pan on medium-high heat and melt the butter. Add in veggies and quickly sauté, seasoning with salt and pepper to taste. (For veggies, try mushrooms, broccoli, spinach, onions, asparagus, tomatoes, etc.)
Make sure the veggies are evenly distributed on the bottom of the pan, and then pour your egg mixture on top.
Let sit on heat for about a minute to set the edges. Then, place pan into the oven and bake for approximately 10 minutes. When done, top should be browned and a knife inserted into the center should come out clean.
Nutrition Information
Yield

5
Serving Size

1
Amount Per Serving
Calories

335
Total Fat

26g
Saturated Fat

14g
Trans Fat

1g
Unsaturated Fat

10g
Cholesterol

281mg
Sodium

405mg
Carbohydrates

6g
Fiber

2g
Sugar

2g
Protein

20g
This nutrition label is a product of an online calculator. Even though I try to provide accurate nutritional information to the best of my ability, these figures should still be considered estimates.