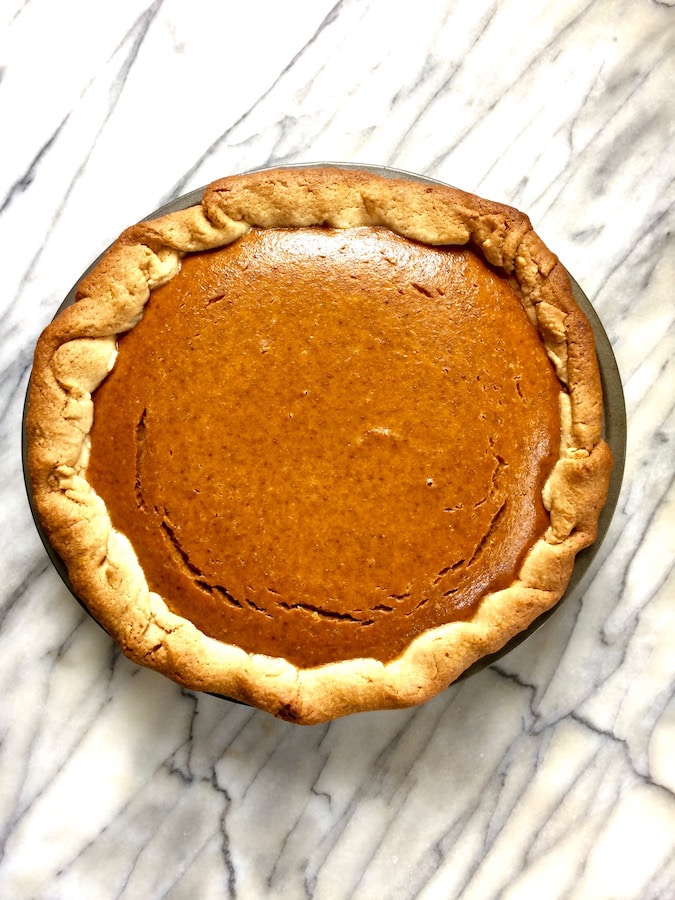 If you're looking for a healthy pumpkin pie recipe, then look no further.
But first, let's just get this out of the way: Who said February isn't the perfect time of year for pumpkin pie? 👌I know the pumpkin-everything craze is pretty far in the rearview mirror by now, but in my family, pumpkin pie is a favorite all year long. And because this recipe is a health….ierrrrr version, and because it's a pie that contains a vegetable, it's something I feel a lot better about serving up to my kids again, and again, and again, and…again.
This is my family's favorite pumpkin pie. The recipe was actually created years ago by my dad, who loved desserts, but liked to keep things pretty healthy. (Yep, I was one of those kids that grew up eating Grape Nuts instead of Fruit Loops for breakfast.) What's interesting is because this healthy pumpkin pie remix is really the only pumpkin pie recipe I grew up eating, it's actually what tastes like *normal* pumpkin pie to me. I've sampled full sugar versions over the years and I've never liked them!
Our formula for creating the perfect healthy pumpkin pie that's still super delicious is to essentially follow the recipe that's on the back of every Libby's 100% Pure Pumpkin can, but:
roughly halve the sugar amount that's listed
double all of the spice amounts listed
Doubling the spices makes it extra flavorful, which probably helps in the not-missing-out-on-all-the-sugar department. And, I feel the need to note that there's something about the Libby's brand of pumpkin that I really prefer for this recipe. As an example, I've tried using the organic pumpkin Trader Joe's sells instead, and the result just isn't the same. The results are still good, but just not the same. But, any pumpkin puree would work.
To keep things simple, we usually use pre-made pie crusts for this recipe, but I do hope to post a recipe soon for an allergy-friendly homemade pie crust from scratch. When I do, I'll be sure to link to it here.
Special Dietary Notes
This recipe contains gluten, egg, soy (in the pre-made crust) and dairy. But as long as you source a safe pie crust (we like the one from Trader Joe's) and safe spices, it should be peanut safe and tree nut safe, which is our main concern right now (my daughter seems to have outgrown her dairy and soy intolerance — hooray!).
DID YOU MAKE THIS RECIPE?
Add a rating below, share it on Instagram, or save it to Pinterest! You can also find us on Facebook, too.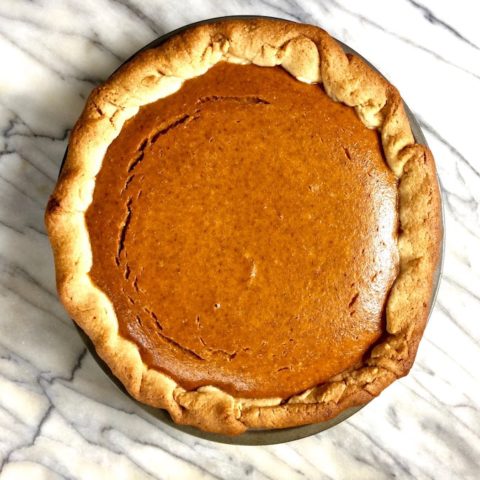 Half-the-Sugar Healthy Pumpkin Pie
Yield: 6 servings

Prep Time: 10 minutes

Bake Time: 1 hour 5 minutes

Total Time: 1 hour 15 minutes

A healthy pumpkin pie recipe that's low on sugar and high on spice (and flavor!).
Ingredients
1 pre-made pie crust
6 tablespoons sugar
2 teaspoons ground cinnamon
1 teaspoon ground ginger
1/2 teaspoon ground cloves
1/2 teaspoon salt
2 large eggs
1 (15-ounce) can pumpkin puree
1 (12-ounce) can evaporated milk
Instructions
Preheat oven to 425℉.
Roll out the pre-made pie crust and place it into a 9-inch pie pan. Scallop the edges.
Mix the dry ingredients (sugar, cinnamon, ginger, cloves, salt) together in a small bowl and set aside.
Beat eggs in a large bowl (I like to use my KitchenAid stand mixer for this). Add in the pumpkin and mix again. Then, add in your dry ingredients and mix, making sure to scrape down the sides of the bowl.
Slowly add in the can of evaporated milk, and mix until everything is incorporated.
Pour mixture into your pie shell and bake at 425℉ for 15 minutes. Then, reduce oven temperature to 350℉ and bake for an additional 45-50 minutes. Test doneness by inserting a knife or toothpick into the center until it comes out clean.
Let cool and then serve with whipped cream on top or a la mode (I know, we're trying to be healthy here, right?)
Nutrition Information
Yield 6 Serving Size 1
Amount Per Serving Calories 313Total Fat 14gSaturated Fat 6gTrans Fat 0gUnsaturated Fat 7gCholesterol 80mgSodium 389mgCarbohydrates 40gFiber 3gSugar 22gProtein 9g

This nutrition label is a product of an online calculator. Even though I try to provide accurate nutritional information to the best of my ability, these figures should still be considered estimates.

Please note this post may contain affiliate links and I will earn a commission if you purchase through these links (at no additional cost to you). Thank you for your support!