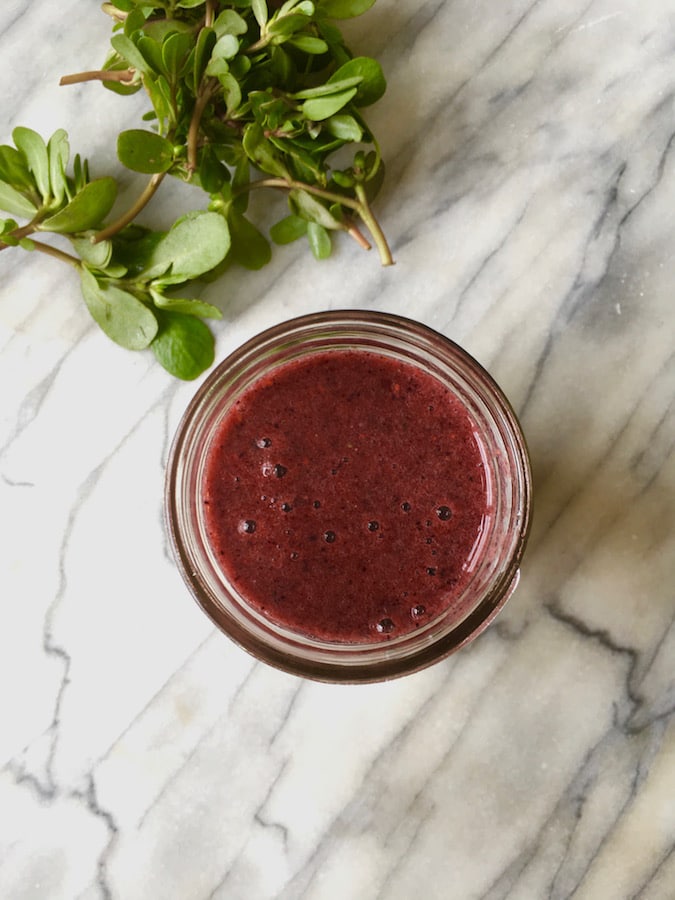 Ok, before we talk about this purslane blueberry superfood smoothie, let's talk just about purslane for a minute. Have you heard of it? Have you spent many an intimate hour weeding it furiously from your yard? Did it show up once or twice in your summer CSA veggie box? And then were you, like, uh, why is there a weed in my CSA?
That was me last summer. WHAT IS PURSLANE?
Funnily enough, my husband was familiar with it because he'd sent me a link to an article about purslane a couple of months earlier that I'd entirely forgotten about. He's always on a mission to find ways of sneaking more omega-3 fatty acids into my diet, since I'm not as big of a sardine fan as he is. And, he was amazed to discover that this weed, this weed that had a name, was a superfood. Yep, purslane is a superfood that you should get to know!
Here's an excerpt about purslane from MotherEarthLiving.com:
Omega-3 fatty acids: Purslane contains high amounts of alpha-linolenic acid (ALA), an omega-3 fatty acid generally found in vegetables, as well as small amounts of EPA and DHA, omega-3 fatty acids more commonly found in fish. This essential fatty acid plays a key role in maintaining heart health; it can lower cholesterol, regulate blood pressure and decrease the risk of heart attack and stroke. Omega-3 fatty acids also enrich brain health and can be useful in preventing and treating depression.

Antioxidants: Purslane is high in vitamins A, C and E, which are known for their antioxidant powers. This edible weed also contains two betalain alkaloid pigments, beta-cyanins and beta-xanthins, which act as antioxidants.

Vitamins and minerals: Purslane is low in calories and fat, but this weed does contain high amounts of dietary minerals such as iron, magnesium, calcium, potassium and manganese.
I mean, seriously? I could use more of everything above in my diet.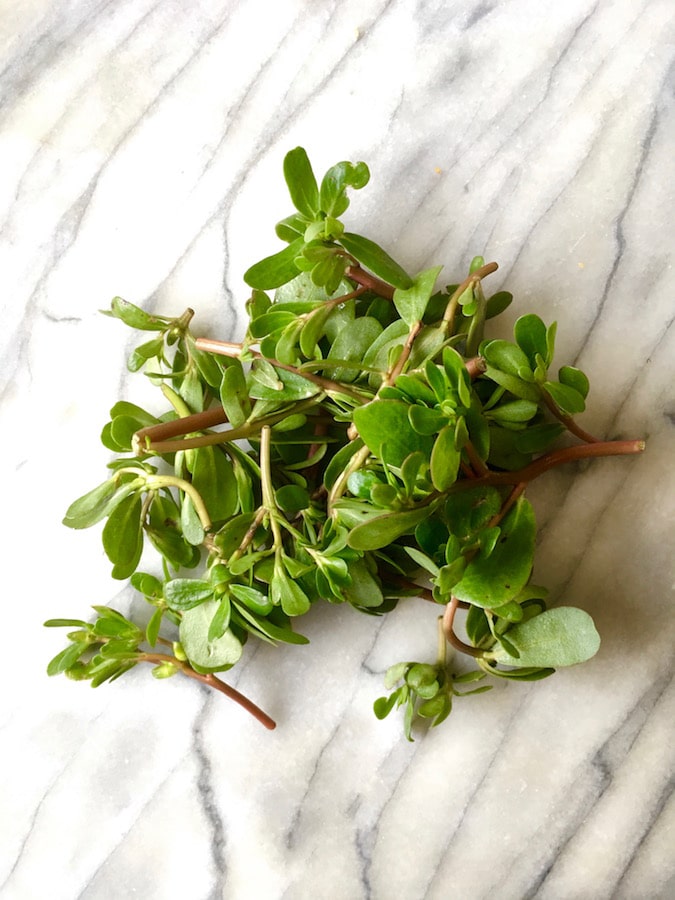 So, when purslane appeared in my CSA last summer, I decided to familiarize myself with the superfood weed, and I made a bunch of what I'm calling purslane blueberry superfood smoothies. And, THEY WERE GOOD. So good that I'm eagerly awaiting the coming growing months so I can purposefully cultivate purslane in my yard this year.
<<Try this Pea Shoot Salad recipe for another fun CSA adventure!>>
Now, I realize January isn't the best time to be telling you about purslane, since most farmers markets are closed, a lot of people's yards are buried in snow (hello! me!), etc. But, some of you are in sunny places (what up, SoCal!) and January is a big health kick month, so I figure it's at least a good time to post a smoothie recipe. And maybe you can gear up for the coming spring/summer to add the purslane element into your morning smoothie game.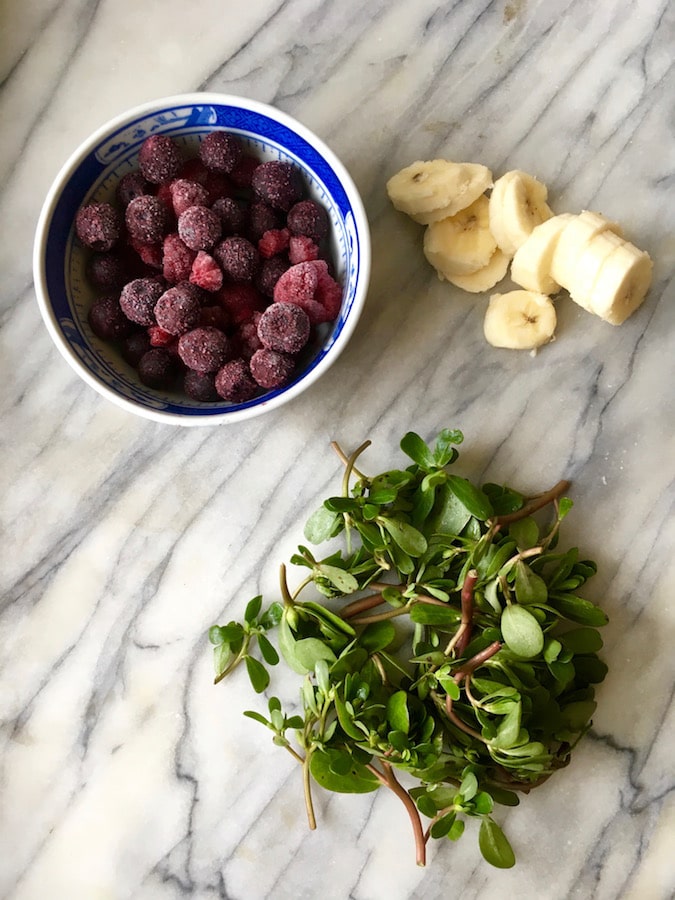 In the meantime, this superfood smoothie recipe works just a well without the purslane. But, I hope you're as excited as I am to start eating/drinking more of what I thought was "just a weed" until very recently. (Note: Purslane has a crisp, lemony flavor that works well on salads, too, so you can also add it to your salad mixes!)
RECIPES NOTES: Want to give your smoothie an even bigger health boost? Try adding a drizzle of coconut oil, a tablespoon of flax meal, a dash of chia seeds (Just remember, if you add chia seeds, you need to drink the smoothie fairly quickly, as the seeds will swell and expand and leave you with a strange smoothie texture that's seriously hard to drink if you leave it on your counter for too long.) You can also up the sweetness factor by adding some honey, agave or deseeded dates. That's what I do, especially if I make an extra "yard trimmings"-esque smoothie, including kale, spinach and/or other more bitter tasting greens.
Special Dietary Notes
Other than the yogurt, this recipe is very allergy friendly on its own. If you're currently dairy-free, simply leave out the yogurt. Smoothies are one of my go-tos for my son (when I can get him to drink them), since they're pretty worry free in the allergy department. When I had to avoid dairy while breastfeeding my second babe, I leaned hard on alternative milks like rice milk and coconut milk. I think either would work well in this recipe.
Purslane-Blueberry Superfood Smoothie
Wake up with this powerhouse purslane-blueberry superfood smoothie!
Ingredients
1 bunch purslane, rinsed
8 oz frozen blueberries
1/2 cup plain yogurt
1/4 cup filtered water (add more as needed)
Instructions
Whether you procured your yard, your CSA, the farmers market or a nursery, it's likely going to need a good rinse to remove dirt, etc.
Once rinsed, place the purslane, blueberries, banana, yogurt and water into a Vitamix or blender and blend until smooth. Add additional water as needed to reach your favorite consistency.
Give it a taste. Need a little extra sweetness? Add some honey, agave or deseeded dates. Blend again. And, enjoy!
Recommended Products
As an Amazon Associate and member of other affiliate programs, I earn from qualifying purchases.
Nutrition Information
Yield

4
Serving Size

1
Amount Per Serving
Calories

52
Total Fat

1g
Saturated Fat

0g
Trans Fat

0g
Unsaturated Fat

0g
Cholesterol

2mg
Sodium

34mg
Carbohydrates

10g
Fiber

2g
Sugar

7g
Protein

2g
This nutrition label is a product of an online calculator. Even though I try to provide accurate nutritional information to the best of my ability, these figures should still be considered estimates.