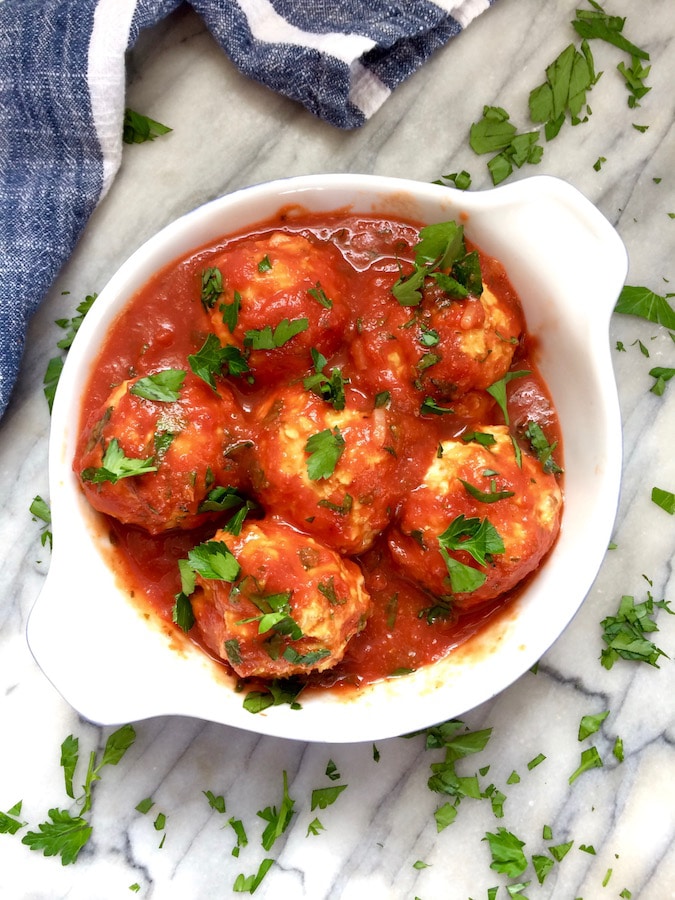 These sweet turkey meatballs are the bomb.
Now, right off the bat, I should clarify that this is a big, double batch recipe. Even making these meatballs "jumbo sized," which is what I did here, you end up with about one and a half dozen meatballs. If you decided to make more toothpicky appetizer-sized meatballs (about one inch in diameter), then you'll end up with over 2 dozen meatballs. So, if you wanted to make a smaller batch, simply use one one-pound package of ground turkey and cut all of the other ingredients in half. BUT, as a busy mom who's seemingly always trying to get another quick meal on the table, I rely on making double batches of things quite often so that I can freeze some and have at least one or two additional quick meals to pull from.
Ok, now about those sweet gluten free turkey meatballs….
Caramelizing the onions first, and adding in the grated carrot, really adds a nice sweetness to the flavor profile. And, it makes them extra moist, so we're not dealing with a meatball brick situation (which, TBH, I've definitely made my fair share of meatball bricks). And, because these are turkey meatballs, they're a leaner option than using beef or beef/pork.
Also, I should note that before having kids, I would usually sauté a bunch of fresh herbs along with the garlic-onion-carrot mixture, like basil and parsley, or sometimes even rosemary. But, my toddler currently has a thing about there being "green stuff" in his food, so I've been saving the herbs for toppers for the rest of us. But, feel free to incorporate them into your meatball mixture for some extra zing.
Now, after baking these up, I usually put half of them into a pot of yummy marinara sauce and let them bubble away in the sauce on low until it's time for dinner (spaghetti dinner, stuffed shells, whathaveyou). Then, I put the other half into a freezer safe ziploc bag, and freeze them for later (you can easily add them frozen to a pot of marinara, and let them slowly thaw and come up to temp in the sauce on low). This means I have a seriously quick dinner option all ready to go in the freezer. Meal Prep Win.
But, I also will quite often just keep a few of them (sauceless) in a container in fridge to use as quick protein bites to add to the kids' lunches, or to slice up as pizza toppings, etc. They're really versatile. And healthy. And yummy. And family friendly. Oh, and allergy friendly, too, which brings us to…
Special Dietary Notes
Since we're using oatmeal instead of breadcrumbs in this recipe, they're already essentially gluten free. But, for those of you with extra hyper gluten sensitivities, you'll want to source gluten free oats, which guarantee no cross contamination with wheat in production. A brand I used and loved, when I had to avoid gluten while breastfeeding, is Bob's Red Mill Gluten Free Oats
(<–affiliate link). BUT, unfortunately, most Bob's Red Mill products include an allergen statement that states they're made in a facility with tree nuts, so read those statements carefully, because this might not be the right gluten free product for you if you're dealing with nut allergies. If anyone has a gluten free oatmeal that's made in a dedicated facility that's not shared with other Top 8 allergens, please chime in! Also, I do use egg as a binder for these, so they're not Top 8 free, but they're otherwise a go-to, allergy-friendly option for our household.
Turkey Meatballs
Yield:
18 jumbo meatballs
Sweet turkey meatballs, perfect for spaghetti night or sliced up for sandwiches, pizza, more.
Ingredients
2 lbs ground turkey
3 garlic cloves, minced
1 small sweet onion, diced
1 large carrot, grated
2 tablespoons olive oil
2 eggs
1 cup oatmeal (gluten free)
salt and pepper, to taste
Instructions
Add olive oil to a pan and heat it on medium low heat. Add in garlic, onion and carrot and sauté until onion is softened and slightly caramelized. Season with salt and pepper to taste. When done, remove from heat and let mixture cool.
Preheat oven to 350 degrees, line two baking sheets with parchment paper and set aside.
In a large bowl, place the ground turkey, eggs, oatmeal and the cooled garlic-onion-carrot mixture. With your hands, dig in and blend all of the ingredients together. Mix well.
Grab bits of your mixture and roll into about 1 and 1/2 inch balls. Place each ball on your parchment-lined baking sheets, about 1 inch apart. Depending on the size, you should end up with roughly 1 and 1/2 dozen meatballs.
Place meatballs in oven for about 20 minutes. Meatballs are done when they've reached an internal temperature of about 160-165 degrees.
Notes
Optional: Top with fresh, chopped herbs like parsley or basil. Or, add some zing by adding rosemary to the pan when you're sautéing your veggies.
Nutrition Information
Yield

18
Serving Size

2
Amount Per Serving
Calories

168
Total Fat

11g
Saturated Fat

3g
Trans Fat

0g
Unsaturated Fat

7g
Cholesterol

74mg
Sodium

71mg
Carbohydrates

3g
Fiber

0g
Sugar

1g
Protein

14g
This nutrition label is a product of an online calculator. Even though I try to provide accurate nutritional information to the best of my ability, these figures should still be considered estimates.