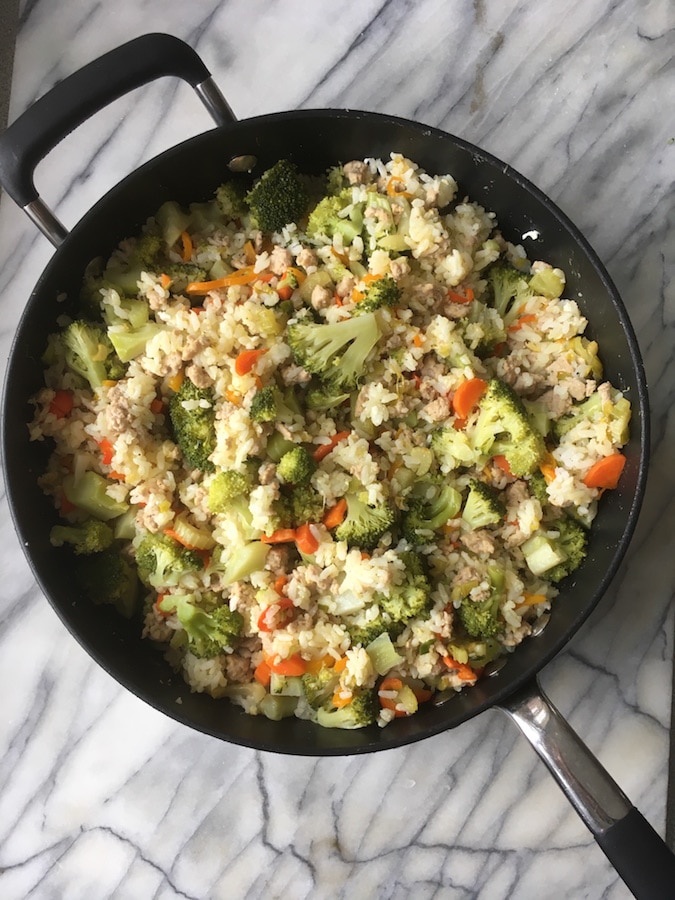 This template for fried rice is very versatile, so you can shape it to your family's varying dietary needs. I like to call it either allergy friendly fried rice, vegan fried rice, soy free fried rice or, simply, made-to-order fried rice! For example, in my house, I cook up all of the components (the rice, the veggies, the meat/tofu) and then I can customize portions for different family members. If you want vegetarian fried rice, leave out the meat or sub with tofu. If you want vegan fried rice, leave out the meat and egg. If you want soy-free fried rice, which is what I needed to do for my daughter and me, then leave out the soy sauce (and tofu, of course) and use coconut aminos instead.
Speaking of which, have you tried coconut aminos yet? It's an excellent soy sauce replacement that's made from coconut tree sap. And I'm here to tell you that it tastes good! So, if you have a soy-free diet (either permanently or because you've been told to avoid dairy and soy while breastfeeding), don't think you can't have fried rice, stir fry, etc. Give it a try!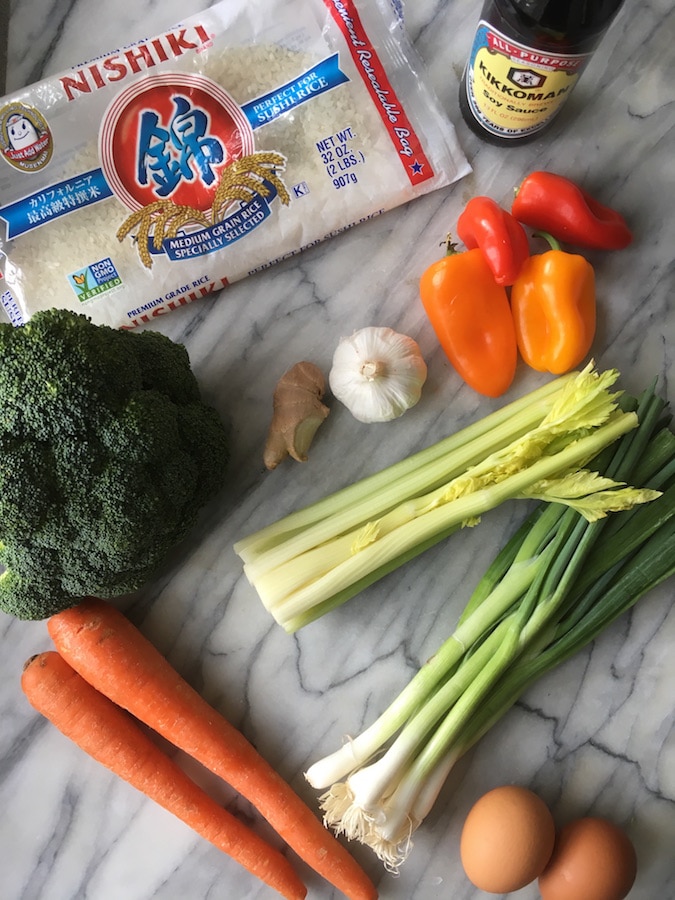 THE RICE: For the rice, I like to use sushi rice (Nishiki or Calrose, preferably). I usually cook the rice up first, either on the stove top or in the Instant Pot
, so that it's ready to go.
THE VEGGIES: For the veggies, think: fridge and freezer clean out! I use whatever I have that needs to go (fresh, frozen, leftovers, etc.). Some staples tend to be broccoli, peas, carrots, celery, scallions and peppers, but feel free to mix it up. I like to do fried rice night later on the week just for this reason — to repurpose leftovers from the week.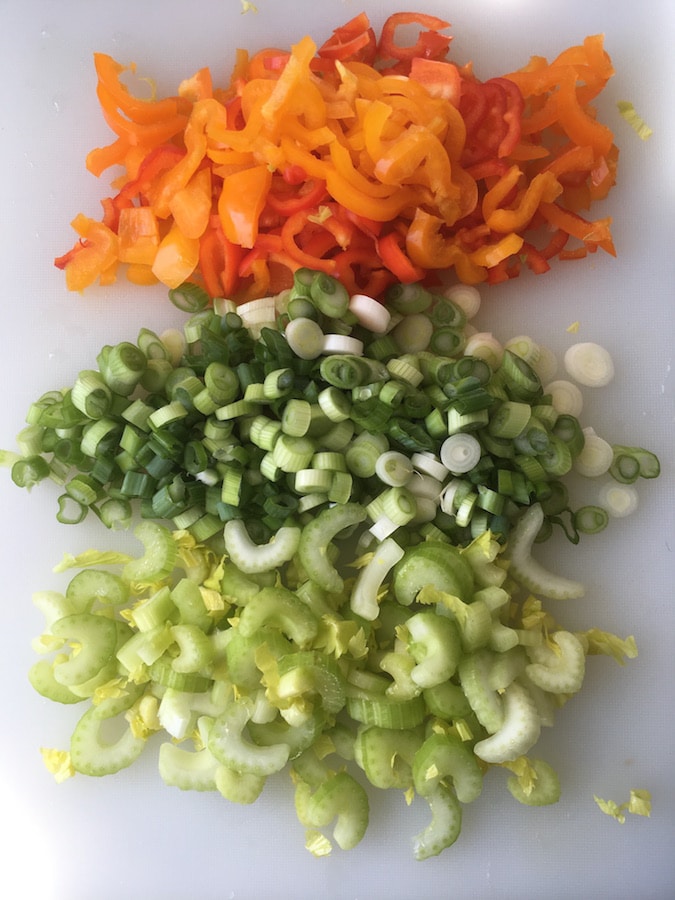 THE MEAT/TOFU: For the meat or "meat," you can cook up ground turkey, slice up pork or beef, shred some chicken or sauté some tofu. Again, I often pick my protein based on what's in the fridge from the week's leftovers as well. My son LOVES tofu (as do I), so I always cook up tofu on the side for him. I like to press extra firm tofu, cut it into small cubes and brown it in a pan with some sesame oil (or canola/veggie oil if there's a sesame allergy, or if you don't have any on hand) and soy sauce.
THE SEASONINGS: I always start with sautéing garlic and fresh ginger in some sesame oil. Then, as I mentioned above, for soy-free diets, I lean heavily on coconut aminos. Trader Joe's now sells a version, but the one I'm familiar with is Coconut Secret Coconut Aminos
, which I purchased at Whole Foods. Now, for my son, who has a severe peanut allergy, but can have soy, I always use Kikkoman Soy Sauce
. We love the Kikkoman brand in our house because their website lists all of the allergens and potential allergens in each of their products. And we always like to support brands that do this. It's SO helpful!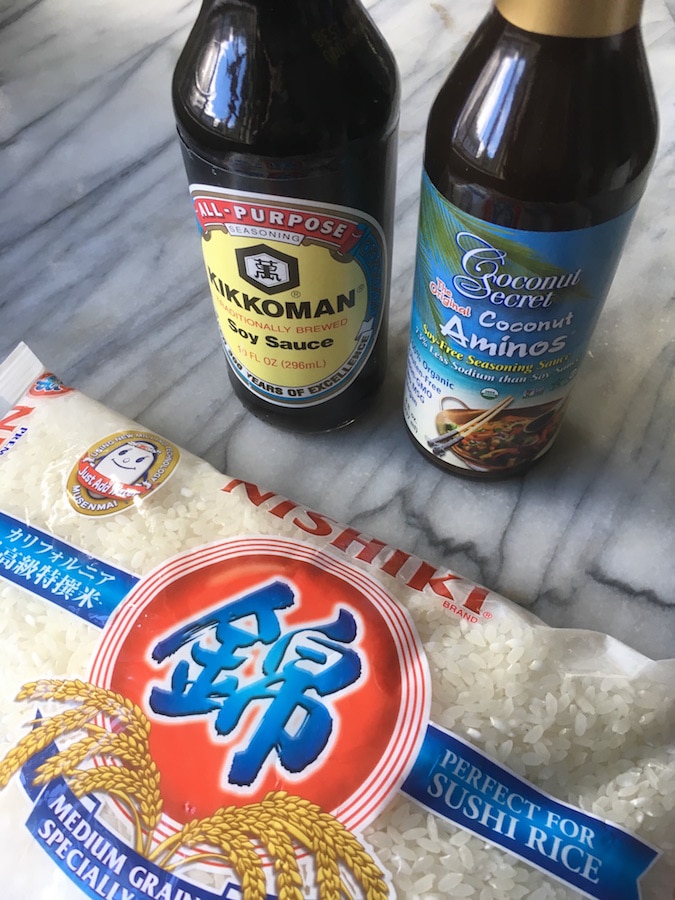 TOFU NOTE: I don't own a tofu press (yet), but squeezing out the extra water before cutting it up and browning it is key. What I do is take the block, and slice it length-wise into 4 thin rectangles. Then, I take a clean kitchen towel and do zig-zag folds in between each tofu layer, if that makes sense. Then, I take a heavy pot and place it on top, so the tofu is pressed down, releasing the extra water into the kitchen towel. DIY tofu press! It works for me. 🙂
Note: This post has not been sponsored by any of the brands listed. They are simply brands I have sourced, trust and love for my family's special dietary needs. Some of the links are Amazon affiliate links, so I do get compensation if you choose to purchase the items from Amazon using my links (thank you!), but I also like linking to Amazon because it gives you a visual of what the product looks like before heading to the store. As always, please contact the companies and/or do your own research to make sure these products work for your family's needs.
Made-to-Order Fried Rice
This is a very versatile fried rice recipe that can easily be customized to suit the varying dietary needs of your family members: vegan, soy free, etc.
Ingredients
For the rice
2 cups sushi rice, steamed
For the meat/tofu
1/2 package extra firm tofu, pressed and diced
1/2 pound ground turkey
2 tablespoons sesame oil, divided
For the veggies
2 stalks celery, sliced
2 carrots, peeled and diced
5 baby bell peppers (or 1 large bell pepper), chopped
1 bunch broccoli crowns & stems, sectioned and chopped
1 bunch scallions (whites and greens!), sliced
3 cloves garlic, minced
1 small knob fresh ginger, minced
1 tablespoon sesame oil (or canola/veggie oil)
2 eggs (if not vegan), scrambled
For the seasonings
soy sauce or coconut aminos, to taste
Instructions
First, prepare your rice according to package instructions, either on the stovetop, in a rice cooker or in an Instant Pot. Set aside.
Heat sesame oil in two pans. In one pan, brown your diced tofu over medium high heat. Drizzle with soy sauce to add some flavor while cooking. In the other pan, brown the ground turkey, adding a drizzle of either soy sauce or coconut aminos to the meat as it cooks (depending on dietary needs). When done, set both aside.
In a large, high-sided pan, heat sesame oil over medium-high heat. Add garlic, ginger and the whites of your scallions (save the green parts of your scallions as raw garnish at the end) to the pan and cook for about 1 minute. Then, add the broccoli and carrots (any veggies that take a longer time to cook) and get those cooking first. Cook for about 5 minutes. Then, add in the rest of your veggies, and stir-fry everything together until the desired tenderness is reached. You can season with soy sauce/coconut aminos as they cook. You can also add in a little bit of filtered water to help the veggies steam a bit if things are starting to stick to the pan, etc.
If you're adding egg, form a small well in the center of your veggies, crack the two eggs and scramble them quickly in the well. Then, incorporate into your veggie mixture.
At this point, you can start combining components based on your dietary needs. Add the rice into the veggie mixture. Add either the ground turkey or tofu into the mixture. Or, add rice and veggies into your tofu pan for another variety, etc. Heat and mix together, and then serve.
Notes
For serving, I like to garnish with the greens from my scallions, and then add either an additional dash of soy sauce or coconut aminos, and then finish with a drizzle of sriracha sauce!
Nutrition Information
Yield

5
Serving Size

1
Amount Per Serving
Calories

390
Total Fat

20g
Saturated Fat

4g
Trans Fat

0g
Unsaturated Fat

14g
Cholesterol

122mg
Sodium

413mg
Carbohydrates

34g
Fiber

4g
Sugar

8g
Protein

20g
This nutrition label is a product of an online calculator. Even though I try to provide accurate nutritional information to the best of my ability, these figures should still be considered estimates.