A quick and easy recipe for a warm and delicious golden milk latte (aka turmeric tea) that's packed with the healthy and healing anti-inflammatory goodness of turmeric, cinnamon and ginger.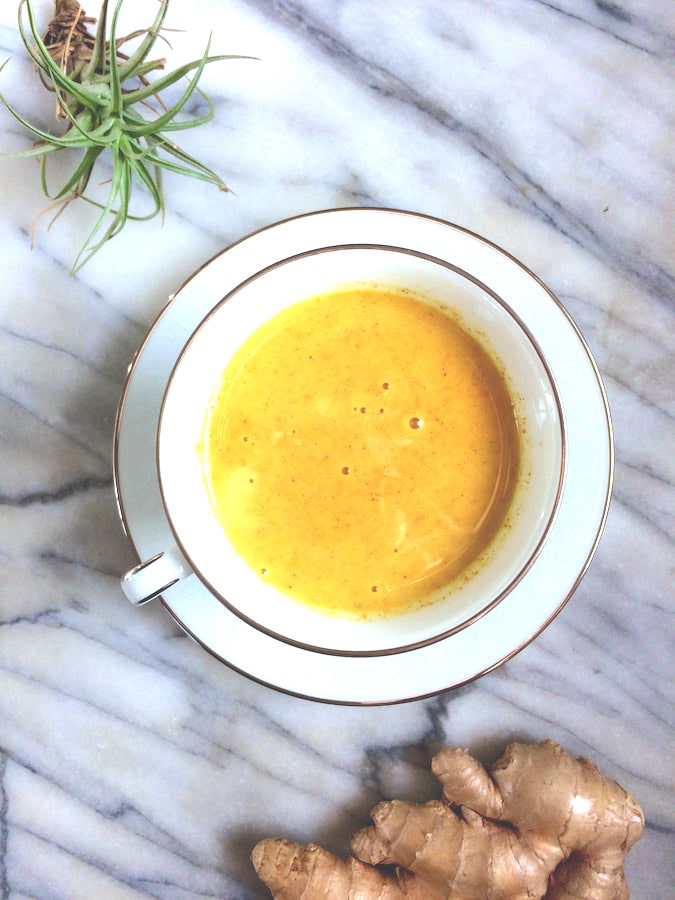 Are you drinking Golden Milk Lattes? I don't think they're offering them at Starbucks…yet. But I wouldn't be surprised if you'll be able to get one (or some version of it) there soon.
Why? Because it's a warm, healing tonic that can give you superpowers. Well, super healing powers.
This healing elixir is also sometimes referred to as Turmeric Tea, and it's an anti inflammatory drink you should get acquainted with, if you aren't already. Personally, I try to mix up a batch to drink at least once a week.
Golden Milk Lattes are:
immunity boosting
anti-inflammatory
detoxifying
dairy free
warm and delicious
Doing a quick Google search you can read up on the health benefits of turmeric, as well as the health benefits of curcurmin (turmeric is a source of curcurmin) for yourself. There are a lot of sources out there claiming various health benefits, so I don't want to link to any one in particular. Trust your favorite source.
Now, I'm not a doctor, or a nutritionist, or a scientist, so none of the above claims are 100%, but I keep hearing about how amazing turmeric is for us, so I hopped on the bandwagon. I mean, in moderation, consuming some nice turmeric tea can't hurt, right? And, if the health benefits are true: bonus.
>> Interested in fighting inflammation with an anti-inflammatory diet? Get started with our anti-inflammatory foods shopping guide<<
Special Dietary Notes
You can find so many versions of golden milk / turmeric tea recipes out there, and quite a few call for various nut milks, coconut milk, even bone broth. Because of the allergies in my family, we tend to stick with coconut milk for our brew, but you can experiment based on your dietary needs/limitations.
Recipe Notes: So, you can leave the maple syrup (or other sweetener of choice, like honey) out of the recipe, but I highly recommend it. Even with the sweetness added, the drink is still on the more potent "wow-I'm-drinking-something-that's-good-for-me" side of the spectrum, so without it, it might be less palatable (though still very warm and nourishing!). Also, the pinch of black pepper is essential. From what I've read, it helps to make the benefits of the turmeric and curcurmin more bioavailable (again, I'm not a scientist).
How to Remove Turmeric Stains
One drawback of making turmeric tea is that turmeric stains quite easily. Like, it can easily stain your countertops if you're not careful with how you handle your beverage. The stains will fade on their own with time, but you can also mix up a baking soda-and-water paste and use that to help scrub up any drips. If you're okay with using something more powerful, we always have a can of Bar Keepers Friend
under our sink that works like a magic eraser.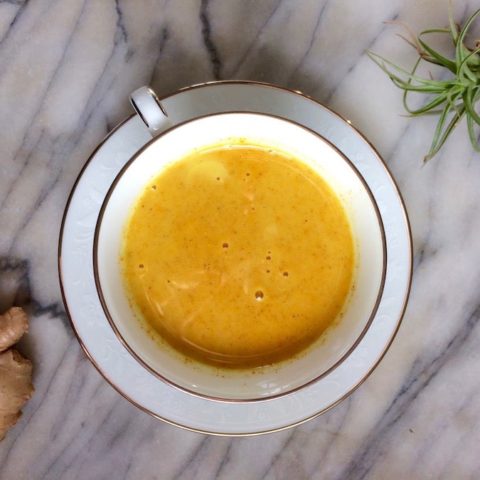 Golden Milk Latte (Turmeric Tea)
Yield: 3 servings

Prep Time: 2 minutes

Cook Time: 3 minutes

Total Time: 5 minutes

A quick and easy recipe for a warm and delicious golden milk latte (aka turmeric tea) that's packed with the healthy and healing anti-inflammatory goodness of turmeric, cinnamon and ginger.
Ingredients
2 cups coconut milk, (canned preferred)
1 teaspoon turmeric
1/2 teaspoon cinnamon
1/4 teaspoon ground ginger
pinch black pepper
maple syrup or honey, to taste
Instructions
Place all ingredients in a small pot. Whisk as you slowly heat it up, over medium heat. Alternatively, you can blend everything together in a blender before placing it in your pot.
Heat until warm, but not boiling. Then, serve and enjoy!
Nutrition Information
Yield 3 Serving Size 1
Amount Per Serving Calories 340Total Fat 32gSaturated Fat 29gTrans Fat 0gUnsaturated Fat 2gCholesterol 0mgSodium 21mgCarbohydrates 16gFiber 1gSugar 10gProtein 3g

This nutrition label is a product of an online calculator. Even though I try to provide accurate nutritional information to the best of my ability, these figures should still be considered estimates.

Please note that some of the links in this post are affiliate links and I will earn a commission if you purchase through these links (at no additional cost to you).