A quick and easy cornbread recipe that's dairy free, egg free, soy free, gluten free and vegan. It's free of the Top 8 allergens, and it's moist and delicious!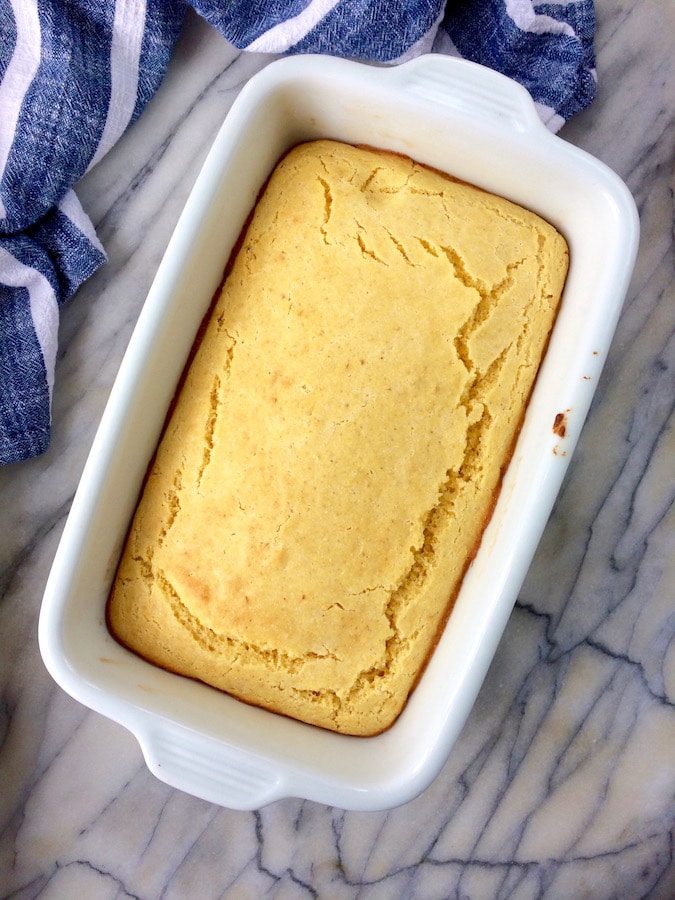 This is my go-to, easy cornbread recipe, which I've made dairy free, gluten free, soy free and vegan versions of over the years, depending on who can eat what in my house, given the variability of the different allergies and special diets going on. This is also a peanut allergy and tree nut allergy friendly cornbread recipe, with ingredients specially sourced to comply with my son's allergies.
Don't have any special diet or allergy considerations in your house? Well, you'll still enjoy this quick and easy cornbread recipe, but you can also use eggs, whole milk, and unsalted butter instead. I've made this standard recipe every which way and it comes out delicious every time.
Also, a note about the sugar. I typically use a 1/4 cup of sugar, but you can go as high as 1/2 cup of sugar, if you want it to be sweeter and more cake-like. You can also experiment with adding less sugar, if you're really watching your sugar intake, but 1/4 cup is where I've landed, which suits the tastes of both the adults and the kids at the table.
The obvious cornbread pairing is chili, which, if you're looking for a super delicious vegan chili recipe that even non-vegans will love, you should definitely try this one: Hearty Instant Pot Vegan Chili. If you don't have an Instant Pot
, you can easily make it in a slow cooker or on the stovetop, too.
For my family, since I have a 3-year-old cornbread lover (he asked for it on his last birthday even!), I make this cornbread recipe pretty much every time we're having any sort of soup for dinner. Sometimes I make it just because, and the kids eat it as a snack. It's just a really popular food in our house.
Special Dietary Notes
Here's the list of products/brands I use for this recipe. However, please do your own label reading and research to make sure they're okay for your family's special dietary situations:
Rice Dream Organic Rice Milk (dairy free, soy free, vegan)
Earth Balance Soy Free Buttery Spread (dairy free, soy free, vegan)
Hodgson Mill Corn Meal (gluten free, peanut free, tree nut free)
King Arthur Gluten-Free Flour (gluten free, peanut free, tree nut free)
Ener-G Foods Egg Replacer (vegan, gluten free, peanut free, tree nut free)
Depending on how sensitive you are to gluten, you may be able to use other corn meal brands, like Indian Head Old Fashioned Stone Ground Yellow Corn Meal
(we like this one). But, if you look at the Hodgson Mill FAQ page, they ensure no cross contamination with gluten in their facility, so if you're super sensitive, that's a good option. If you know of other safe options, please share in the comments!
I hope you try this recipe and enjoy!
DID YOU MAKE THIS RECIPE?
Add a rating below, share it on Instagram, or save it to Pinterest! You can also find us on Facebook, too.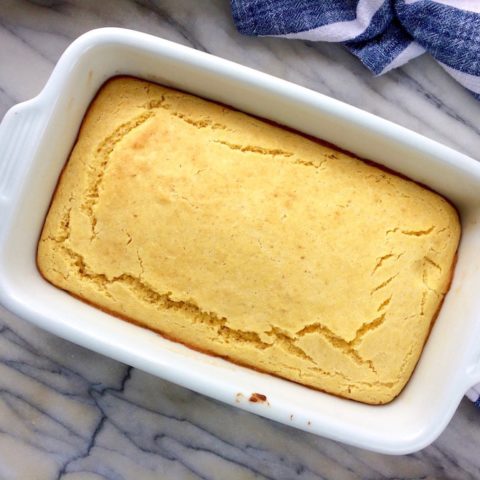 Top 8 Free Cornbread (Allergy Friendly)
Yield: 8 servings

Prep Time: 10 minutes

Cook Time: 25 minutes

Total Time: 35 minutes

Quick and easy cornbread recipe that's free of the Top 8 allergens (dairy free, soy free, egg free, gluten free, peanut safe, tree nut safe, vegan). It's moist and delicious!
Ingredients
1 1/4 cups cornmeal
1 cup gluten-free flour
1/4 cup sugar
1 tablespoon baking powder
1/2 teaspoon salt
4 tablespoons Earth Balance Soy Free Buttery Spread, melted
1 cup unsweetened rice milk
Instructions
Preheat oven to 400℉.
In a large bowl, whisk together all of the dry ingredients: cornmeal, gluten-free flour, sugar, baking powder and salt.
Prepare and add your 1-egg equivalent using your egg replacer (I like Ener-G egg replacer). Alternatively, you can use 1/4 cup of applesauce.
Then, add in the melted "butter" and the rice milk, and stir to combine all of the ingredients until the batter is smooth and lump-free.
Pour batter into a greased pan or casserole (a 9-inch cake pan works well, or a similarly sized, smaller casserole, as pictured).
Bake for 20-25 minutes, or until a toothpick inserted into the center comes out clean.
Nutrition Information
Yield 8 Serving Size 1
Amount Per Serving Calories 235Total Fat 9gSaturated Fat 2gTrans Fat 0gUnsaturated Fat 6gCholesterol 24mgSodium 401mgCarbohydrates 36gFiber 2gSugar 8gProtein 4g

This nutrition label is a product of an online calculator. Even though I try to provide accurate nutritional information to the best of my ability, these figures should still be considered estimates.

Please note this post may contain affiliate links and I will earn a commission if you purchase through these links (at no additional cost to you). Thank you for your support!