Don't overlook the greens! This is a delicious and nutrient-packed recipe for a sweet turnip and radish greens sauté that can be whipped up in about five minutes. It's a tasty way to eat your greens! And, it's naturally allergy friendly (a Top 8 allergen free side dish). To your health!

Our new house is adjacent to a small farm, so for the past two summers we've signed up for their CSA. We recently picked up our first box, which is an exciting adventure for the kids in and of itself. En route, we can visit the chickens, toss safe veggie scraps to the goats, and cruise around the farm's walking trails. It's basically awesome.
In our first box, in addition to a variety of lettuces, we got two bunches of beautiful radishes and turnips. The first thing I do when I see root veggies with greens attached, is chop off the greens, get them soaking in some water and then figure out how I'm going to cook them. While the root veggies themselves will last for several days in the fridge, the greens tend to wilt, and it's such a shame for them to go to waste since they're so full of healthful nutrients and rich flavor!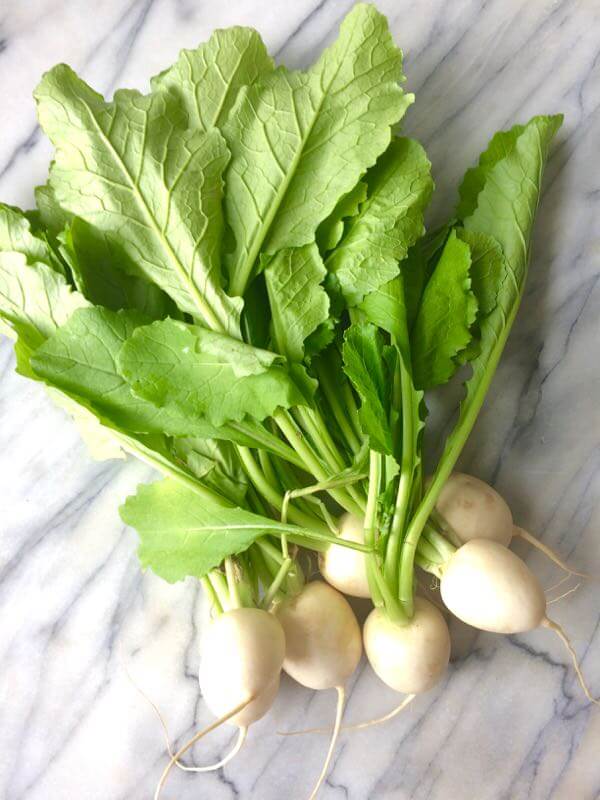 But, Wait. Can You Eat Radish Greens? Can You Eat Turnip Greens?
YES. YES. YES. To be fair, before getting this CSA haul, I knew 100% that radish greens were edible, and I *thought* turnip greens were, but I sought confirmation, because they're a bit prickly when raw. So, I wanted to confirm that the prickly-ness would smooth out once cooked, which it did! (Also, in case you're wondering, that weed in your yard known as purslane is also edible!)
Radish Greens Recipe, Turnip Greens Recipe, or Radish AND Turnip Greens Recipe? YOU CHOOSE
So this time, I decided to cook up a mixed greens saute, blending both the radish AND the turnip greens in one, ultra nutrient-dense, flavor-packed side dish. Of course, you could follow this same method if you're just looking for a delicious turnip greens recipe or a flavor-packed radish greens recipe on their own. Mix and match!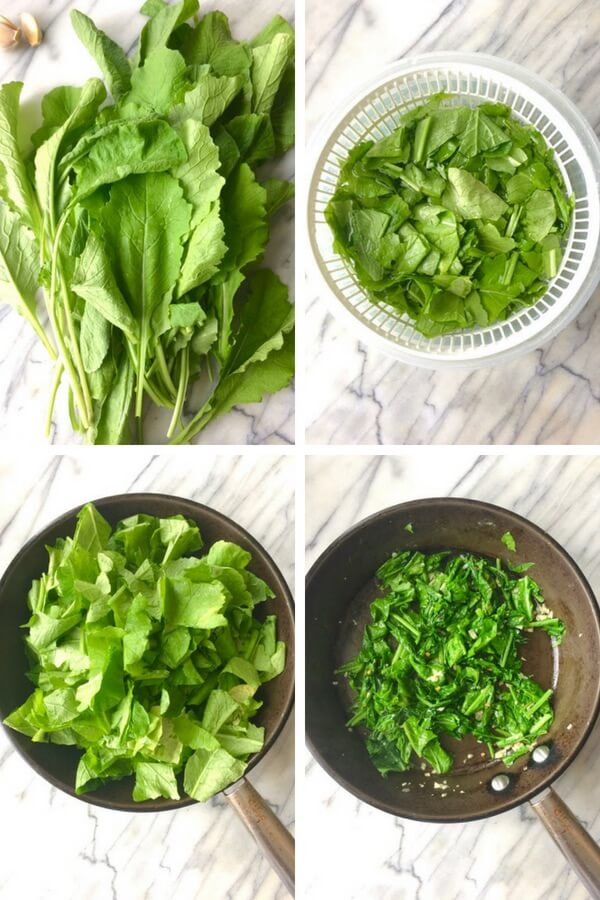 How to Cook Turnip and Radish Greens
Step 1: CHOP 'EM UP. Remove the greens from your veggies. Then, place the radishes and turnips back in your fridge to use later. (My favorite preparations are to thinly slice radishes for salads, and to quarter and roast the turnips in the oven or on the grill!). Then, lay your greens out on your cutting board and cut them into roughly equal strips, and then give them a final cut lengthwise, to cut your strips in half. This gives you a nice julienne-style cut that's perfect for sautéing.
Step 2: WASH THOSE GREENS. If you got your turnip greens and radish greens fresh from the farm in your CSA, then your next step is going to be to wash them, wash them again, and then wash them again, and then maybe wash them one more time for good measure. Even if you bought them from the store, you're going to want to make sure they're super clean and dirt-free before chopping them up to prepare. I like to use my salad spinner to wash my greens. It's an easy way to get them clean AND dry prior to cooking.
Step 3: SEASON & COOK 'EM UP. Although your greens will cook way way way down, you're going to need to start with a medium- or large-sized pan, since the fluffy greens will take up quite a bit of space before shrinking down as you cook. Heat up some olive oil over medium-low heat, toss in some minced garlic and let you garlic cook for about a minute. Then, toss in your greens and let them do their thing! You'll want to toss them with some tongs as they cook. And, while they're cooking, you can add your seasonings. The blend I'm recommending for this recipe consists of crushed red pepper flakes, honey, apple cider vinegar and salt & pepper.
Want more fresh garden greens recipes? Try this springtime recipe for a tasty Pea Shoot Salad with Radishes and Mint.
Or, if you're looking for another turnip recipe, try this recipe for a tasty Turnip Mash (w/ Potatoes!).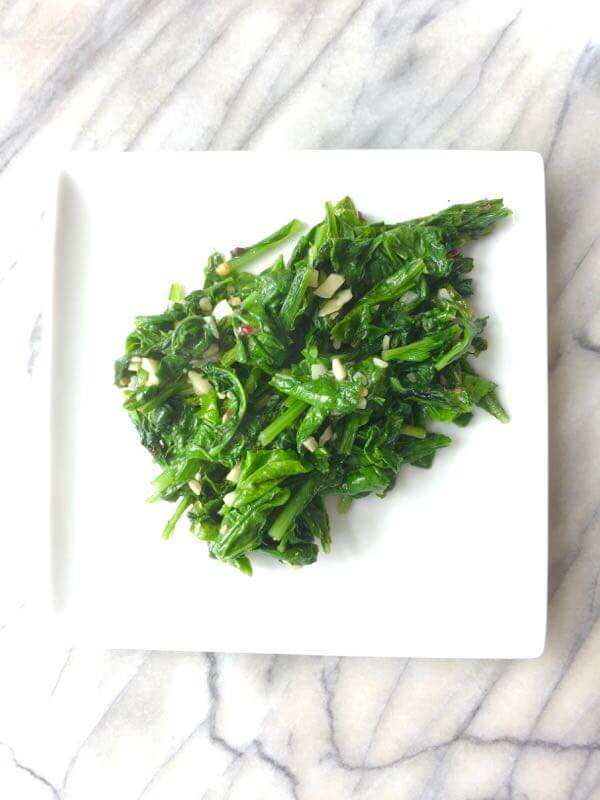 Allergy Friendly Side Dish Notes
This recipe is free of the Top 8 allergens! It's peanut free, tree nut free, dairy free, soy free, egg free, wheat free, gluten free and vegan (just substitute the honey with agave). But what it's not free of is flavor, vitamins, minerals and superfood awesomeness.
DID YOU MAKE THIS RECIPE?
Add a rating below, share it on Instagram, or save it to Pinterest with the tag #flavorpalooza, and spread the #peanutfree and #allergyfriendly food love! You can also find us on Facebook, too.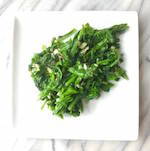 Five-Minute Turnip & Radish Greens Sauté
Yield: 2 servings

Prep Time: 5 minutes

Cook Time: 5 minutes

Total Time: 10 minutes

Don't overlook the greens! This is a delicious and nutrient-packed recipe for a sweet turnip and radish greens sauté. A tasty way to eat your greens!
Ingredients
1 bunch radish greens
1 bunch turnip greens
1 tablespoon olive oil
3 cloves garlic, minced
crushed red pepper flakes, to taste
1 teaspoon apple cider vinegar
drizzle honey (or agave), to taste
salt and pepper, to taste
Instructions
Chop the greens off of your bunch of radishes and your bunch of turnips.
Chop up your greens and wash them well. Rinse and repeat until they're squeaky clean.
Drizzle the olive oil in a medium-sized pan and place over medium-low heat. Add the garlic and let the garlic cook for about 1 minute.
Add your heaping mound of greens to the pan and toss gently with tongs to coat in the olive oil and garlic.
Season with crushed red pepper flakes, apple cider vinegar, honey, and salt and pepper.
Occasionally toss as the leaves cook down. When finished cooking down, remove from heat and serve immediately.
Notes
This recipe can be made with radish greens, turnip greens, beet greens, all sorts of greens! You can prepare it with just one type of green or with a mixture.
Nutrition Information
Yield 2 Serving Size 1
Amount Per Serving Calories 136Total Fat 7gSaturated Fat 1gTrans Fat 0gUnsaturated Fat 6gCholesterol 0mgSodium 344mgCarbohydrates 18gFiber 5gSugar 10gProtein 3g

This nutrition label is a product of an online calculator. Even though I try to provide accurate nutritional information to the best of my ability, these figures should still be considered estimates.

This post may contain affiliate links and we may earn a commission at no additional cost to you if you click through and make a purchase. This allows me to continue to provide free content, and you can be assured that I only share products that I use and love myself.