A healthy side dish alternative to mashed potatoes, this garlic mashed turnips recipe will be a surprise hit at the dinner table! I like to smooth the texture out a bit by incorporating potatoes into the mix, but you can easily make this recipe turnip-only — it's delicious!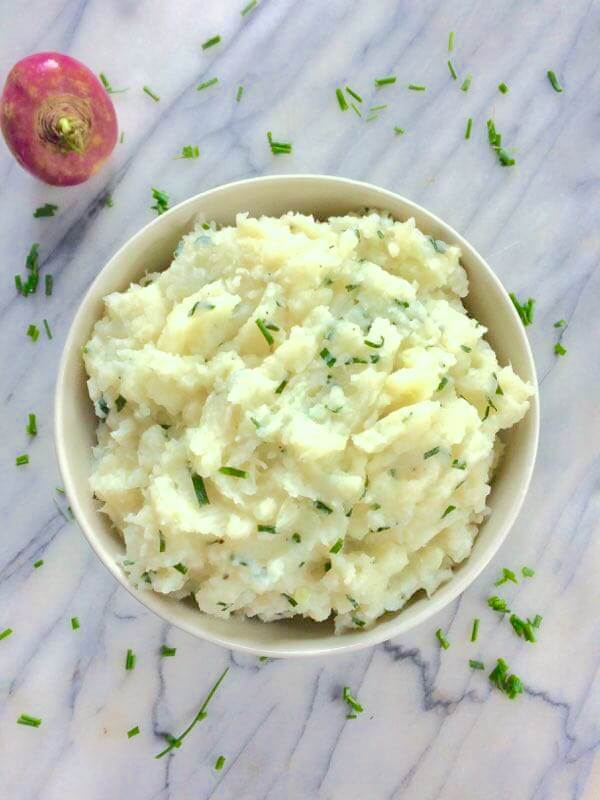 Turnips were a surprise hit at our house this summer. We ended up getting quite a few bunches from our local farm CSA this year, which meant I did a lot of turnip-related experimentation to concoct a few hits, like a yummy, vibrant and healthy Turnip and Radish Greens Saute, a simple Roasted Turnips recipe and, the Big Hitter, the main focus of this post: Healthy Garlic Mashed Turnips and Chives w/ Potatoes.
What to Do with Turnips
First, you may be asking yourself how to approach the turnip. Toss the greens, keep the greens, peel it, what? If your turnips still have their greens, then this Turnip and Radish Greens Saute is a must-make (just leave out the radish greens if you don't have any). What I like to do is immediately cut off the greens, wash them, saute them and either eat them as a quick snack (like most leafy greens, they reduce in size quite a bit) or serve them up as a healthy side dish. Then, the turnips themselves can be safely stored in the fridge for quite a few days before needing your attention.
When you're ready to cook up the turnips themselves, you'll want to cut off the stem, wash/scrub them fairly well and then peel off the tough outer skin. At that point, you're ready to cook them up!
Curious About Overall Turnip Nutrition?
Turnips are a low-calorie cruciferous veggie (34 calories per cup!), which is why this mashed turnips recipe is one of my favorites — yummy and lower in calories than making a straight-up mashed potatoes side dish. They're also an excellent source of dietary fiber, antioxidants and minerals. And they're high in vitamin C, manganese, potassium, vitamin B-6, folate, and copper. (source)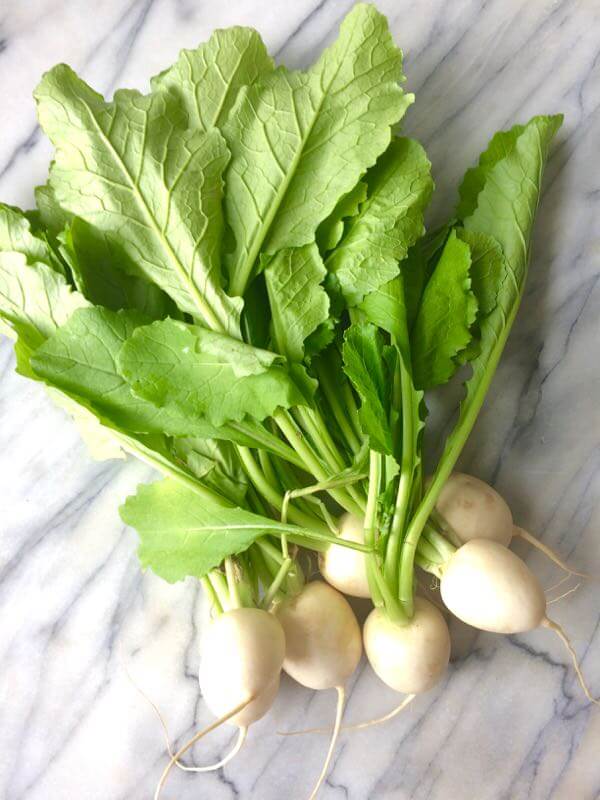 Roasted Turnips
Once washed and peeled, one very easy turnip preparation is to cut them up into similarly sized wedges, toss them in some olive oil, sprinkle them with salt and pepper, toss them onto a parchment-lined sheet pan (with sides) and roast them in the oven at 425℉ for about 30-35 minutes. Once they're golden brown and fork tender, you're done. Serve and enjoy!
Mashed Turnips and Potatoes
The Big Hitter recipe I'm sharing with you today is really a mashed turnip and potatoes recipe. You can definitely leave out the potatoes and follow the recipe below with turnips-only (just double the turnip quantity), which would make this recipe more paleo- and keto-friendly, but I like to add in some potatoes to smooth out the flavor and make it more like a healthier version of mashed potatoes.
Special Dietary Notes
This recipe is peanut free, tree nut free, egg free, soy free and gluten free. It can easily be made dairy free (and therefore vegan and Whole30 compliant) if you use your favorite dairy-free substitutions for the butter (use ghee for Whole30) and milk. Also, leave out the potatoes if you want this to be keto-friendly. It's really an easily adaptable recipe.
DID YOU MAKE THIS RECIPE?
Add a rating below, share it on Instagram, or save it to Pinterest! You can also find us on Facebook, too.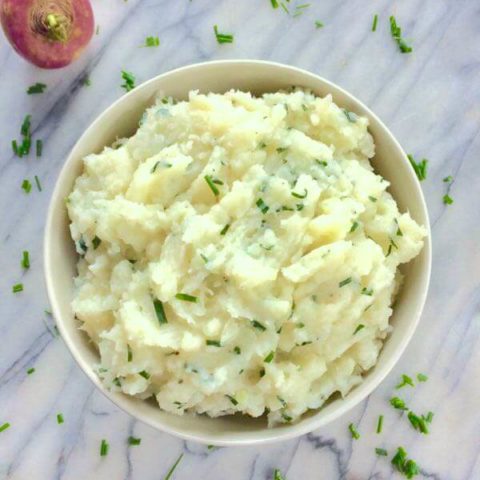 Garlic Mashed Turnips with Chives
A healthy spin on classic mashed potatoes, with a focus on mashed turnips and garlic.
Ingredients
2 medium-sized turnips
2 medium-sized russet potatoes
4 cloves garlic
2 tablespoon butter (or ghee)
2 tablespoon milk (or milk substitute)
sea salt & pepper, to taste
1 handful of chives, chopped
Instructions
Wash, peel and cut the turnips and potatoes into 1-inch cubes. Peel the garlic cloves.
Place the turnip, potato and garlic into a large stockpot and cover with water.
Heat on medium-high and bring to a boil, cooking for about 20 minutes until veggies are fork-tender. Add a dash of salt to the water while it's boiling.
Drain, and transfer turnips, potatoes and garlic back into the pot and get mashing! I like to mash manually with a potato masher, but you can also get the job done in a stand mixer (paddle attachment).
Add in butter, milk, chives and S&P and mix, mash and taste, adjusting seasonings as needed. I like to leave my mixture a bit lumpy for texture. Then you're ready to serve!
Notes
Potatoes: I used russet potatoes for this recipe, but Yukon gold and red potatoes also work well.
No Potatoes: You can leave the potatoes out altogether to make this a 100% turnip and garlic mash! Adding the potatoes smooths out the flavor, and makes it (obviously) taste more like a healthier rendition of mashed potatoes. But, mashed turnips-only are delicious too!
Nutrition Information
Yield

6
Serving Size

1
Amount Per Serving
Calories

128
Total Fat

5g
Saturated Fat

3g
Trans Fat

0g
Unsaturated Fat

2g
Cholesterol

14mg
Sodium

119mg
Carbohydrates

18g
Fiber

2g
Sugar

2g
Protein

4g
This nutrition label is a product of an online calculator. Even though I try to provide accurate nutritional information to the best of my ability, these figures should still be considered estimates.
Please note this post may contain affiliate links and I will earn a commission if you purchase through these links (at no additional cost to you). Thank you for your support!