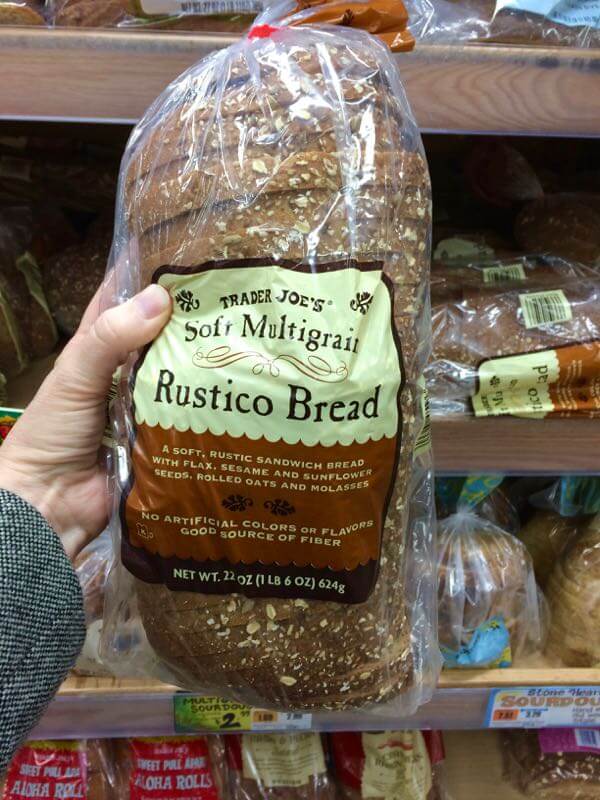 Welcome! If you've stumbled upon my blog because you were searching specifically for more information on Trader Joe's Soft Multigrain Rustico Bread, or because you were looking for safe snacks to accommodate a peanut or tree nut allergy, then you're in the right place!
Last Updated: June, 2019
Trader Joe's Soft Multigrain Rustico Bread Review
STAR RATING: ⭐⭐⭐⭐⭐ (out of 5)
The Good:
WE LOVE THIS BREAD! I wanted to find a healthy, multigrain bread that was safe for everyone in the family to eat, and that passed the picky toddler taste test, and this bread is the winner! It's high in fiber, low in calories and contains flax seeds, sunflower seeds, sesame seeds, and rolled oats. It's also lower in calories per slice than some other breads, but the slice size is also a bit thinner (fewer total grams), so although it's likely similar in calories-per-grams as other breads, mentally you're satisfied with less bread because it still feels like you're eating a full "slice," if that makes sense. We use this bread religiously for making plain toast, avocado toast, cold and hot sandwiches, etc. It's great!
The Bad:
This product is not certified organic. So if that's important to you, then there you go. But otherwise, I really can't think of any other product criticisms to share. It's a great product!
Special Dietary Notes:
This bread is peanut free, tree nut free, dairy free, soy free, egg free and vegan. Note: It is not suitable for those with an allergy to sesame. I called their customer service line (June, 2019) to confirm that SKU 0093-4596 is made in a nut-free facility. Note that Trader Joe's uses different vendors depending on where you're located, so if you have a different SKU, please call Trader Joe's HQ at: (626) 599-3700.
Have you tried Trader Joe's Soft Multigrain Rustico Bread? If so, what do you think? Let us know if the comments!
Trader Joe's Soft Multigrain Rustico Bread Nutrition Label
Here's your virtual tour of the container and the labels so you can see the ingredients and allergen information for yourself.
Ingredients: UNBLEACHED ENRICHED FLOUR (WHEAT FLOUR, NIACIN, REDUCED IRON, THIAMIN MONONITRATE, RIBOFLAVIN, FOLIC ACID), WATER, WHOLE WHEAT FLOUR, CONTAINS 2% OR LESS OF THE FOLLOWING: FLAX SEEDS, SESAME SEEDS, SUNFLOWER SEEDS, ROLLED OATS, SUGAR, MOLASSES, SALT, YEAST, WHITE RYE FLOUR, DOUGH CONDITIONER (WHEAT GLUTEN, WHEAT FLOUR, ENZYMES, ASCORBIC ACID), CULTURED WHEAT FLOUR (FOR ADDED FRESHNESS), WHEAT SOUR, CORN MEAL. CONTAINS WHEAT.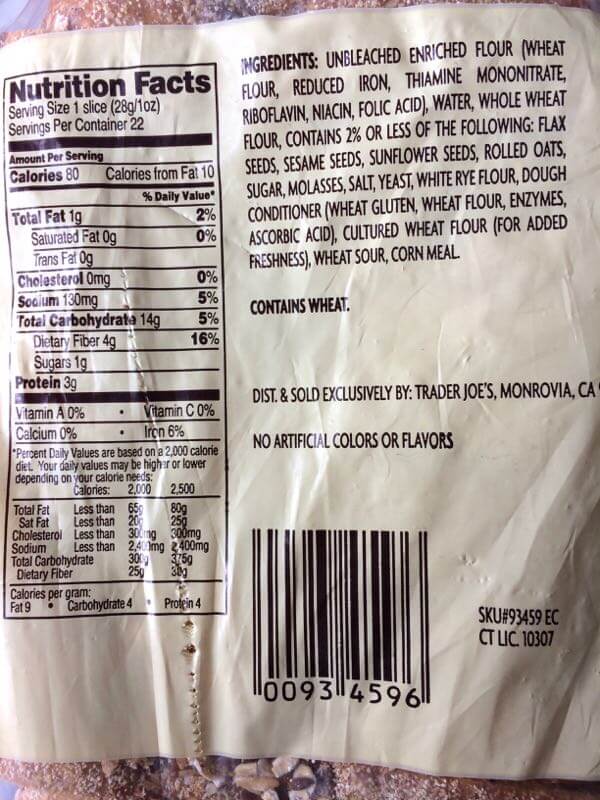 In addition to providing product information for safe, peanut and tree nut free snacks and other products, you'll also find an ever-growing recipe index of allergy-friendly (and family friendly) dinners, desserts, side dishes and other treats. All recipes on this site are peanut free, but I also list additional information to accommodate other special diets and food allergies when possible.
One of my goals with this series of peanut and tree nut safe product posts is to provide an easier, more detailed, online shopping + product review service for my fellow grocery store nutrition label reading friends. You know what I'm talking about. Maybe you have a food allergy yourself, or maybe you're a food allergy mom like me. Either way, you know how exhausting it can be to carefully scan nutrition label after nutrition label, checking to see if every single product you buy is safe for you and your family. On Flavorpalooza, you can see the labels for yourself, from the comfort of your couch, car, wherever!
Please note, labels are constantly changing, so please pay extra close attention to the dates assigned to these posts and pictures. Also, I always like to remind my readers of my general disclaimer: that although these products at the time of purchase were deemed safe for my son's peanut allergy, you should always follow the advice of your doctor/allergist and do your own due diligence before deciding if a product is safe for you.
Found a nut free product you love? Please share it with us!