These gluten free crepes are made with brown rice flour and are brightened with the anti-inflammatory superpowers of turmeric. Perfect for breakfast or brunch, and can be customized with a variety of savory fillings like eggs, cheese, ham, salmon and more!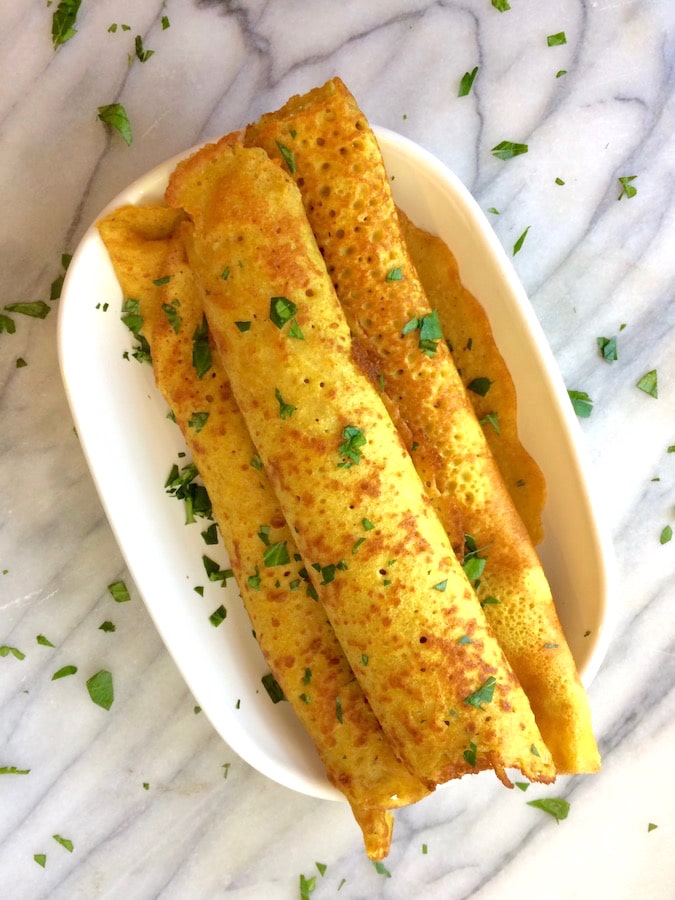 Yes, my now-husband may have wooed me a bit with the street crêpe maker he owned when we met. And yes, since then, we've purchased a cast iron crêpe pan. So, we're definitely "crêpe people." And we make TONS of different varieties, but I thought this recipe would be the perfect one to share today. And, it can be easily made with a simple nonstick skillet if you don't have official crêpe cookery. WIN.
Also, we've really been on a turmeric kick lately (also see: Anti-Inflammatory Golden Milk Latte and Salty Garlic Turmeric Popcorn). So, we figured, why not add it in to the crêpe batter to give it an anti-inflammatory health boost? Plus, it gives the crêpes that beautiful golden color.
These gluten-free crêpes are perfect for breakfast, brunch, midday snacks… It's great having a stack pre-made in the fridge to quickly re-heat and eat, too.
Crêpes are one of our go-to menu items when we have company over. You can easily whip up a stack of crepes, and then create a fillings bar for your guests to customize their meal — including things like scrambled eggs, diced ham, shredded cheese, salmon, capers, arugula, etc.
Kid Tip: My kids love to cruise by for a quick crêpe hand-off, and they can pretty safely eat one of these on the run without leaving too much of a crumb trail behind them. Ha.
Kitchen Tools for Making Crêpes
This Lodge Cast Iron Griddle
is perfect for making crêpes. It's what we use. In fact, this pan pretty much lives on our stovetop, because we use it daily… for making grilled cheese sandwiches, quesadillas, over-easy eggs, reheating leftovers, you name it! It's the perfect workhorse of a pan.
For spreading and flipping your crêpes, you can also purchase something like these: Crêpe Spreader and Spatula Turner
. We do own these tools, and they do make an appearance on occasion, but, to be honest, we usually just pick up the pan and rotate it gently to spread the batter out. This is something you wouldn't be able to do on a traditional street crêpe maker, but because our griddle pan has side edges, it's an easy hack. Then, for flipping, we usually use a regular spatula — being careful to inch it under the crêpe so it doesn't tear. But the spatula turner I linked to here
would definitely make this process easier and would result in fewer torn crêpes. It's up to you.
Special Dietary Notes
This recipe is gluten free, soy free, peanut free and tree nut free. For the brown rice flour, we love using Hodgson Mill's Brown Rice Flour
. I simply love that company! As a mom with a son with a severe peanut allergy, I love that they not only produce their flours in a peanut free facility, they even state on their website that they don't even allow employees to bring peanuts into the break room! How cool is that? LOVE IT. As an allergy mom, any additional level of confidence that you can give me in the safety of your product = WIN.
DID YOU MAKE THIS RECIPE?
Add a rating below, share it on Instagram, or save it to Pinterest! You can also find us on Facebook, too.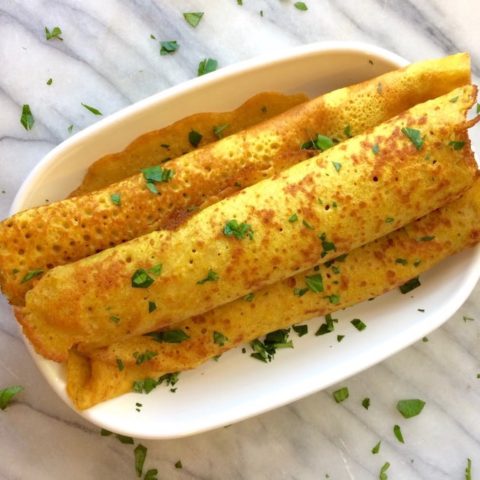 Savory Gluten Free Crêpes
Yield: 10 crepes

Prep Time: 5 minutes

Cook Time: 20 minutes

Total Time: 25 minutes

Delicious, savory crêpe recipe that's gluten free -- made with brown rice flour and turmeric, for a boost of anti-inflammatory power!
Ingredients
2/3 cup milk (whole preferred)
1 egg, beaten
1 tablespoon sugar
1/2 teaspoon garlic salt
1 teaspoon turmeric
2 tablespoons coconut oil, melted
pinch of salt
1 cup filtered water (as needed -- see instructions)
Instructions
Whisk all ingredients (except for the water) together in a large bowl.
Slowly add in water (as needed) until you reach the desired crêpe batter consistency (it should look and feel like mixing heavy whipping cream).
Heat a non-stick pan over medium-low heat. Pour a thin layer of batter into the pan, just enough to cover the entire bottom of the pan. Cook for approximately 2 minutes. Take a wide turner and flip the crêpe over, cooking the other side for an additional minute.
When done, remove crêpe and set aside. Continue making crêpes until your batter is gone.
Roll up or fold to serve, or add savory fillings like eggs, cheese, ham, etc. Have fun with it!
Recommended Products
As an Amazon Associate and member of other affiliate programs, I earn from qualifying purchases.
Nutrition Information
Yield 10 Serving Size 1
Amount Per Serving Calories 103Total Fat 4gSaturated Fat 3gTrans Fat 0gUnsaturated Fat 1gCholesterol 20mgSodium 110mgCarbohydrates 14gFiber 1gSugar 1gProtein 2g

This nutrition label is a product of an online calculator. Even though I try to provide accurate nutritional information to the best of my ability, these figures should still be considered estimates.

Please note this post may contain affiliate links and I will earn a commission if you purchase through these links (at no additional cost to you). Thank you for your support!