When you have a peanut and/or tree nut allergy, finding grab-and-go protein sources can be challenging, so we rounded up a well-researched list of 100% nut free protein bars. These healthy, store-bought brands are either made in nut free facilities or on dedicated lines.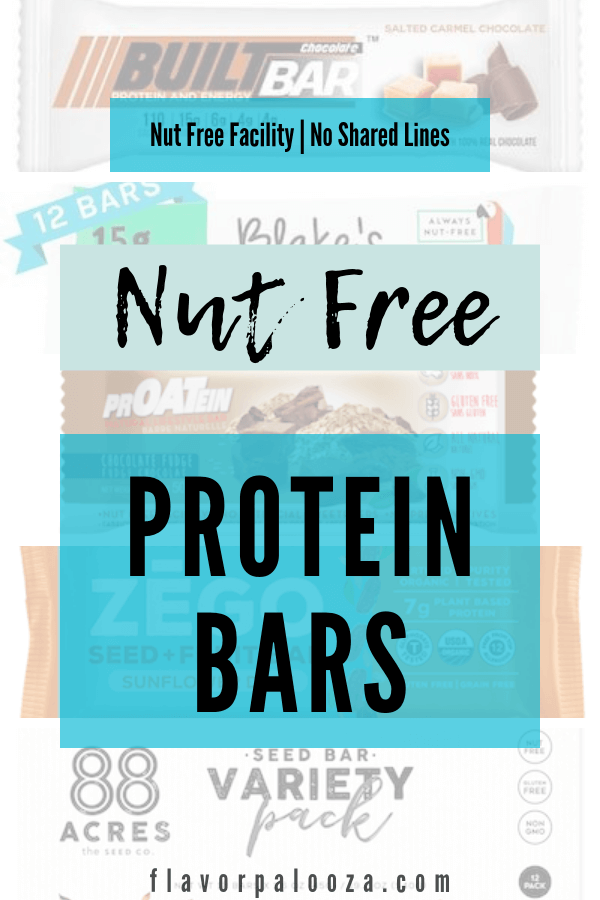 As an allergy parent, I've had a difficult time searching Google for nut free protein bars and finding suggestions that are made in either nut free facilities or on dedicated, nut-free lines.
So many lists I see include bars that simply don't have nuts in them. For some people, that might be fine. But for our situation, we prefer to stick to options that are 100% nut free, without risk of cross contamination.
So, I did some research and found quite a few options that are:
✔ 100% Nut Free
✔ Have a decent amount of protein
✔ Available to buy online

Here's the information you'll find listed for each product:
Amount of protein per serving
Amount of net carbs per serving
Number of calories per serving
Links to product FAQ pages or Allergen Statements (esp. helpful for those also concerned about other allergens)
Links to where to buy in stores and online
Links to honest product reviews (if available) <–I'm still working through the list to try all of these myself!
Please use these lists as a guide, and do your own research to make sure the products listed are 100% safe for your family and your situation. Where available, I included links to brand allergen information pages, for your easy, up-to-date reference. Check and recheck and recheck, as manufacturing processes change constantly. Also, although peanuts are technically a legume and not a nut, I often use the term "nut free" to mean both peanut free and tree nut free.
Some of the links in this post are affiliate links and I will earn a commission if you purchase through these links (at no additional cost to you).
Looking for nut free granola bars? We have a list of those too!
100% Nut Free Protein Bars
Last Updated: December, 2019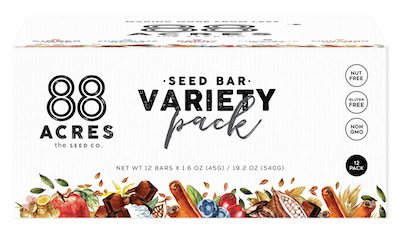 Protein: 5g – 6g
Net Carbs: 18g – 20g
Calories: 180 – 200 calories
Although not super high in protein, these seed-based bars are still a healthy, nut-free option for a quick energy boost, made with pumpkin seeds, sunflower seeds, and flax seeds. Flavors include Dark Chocolate Sea Salt, Cinnamon & Oats, Double Chocolate Mocha, Ginger Apple, and Triple Berry Blend. They're made in a dedicated bakery that's free of peanuts, tree nuts, gluten, dairy, eggs, soy, and sesame, and are FODMAP friendly. (Allergen Statement)
>> Buy an 88 Acres Seed Bars starter variety pack on Amazon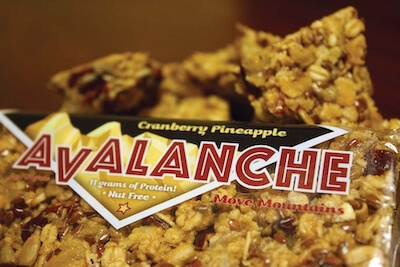 Protein: 10g – 12g
Net Carbs: 34g – 39g
Calories: 295 – 304 calories
Avalanche nut free protein bars are made with rolled oats, toasted sunflower kernels, flax seed, dried fruit, whey protein, and honey. Choose from the following flavors: Blueberry Vanilla, Cherry Chocolate, Cinnamon Raisin, Cranberry Pineapple, Caramel Espresso, and Apple Cinnamon.
>> Buy on the Avalanche website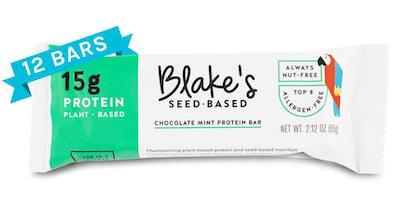 Protein: 15g
Net Carbs: 18g – 20g
Calories: 250 – 260 calories
Blake's Seed Based protein bars are made with pumpkin, sunflower seeds and pea protein. And, they're made in a facility that's free from the Top 8 allergens. They currently have two seed-based protein bar flavors: Chocolate Mint and Mango Lemon. They also have a cool "Bar for a Box" program, where they donate one bar to a school in need, for every box sold. (Allergen Statement)
>> Buy Blake's Seed Based bars through their website
>> Buy Blake's Seed Based bars on Amazon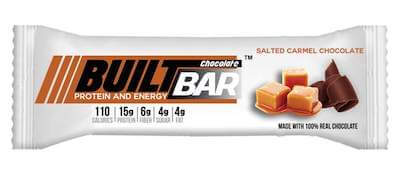 Protein: 15g
Net Carbs: 5g – 7g
Calories: 110 calories
>>Read our full Built Bar review here<<
Clocking in at 15g of protein per bar, Built Bars are definitely one of the more protein-packed options I've found. You choose from a variety of flavors, including: Double Chocolate, Lemon, Mint, Coconut, Orange, Raspberry, Salted Caramel, Strawberry, Vanilla, Banana, and Blueberry Cheesecake. Can't decide? Order a starter box that includes a mix of flavors! If you're on a keto diet, and you're nut free, these would be an excellent option with such low net carb numbers compared to the other bars on this list. Although they don't have an FAQ or allergen statement to link to directly, if you look at the nutrition label they show on their website, you can see: Allergy Warning: Contains milk products. Built Bars are made in a peanut and tree nut free facility.
UPDATE: As of late 2019, Built Bar is now offering a Peanut Butter flavored bar and a Coconut Almond flavored bar. The company has posted on their Facebook page that these bars, as well as any other forthcoming nut flavors, are being produced in a separate facility, so you can be assured that their non-nut flavors are still 100% nut free.
>> Buy directly from their website <–Flavorpalooza readers get 12% off with code: SAVE12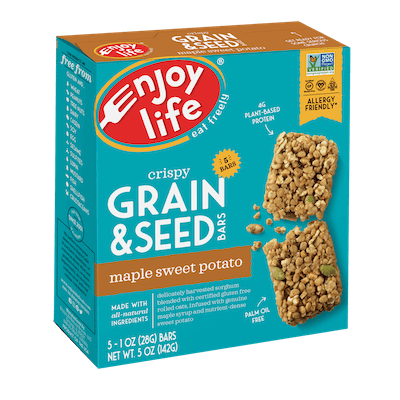 Protein: 4g
Net Carbs: 15g – 16g
Calories: 120 calories
Enjoy Life has a variety of Grab & Go Grain & Seed Bars, in flavors like Banana Caramel, Cranberry Orange, Chocolate Marshmallow, and Maple Sweet Potato.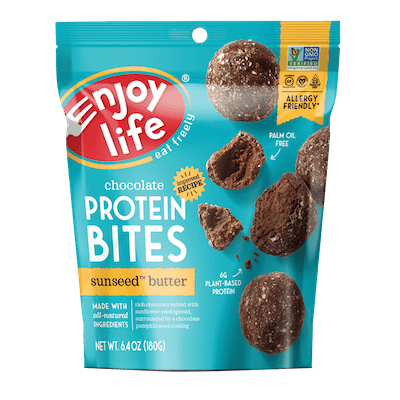 Protein: 2g per "bite" (15 per package)
Net Carbs: 6g per bite
Calories: 50 – 60 calories per bite
The Enjoy Life protein bites come in Dipped Banana, Cinnamon Spice, Dark Raspberry, and Sunseed Butter flavors.
All of Enjoy Life's products are free of the 14 most common allergens, including wheat, peanuts, tree nuts, dairy, soy, egg, sesame, casein, sulfites, lupin, mustard, fish, shellfish & crustaceans. And they're made in a dedicated nut free and certified gluten free facility. (FAQ)
>> Find Enjoy Life in a store near you
>> Buy Enjoy Life now on Amazon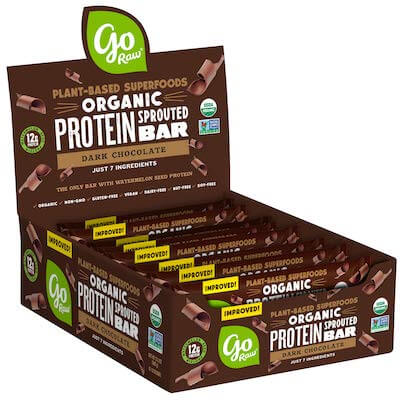 Protein: 12g
Net Carbs: 20g – 23g
Calories: 230 – 240 calories
In addition to other products like sprouted seeds and sprouted bars, Go Raw specifically carries a line called Sprouted Protein Bars, made with watermelon seed protein. These come in flavors like Dark Chocolate, Zesty Lemon, and Cinnamon Spice. Their bars are made in a dedicated facility that's nut free (except for coconut), gluten free, wheat free, dairy free, soy free, vegan and kosher. (FAQ)
>> Buy a box of Go Raw bars on Amazon
Protein: 10g
Net Carbs: 15g – 16g
Calories: 240 calories
UPDATE 9/9/19: I received an email from OWYN that said: "Unfortunately, we're not going to be selling the bars anymore, as our primary focus is our new Meal Replacement Shakes and Protein Shakes and Powders. As always, we're incredibly strict with respect to food allergens."
OWYN stands for: Only What You Need. What I immediately loved about this company is the prominent placement of their allergen information in the top menu of their homepage. I'm so used to scrolling to the bottom of company websites to try and find a not-always-easy-to-find FAQ page with that information. Note: These bars are made in peanut free facility, but they are not made in a tree nut free facility (read on to learn more). They also list the results of their allergen detection tests, including charts. And on their FAQ page they state they are in a national partnership with FARE (Food Allergy Research & Education).
They sell 100% plant-based protein drinks, meal replacement shakes, protein powders and — what we're here for — a nice selection of protein bars. Basically, they're really hitting the protein game hard. Flavors include: Dark Chocolate & Sea Salt, Chocolate Chip & Cranberry, Chocolate Chip Cookie Dough, Tart Cherry & Lemon, and Ginger Turmeric.
The allergen statement on their website says: "OWYN protein bars are produced with the highest industry standards to ensure no cross-contact with any top 8 allergen." However, they also state that milk, soy, tree nuts and wheat are present in their manufacturing facility. The page goes in to great detail on the extensive process of their cleaning and testing, so please check it out to determine your own comfort level. It's definitely more information than I'm used to seeing a company offer up. (Allergen Statement)
>> Buy OWYN protein shakes from their website (20% off for first time customers with this link!)

Protein: 15g
Net Carbs: 14g
Calories: 160 – 170 calories
PrOATein bars are made in Canada, but they ship worldwide. They're nut free and made in a nut free facility (except for coconut). Choose from Banana Chocolate, Chocolate Fudge, Vanilla Blueberry, White Chocolate Coconut. (FAQ)
>> Buy PrOATein bars on their website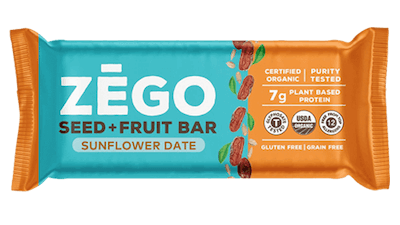 Protein: 6g (packaging on front says 7g of plant based protein, but nutrition label says 6g?)
Net Carbs: 15g – 16g
Calories: 160 – 170 calories

They have four different Seed + Fruit Protein Bar flavors: Lemon Ginger, Apple Cinnamon, Sunflower Date, and Fudgy Chocolate. ZEGO's products are made in a facility that's free of peanuts, tree nuts, soy, dairy, egg, wheat, fish/shellfish, lupin, sesame, mustard, and sulfites. (Allergen Statement)
>> Buy ZEGO bars directly from their website [November 2019 Special: Spend $50 on ZEGO products in November, receive $25 off coupon code for December!]
>> Buy ZEGO on Amazon