Yummy homemade garlic knots that taste just like your favorite side order add-on from your local pizzeria! Perfect for family Pizza Night, they're kid friendly and allergy friendly: peanut free, tree nut free, egg free, and soy free, with vegan and gluten free options included. Great for snacking! Enjoy them as-is or dipped in warm marinara. Yum!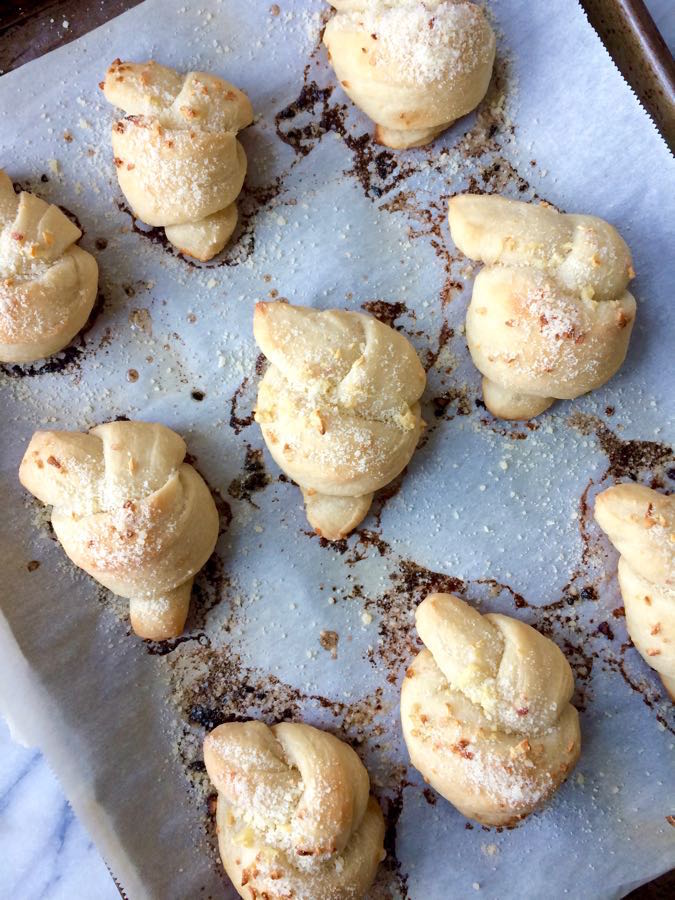 Homemade Garlic Knots
I am a huge garlic fan. And a huge pizza dough fan. So, naturally I'm a huge garlic knot fan. And once I started making these homemade garlic knots, there was no turning back. Where I used to make two pizzas every Friday night for Pizza Night at our house, I now make one pizza and then use the second dough ball to make a big tray of buttery, garlicky homemade garlic knots.
The inspiration to make these really stemmed from my son's peanut allergy. Because of his allergy, our local take out options have become very limited, so even something as simple as ordering up some pizzas, knots and a salad from a local pizza joint has become a much bigger challenge. What that's meant for us is that we've had to really explore making homemade versions of things we otherwise would have more easily just purchased from a restaurant or store. And these garlic knots are one of those things. I didn't want to NOT have them, so it meant figuring out a way to make a safe version at home for my family.
Now I'm a big garlic lover, so I usually go heavy on the garlic. But, using 3 cloves is probably a good amount for a moderate garlic experience, ramping things up to 4 or 5 cloves (or more!) if you want to kick things up a notch. Also, I've been tempted in the past to top these with a dried Italian seasoning blend, but my toddlers are in a very "anti small green flecks" phase, so I've been sticking with just the garlic, sea salt and Parmesan as toppers and the kids love it. I hope your family does too!
How to Tie Garlic Knots
First, form your dough into a long, oval shape (see photo).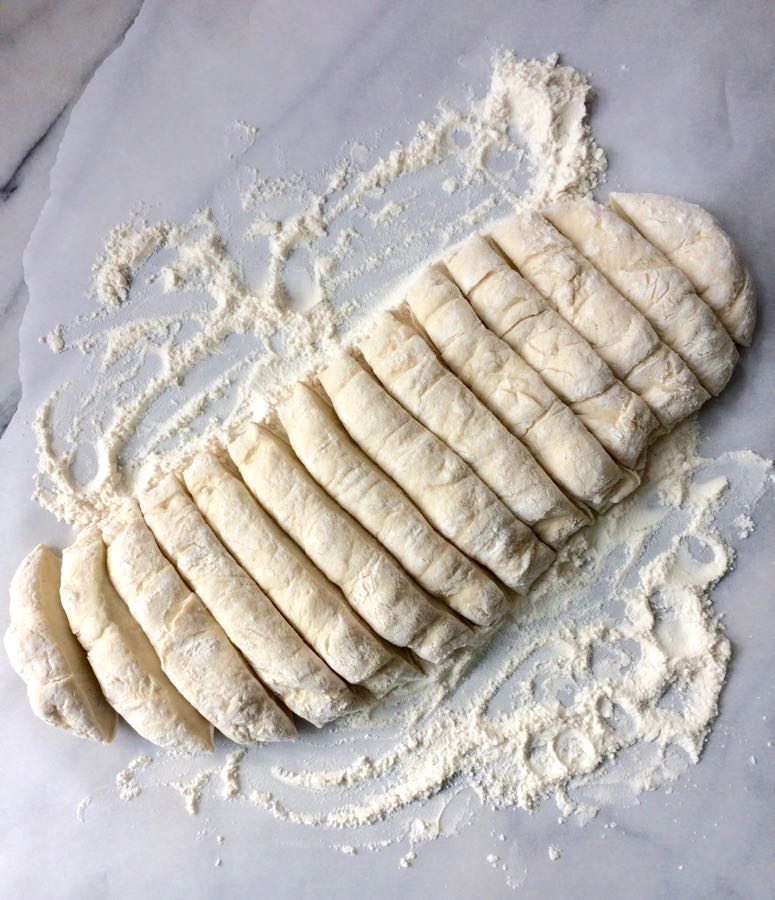 Then, cut the dough into strips of equal width. The wider the strip, the bigger your knot with puff up once baked. Take each strip and make sure it's coated with flour on all sides. Stretch it till it's about 8 inches in length (doesn't need to be precise here!). Then, fold one end over, forming a loophole, tuck the other end through the hole and give a gentle tug. They really don't need be perfect by any means. They all puff up nicely in the oven and taste divine!
Special Dietary Notes
These garlic knots are peanut free, tree nut free, egg free and soy free (as long as you source a pre-made pizza dough without soy — this was something I found about 50% of the time at my local grocery stores, so it is possible!). Also, make sure you read your labels and make any phone calls you need to make to ensure the safety of the product for your allergies. We've found a couple of local brands that work well for our son's peanut allergy, so we stick with that. You can also easily make vegan garlic knots that are dairy free if you omit the Parmesan and substitute the butter for olive oil — yum! Also, I hope to post a homemade, gluten-free pizza dough recipe soon. If you used a gluten-free flour to make your own dough from scratch, you could make gluten free garlic knots. I have seen pre-made gluten free pizza dough in some stores as well! For this recipe, though, my main focus was ensuring they were peanut free and quick/easy to make, so I went with a safe pre-made dough from my local grocery store. But, this is a very adaptable recipe!
DID YOU MAKE THIS RECIPE?
Add a rating below, share it on Instagram, or save it to Pinterest! You can also find us on Facebook, too.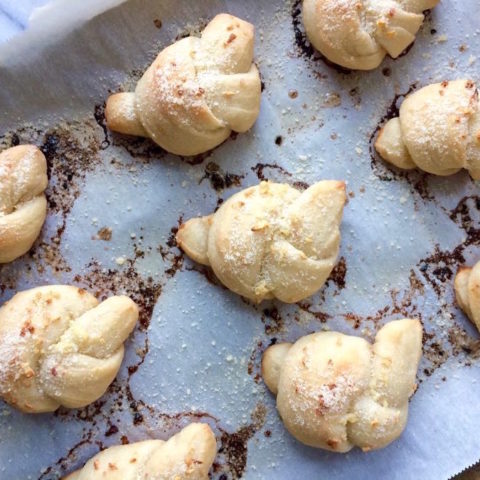 Homemade Garlic Knots
Yummy homemade garlic knots that taste just like your favorite side order add-on from your local pizzeria!
Ingredients
1 pre-made pizza dough
1/3 cup flour, for dusting
5 tablespoons butter, melted
3-4 cloves garlic, chopped
course sea salt (as needed)
grated Parmesan cheese (as needed)
Instructions
If you're using a pre-made pizza dough, make sure to take it out of the fridge at least 20 minutes in advance, to let it get up to room temp. Flour your surface, coat the dough in flour on all sides and let it sit to warm up.
Pre-heat oven to 400℉. Line a baking sheet with parchment paper.
Once your dough is ready to go, lift it up, rotate it and stretch it to form it into a long, oval shape. Then, cut it into strips of equal width. I usually get just over a dozen strips.
Roll each strip in flour to coat them on all sides, then stretch them out till they're about 8 inches long, and then tie them into quick, loose knots. Place each knot on your baking sheet about an inch apart.
In a small pan, melt the butter over medium-low heat. Once melted, add in the garlic and let simmer for about a minute.
Using a basting brush, evenly paint each knot with the butter-garlic mixture. Butter them liberally!
Quickly grind course sea salt and dust Parmesan cheese over the top of the knots as needed, before placing them into the oven.
Bake for approximately 18 minutes. They should look slightly browned when done.
Optional: Serve with a side of marinara for dipping!
Notes
Depending on the size of my knots and how many I end up making, I occasionally need to spread them out onto two parchment-lined baking sheets. If that happens, I switch their oven rack placement about halfway through the required cooking time.
Nutrition Information
Yield

5
Serving Size

1
Amount Per Serving
Calories

154
Total Fat

12g
Saturated Fat

7g
Trans Fat

0g
Unsaturated Fat

4g
Cholesterol

31mg
Sodium

246mg
Carbohydrates

10g
Fiber

0g
Sugar

0g
Protein

2g
This nutrition label is a product of an online calculator. Even though I try to provide accurate nutritional information to the best of my ability, these figures should still be considered estimates.
Please note this post may contain affiliate links and I will earn a commission if you purchase through these links (at no additional cost to you). Thank you for your support!