A classic homemade hummus recipe that can be made in 5 minutes with 5 ingredients (plus spices!). This healthy snack is vegan, gluten free and allergy friendly (it doesn't contain any of the Top 8 allergens). Whip it up in a food processor or high-speed blender and serve it with carrot sticks, celery, pretzels, pita, crackers, whatever!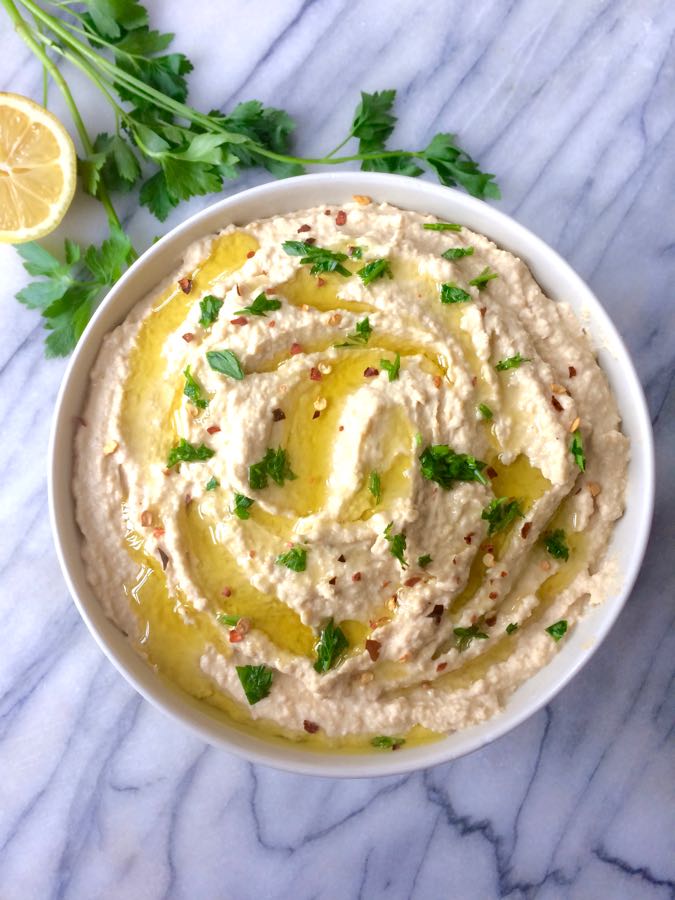 Classic Hummus
This recipe for homemade hummus is a classic hummus concoction. It can be made in either a food processor or a high-speed blender in just 5 minutes! Granted, it will take you a bit longer to clean your kitchen equipment afterward, but that's not the point here. 🙂
Hummus is a wonderful, healthy snack option that both of my kids enjoy. Having a peanut allergy in the house, it also serves as an allergy-friendly snack option that's packed with protein, since peanut butter isn't allowed. And, quite a few of the store-bought hummus options out there have allergy warning labels on them that don't work for us, so homemade hummus it is. Luckily, it's super easy to make!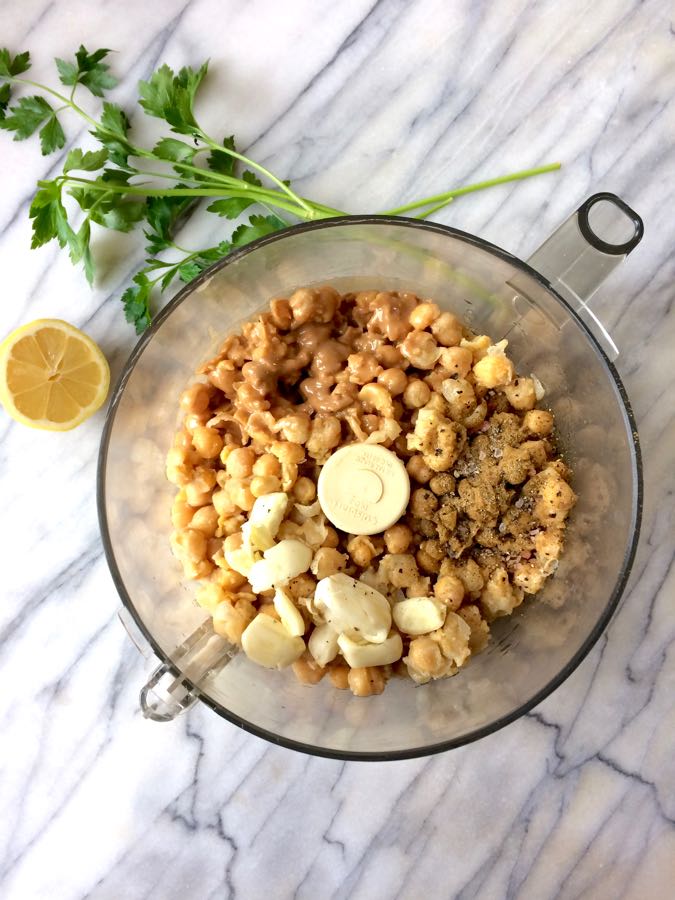 Hummus Ingredients
The hummus ingredients I list here are a classic combo that makes a very traditional Lebanese hummus. Lebanese food is one of my favorites, so although there are so many ways to make hummus, this is my preferred list of hummus ingredients:
chickpeas / garbanzo beans
tahini
garlic
lemon juice
olive oil
cumin, salt, pepper
From time to time, from this traditional base, I will mix things up by adding things like beets, basil, roasted red peppers, and sun-dried tomatoes. Really, it's a wonderful base to experiment with all sorts of flavor combos, so creativity is encouraged.
How to Cook Chickpeas (Garbanzo Beans) in an Instant Pot
For this hummus recipe, I used extra soft chickpeas that I'd pre-soaked and then cooked in our Instant Pot
. Alternatively, you could use canned chickpeas. [Tip: Although you can use chickpeas straight from the can, and I'm sure your hummus would taste pretty great this way, I like to simmer my canned chickpeas in some water on the stovetop for 10 to 15 minutes first, to make sure they're extra-extra soft, which then makes even smoother, creamier hummus. For example, have you noticed that not all canned chickpeas are the same? There are some brands that come out of the can hard, so simmering them will make sure you've got a really nice, soft bean before you start.]
But, for cooking chickpeas in the Instant Pot for hummus….
Step 1: Place 1.5 cups dry chickpeas in a large bowl, cover with filtered water and let soak overnight.
Step 2: Drain and place pre-soaked chickpeas into the Instant Pot. Then, add in fresh filtered water to cover beans.
Step 3: Cook on Manual High Pressure for 20 minutes.
Step 4: Release pressure, drain and then your beans are ready! [Note: alternatively, you could skip the pre-soak step and cook on Manual High Pressure for 40 minutes.]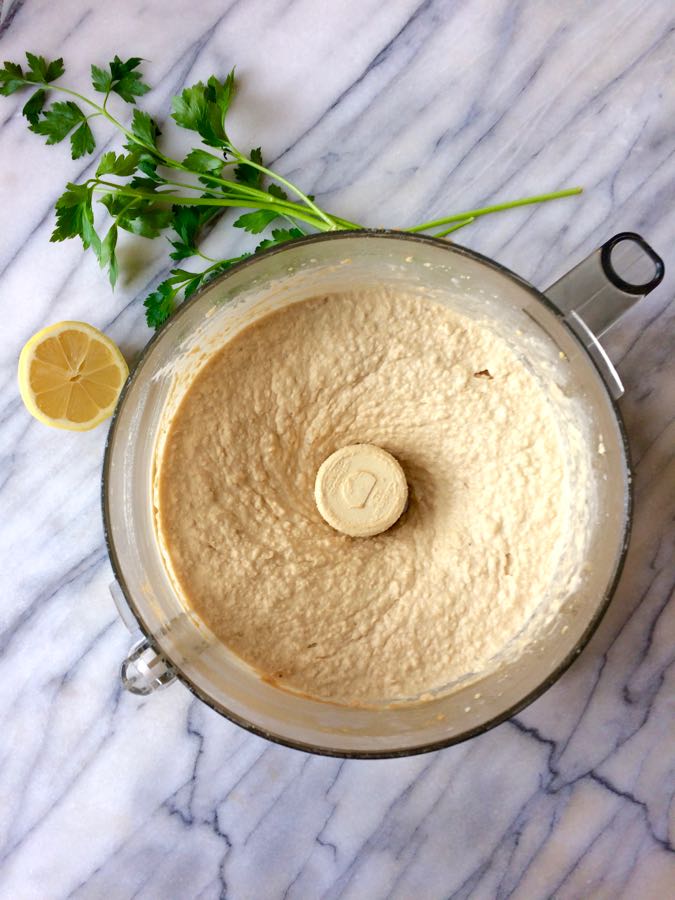 Allergy Friendly Hummus Notes
This homemade hummus recipe is free of the Top 8 allergens. It's peanut free, tree nut free, soy free, dairy free, gluten free, egg free and vegan. Now, several of our friends with peanut allergies also have allergies to sesame. If that's the case in your home, then you can leave out the tahini. It definitely doesn't have that classic hummus taste without the tahini, but it's still really good! In fact, if I had to leave out the tahini, I would probably add in more flavor mixers, like sun-dried tomatoes, roasted red peppers or extra lemon zest to spark up the flavor. In our home, the only ingredient we watch out for is the tahini, since it's the only pre-packaged ingredient in the recipe. Make sure to check the labels to make sure its free of cross-contamination risks, etc.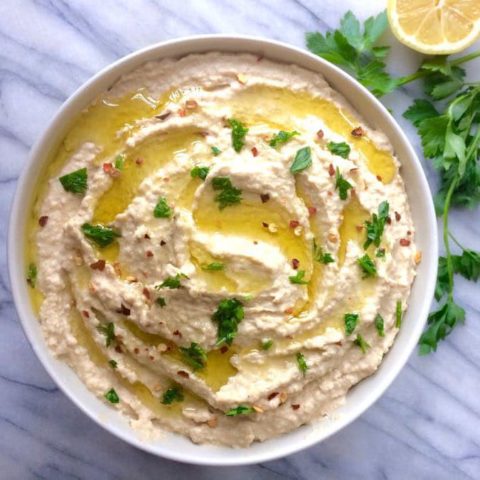 Homemade Hummus
A classic homemade hummus recipe that can be made in 5 minutes with 5 ingredients (plus spices!).
Ingredients
3 cups cooked chickpeas (or 2 15-oz cans of chickpeas)
3-4 cloves garlic, peeled and smashed
6 tablespoons tahini
2 tablespoons olive oil
3-4 tablespoons fresh lemon juice
1/2 teaspoon ground cumin
salt and pepper, to taste
Instructions
Place all ingredients in a food processor or high-speed blender and blend. Stop and add small amounts of water until the desired texture is reached.
Taste, adjust spices as needed and mix until done!
Notes
Optional: When serving, top with more olive oil, chopped parsley, and crushed red pepper flakes or chili powder.
Recommended Products
As an Amazon Associate and member of other affiliate programs, I earn from qualifying purchases.
Nutrition Information
Yield

10
Serving Size

1
Amount Per Serving
Calories

161
Total Fat

9g
Saturated Fat

1g
Trans Fat

0g
Unsaturated Fat

7g
Cholesterol

0mg
Sodium

37mg
Carbohydrates

16g
Fiber

4g
Sugar

3g
Protein

6g
This nutrition label is a product of an online calculator. Even though I try to provide accurate nutritional information to the best of my ability, these figures should still be considered estimates.