You'll love how easy it is to make croutons at home! These homemade croutons are great for adding to salads, soups, or for grinding up to make your own breadcrumbs. They're also very allergy friendly: great for those with peanut allergies and easy to make gluten free and vegan.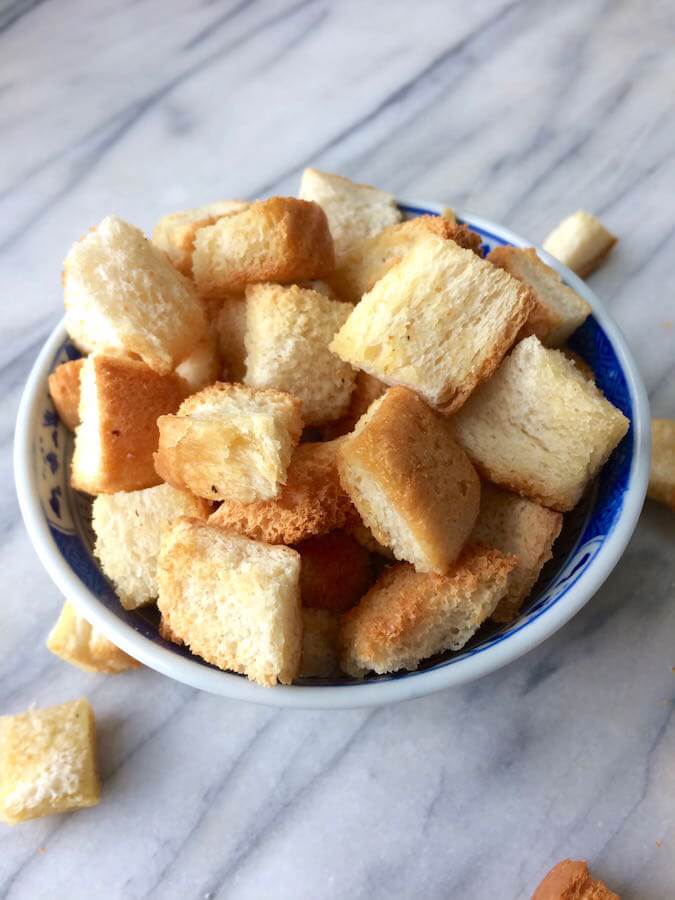 Having a peanut allergy in the house, buying bread products at the store (or especially at bakeries) is an area where we've had to become extra extra careful. And finding safe packaged foods in general is more challenging. So, we do a lot of our own homemade versions of things you might otherwise think of as an "easy thing to pick up at the store." These homemade croutons are one of them. And, they also become our homemade breadcrumbs. And, really, a very similar process is also followed when we make homemade stuffing as well, since pre-made stuffing mixes are often not safe products for us either.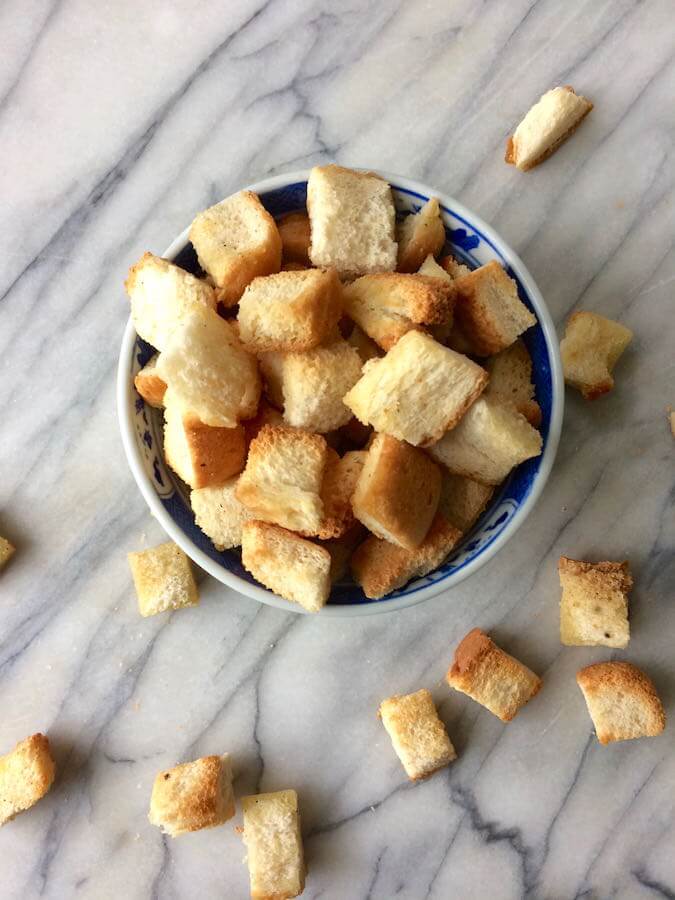 Uses for Homemade Croutons
crunchy, awesome bread bombs for topping salads
for sprinkling over soups (adding them to tomato soup is my favorite)
for grinding up to make homemade breadcrumbs to bread meat (hello, chicken fingers!)
adding breadcrumbs as toppers for saucy casserole sides, like oven-baked macaroni and cheese and my MIL's famous holiday broccoli cheese casserole (will post recipes soon!)
using as a binder for things like meatloaf or my sweet turkey meatballs recipe
using as fun toddler snacks. Seriously! My 1.5 year old loves crunching on a handful of them while she watches me cook!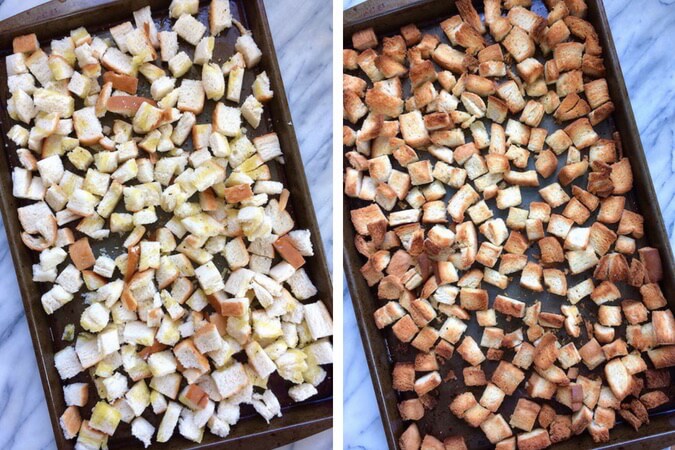 How to Make Croutons
Really, the basics of making homemade croutons is pretty simple. But, the creativity element involved is where you can really make things interesting. For example, you can make them as simply and inexpensively as you'd like, or you can go the opposite route. For the simple/inexpensive route, I tend to check out the day-old, reduced bread section at my grocery store. If I'm able to find a loaf there that's also safe for the allergies in my house, then great. SCORE! For the more involved/more expensive route, you can always start by baking your own bread at home (this gives you a lot more control over the ingredients/allergens involved). Or, you can buy a really fancy loaf of crusty rosemary bread, for example, and make croutons out of that. Any way you go, they're going to be good.
Step 1: Cut your bread into uniformly sized cubes.
Step 2: Spread them evenly in a single layer on a baking sheet.
Step 3: Drizzle them with olive oil and crack sea salt and black pepper on top. Toss quickly with your hands to coat well. This step is also the step where you can STEP IT UP and add other things like minced garlic, chopped herbs, etc. Whatever you want! Or, you can keep it simple (like I usually do) and stick with the basics: olive oil, S&P.
Step 4: Place in a 350℉ (177℃) oven and bake for 10 to 20 minutes, tossing occasionally, until toasty good.
How to Make Homemade Breadcrumbs
To make homemade breadcrumbs, all you need is a food processor. You can actually make soft breadcrumbs by simply putting fresh or slightly stale bread directly into your food processor and — voila! Or, you can make dry breadcrumbs, more similar to store-bought breadcrumbs, or a Panko-style breadcrumb, by placing your pre-made, toasted croutons into your food processor and pulsing until you have an evenly ground mix of crumbs. So easy! And so much safer than worrying about production facility cross contamination issues if you have a food allergy.
Allergy-Friendly Crouton Notes
These homemade croutons / homemade breadcrumbs are very allergy friendly. Making them at home gives you a lot of control over your allergens. For example, these can easily be made gluten free if you start with either store-bought or gluten free bread. For allergens like dairy, peanut, soy, egg and tree nut, you just need to make sure the bread you buy/make is safe on the "may contain" and/or "shared facility" front, and then you're good to go. Though, the more allergens you're managing, the heavier I'd lean toward starting with a homemade loaf of bread. I'll be posting one of my favorite, easy homemade bread recipes soon, so stay tuned!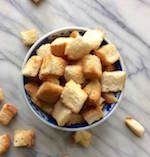 Homemade Croutons & Breadcrumbs
Super easy homemade croutons recipe, which can also be ground into homemade breadcrumbs!
Ingredients
1 loaf bread, cubed
olive oil
sea salt & pepper
Instructions
Preheat oven to 350℉ (177℃).
Cut bread up into medium-sized cubes (they'll reduce slightly in size once toasted, so cut them appropriately, depending on your desired end result)
Place on a rimmed baking sheet or jelly roll pan in a single layer. For a whole loaf of bread, I typically need to use two pans.
Drizzle with olive oil and salt and pepper. Then, toss with your hands to coat well.
Place in the oven and bake for 10 to 20 minutes, checking often and tossing every 5 to 10 minutes or so. Stay close because the entire process will be quick!
Once toasty and browned, remove from oven to cool.
Notes
Storage Tip: Store in zip-top bags or in an air-tight container to use throughout the week.
Nutrition Information
Yield

24
Serving Size

1
Amount Per Serving
Calories

89
Total Fat

2g
Saturated Fat

0g
Trans Fat

0g
Unsaturated Fat

1g
Cholesterol

0mg
Sodium

166mg
Carbohydrates

16g
Fiber

1g
Sugar

2g
Protein

3g
This nutrition label is a product of an online calculator. Even though I try to provide accurate nutritional information to the best of my ability, these figures should still be considered estimates.