This allergy friendly, vegan dessert recipe is a great dairy-free alternative for cheesecake and key lime pie. And the tofu in the vegan cheesecake also makes it a very protein-rich dessert option. Note: It's also baked in a vegan graham cracker crust. And, you really can't go wrong serving any kind of pie with a delicious graham cracker crust!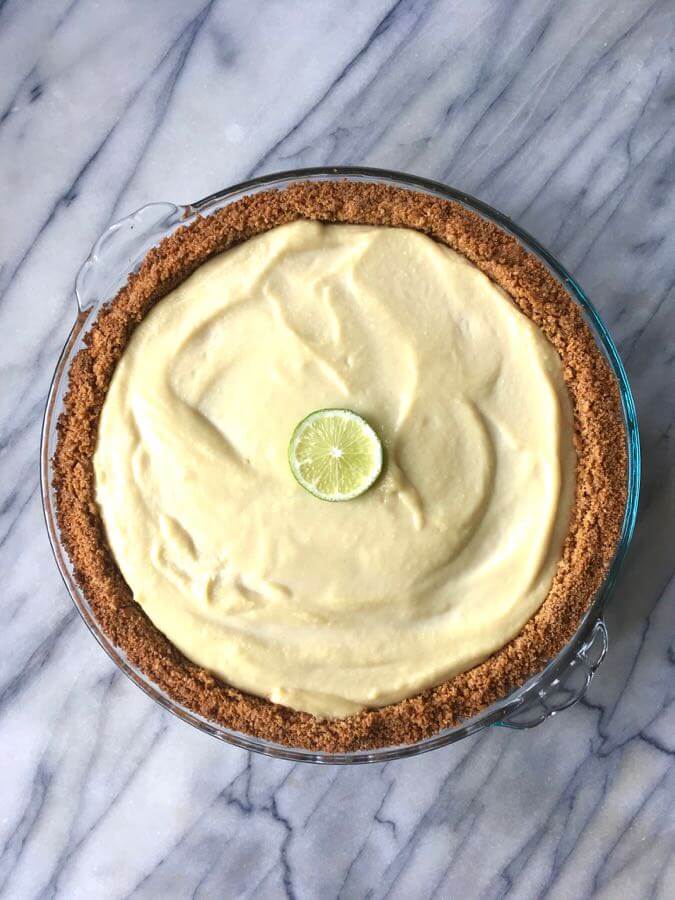 Lime Tofu Vegan Cheesecake Recipe
I'm constantly amazed by how creative substitutions can result in some amazing, vegan, allergy-friendly alternatives for various meals and desserts. And this tofu cheesecake recipe is a great example of just that. Now, compared in a side by side taste test with a standard cheesecake, you'd easily be able to tell which was which, so this isn't a miracle-making exact taste match, but it's a really delicious, very cheesecake-like dessert option for people who are:
vegan
allergic to dairy
experimental substitution lovers
looking for a healthier cheesecake option
lovers of pretty much anything that comes in a graham cracker crust
Another WIN for this vegan cheesecake recipe is that it's extremely high in protein. When I serve slices to my kids, I can feel pretty good about how much protein they're getting from the tofu, to offset the sugar a bit.
Vegan Graham Cracker Crust
A bit about that vegan graham cracker crust . . . I'm a firm believer that almost anything placed inside of a graham cracker crust is not going to be bad idea. And this vegan cheesecake recipe is no exception. While the filling may not be an exact match flavor-wise to a traditional cheesecake and/or key lime pie recipe, the graham cracker crust tastes just as you'd expect, remember and love, so it's nice to have that solid, familiar base to work from. And to make this crust vegan or non-vegan, it's all about the butter or "butter" that you use. I tend to lean on the Earth Balance Buttery Spread
(affiliate link) option, which comes in tubs and sticks. What I like about this brand is that, when I had to avoid soy while nursing my second babe, I could opt for their soy-free blend, making my "butter" dairy AND soy free. When it comes to food allergies and other dietary restrictions or preferences, it's all about options!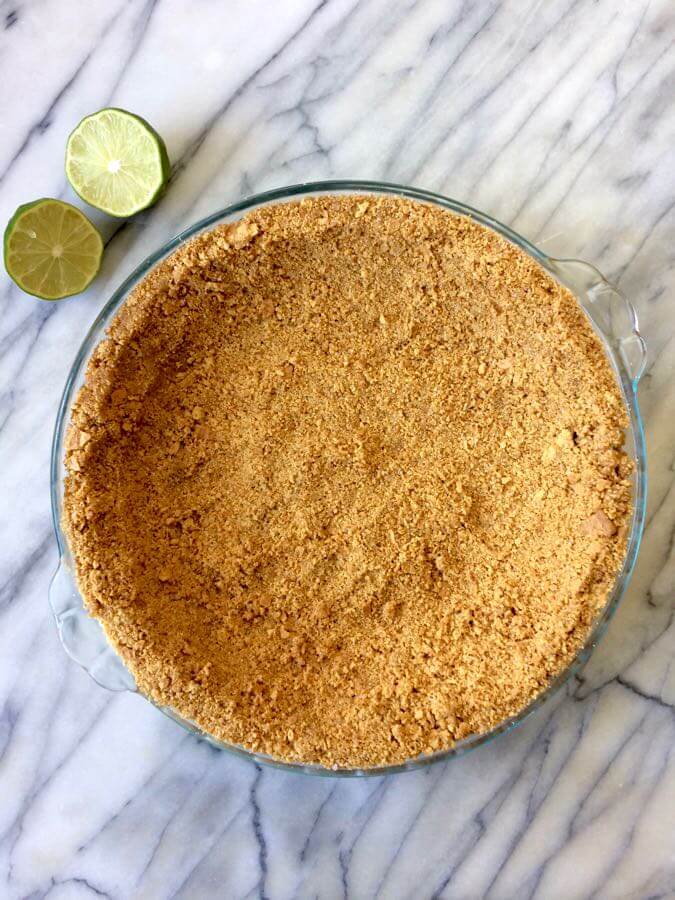 Allergy-Friendly Vegan Cheesecake Notes
This recipe is dairy free, egg free and vegan. As long as you source safe graham crackers, this recipe is also peanut free and tree nut free. For us, we like to use Nabisco Grahams Original Crackers
(affiliate link). But please confirm that the graham cracker brand you buy is safe for you and your family.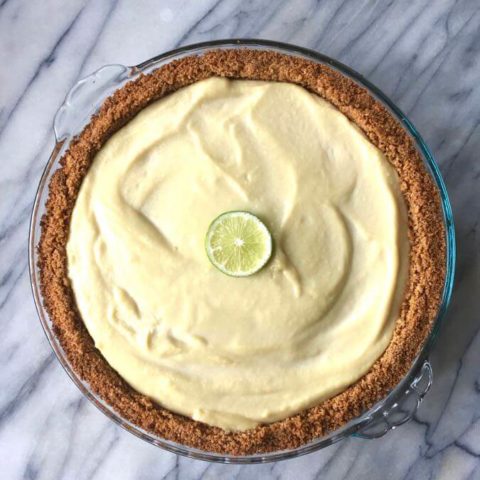 Lime Tofu Vegan Cheesecake
Total Time:
1 hour
40 minutes
Allergy friendly, vegan dessert recipe that's a great dairy-free alternative for cheesecake and key lime pie.
Ingredients
For the Graham Cracker Crust:
2 sleeves graham crackers (18 crackers total)
1/3 cup sugar
1 tablespoons Earth Balance Buttery Spread, melted
1/2 teaspoon ground cinnamon
For the Pie Filling:
2 (12-14 ounce) packages extra firm tofu
1 cup sugar
4 squeezed limes
1/4 cup vegetable oil
1 teaspoon vanilla extract
1/4 teaspoon salt
Instructions
Preheat oven to 350℉ (175℃).
Place graham crackers, sugar, melted "butter," and cinnamon in a food processor or blender and pulse until a nice, crumbly mixture forms.
Pour graham cracker crust mixture into a 9-inch pie pan and press down to evenly form your crust on the bottom and edges of the pie pan. Set aside.
After cleaning your food processor or blender from making your crust, now get it ready to use to make the filling. Add in the tofu, sugar, lime juice, vegetable oil, vanilla extract and salt, and blend until smooth.
Pour your pie filling into your prepared graham cracker crust.
Place in the oven and bake for about 25 to 30 minutes, or until the top is slightly browned.
Remove from the oven and let cool. Then, place in the refrigerator to chill for at least 1 hour before serving.
Notes
Tofu Notes: I say to use 2 (12-14 ounce) packages of tofu for this recipe, since I sometimes see 12-ounce packages, and I sometimes see 14-ounce packages. I've made this recipe using both sizes, and it works fine. If you use 14-ounce packages and end up with extra filling, simply use it as a sweet fondue dip with fresh fruit!
Nutrition Information
Yield

6
Serving Size

1
Amount Per Serving
Calories

322
Total Fat

13g
Saturated Fat

1g
Trans Fat

0g
Unsaturated Fat

11g
Cholesterol

0mg
Sodium

133mg
Carbohydrates

54g
Fiber

2g
Sugar

46g
Protein

2g
This nutrition label is a product of an online calculator. Even though I try to provide accurate nutritional information to the best of my ability, these figures should still be considered estimates.