Introducing an updated collection of healthy nut free snacks to buy that are great for kids with peanut and/or tree nut allergies. Or, as excellent options for all parents to consider when needing to provide healthy, nut-free options for their kids at school.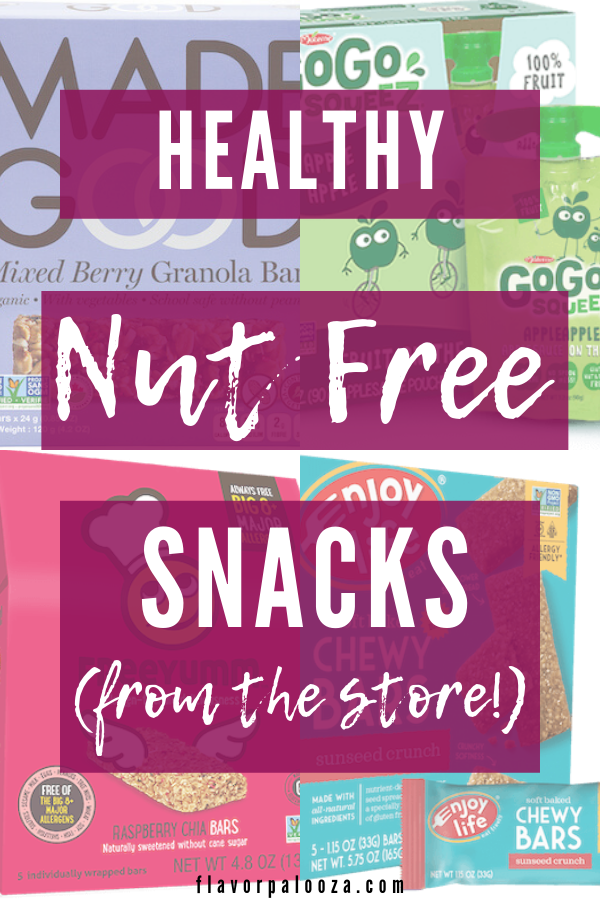 Shopping for healthy nut free snacks can seem like a chore at first.
Reading labels.
Looking at the fine print.
Calling companies to ask about their manufacturing processes.
It's a lot.
Luckily, more and more healthy snack options with obvious "nut free" labeling are appearing in stores.
This is huge.
As an allergy mom, I'm well versed in label reading, but for other parents, who may be shopping for healthy nut free snacks to send with their child to school, these more prominent labels are so helpful.
My son has a peanut allergy and he's currently in a preschool where parents send in snacks for the week on rotation. They're supposed to be nut free, and most parents have done an excellent job of reading labels so far. But, the teachers have separate, safe snacks in a bin for my son at school, so that when a snack shows up that's not obviously safe, they can give him my safe alternatives.
My two favorite go-tos to send in with him are the Made Good granola bars and granola bites, and the GoGo squeeZ pouches (both listed below). But, there's definitely a growing list of awesome options becoming available. I've listed several below, but please let me know if you know of any others I should include! Also, if you're looking specifically for a protein boost, check out my online shopping guide for nut free protein bars.
Note: Please use these lists as a guide, and do your own research to make sure the products listed are 100% safe for your family and your situation. Where available, I included links to brand allergen information pages, for your easy, up-to-date reference. Check and recheck and recheck, as manufacturing processes change constantly. Also, although peanuts are technically a legume and not a nut, I often use the term "nut free" to mean both peanut free and tree nut free.
Please note that some of the links in this post are affiliate links and I will earn a commission if you purchase through these links (at no additional cost to you). Thank you for your support!
What is a Healthy Nut Free Snack?
For the purposes of this list, I used the following criteria to determine the "healthfulness" and "nut free-ness" of the snacks chosen:
No artificial colors, flavors or sweeteners
Real food ingredients
Made in a dedicated, nut-free facility that poses zero risk of cross-contamination with nuts in the manufacturing process
Healthy Nut Free Snacks List
Last updated: August 2019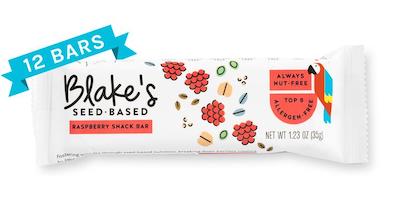 Seed-based snack bars and protein bars that say "always nut free" and "top 8 allergen free" prominently on the front of the packaging. THANK YOU. The snack bar flavors include raspberry, pineapple, and chocolate chip. The protein bar flavors include chocolate-mint and mango-lemon. They also have a cool "Bar for a Box" program, where they donate one bar to a school in need, for every box sold. (FAQ)
>> Buy a variety pack of Blake's Seed-Based bars on Amazon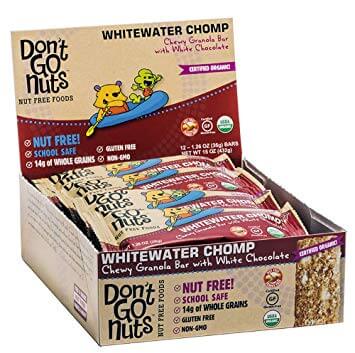 Their energy bars are organic, non GMO, gluten free, nut free, and peanut free, and are made in a nut-free facility. They are also free of egg, sesame and coconut. Choose from three different flavors: Gorilla Power, Whitewater Chomp, and Blueberry Blast. (FAQ)
>> Buy a box of Don't Go Nuts bars on Amazon
All of Enjoy Life's products are free of the 14 most common allergens, including wheat, peanuts, tree nuts, dairy, soy, egg, sesame, casein, sulfites, lupin, mustard, fish, shellfish & crustaceans. And they're made in a dedicated nut free and certified gluten free facility. For healthy nut free snack options, choose from a variety of snack bars (Chewy Bars) and Grain & Seed bars. They also have a Fruit & Seed mix and a variety of Lentil Chips. (FAQ)
>> Buy Enjoy Life Chewy Bars on Amazon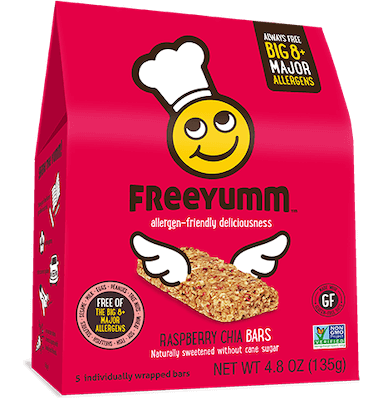 FreeYumm built their own facility to ensure their products are all 100% free of the Top 8 allergens, plus sulfites and sesame. Awesome. Their healthy nut free snack options include a variety of oat bars and chia bars. (They also have a lot of tasty, allergy-friendly treats, too!). (FAQ)
>> Buy FreeYumm bars on Amazon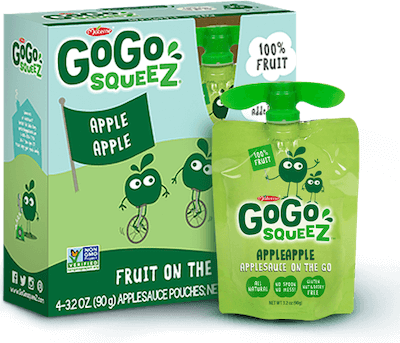 My kids love these! And they're free of the Top 8 allergens and produced in a facility that's free of the Top 8 allergens, which makes them the perfect pouch for kids with most food allergies, or to send your kids to school with. Choose from a variety of applesauce flavors, yogurt squeezes, and fruit-and-vegetable pouches. (FAQ)
>> Buy GoGo squeeZ on Amazon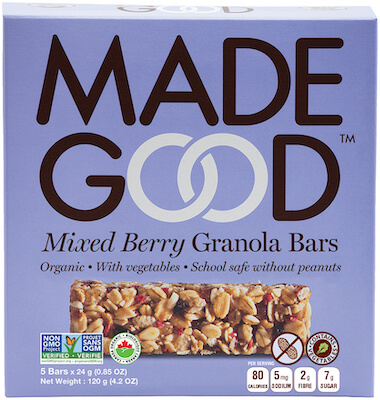 These are our go-to snack bar. My kids love all of their granola bar and granola minis flavors, which include Mixed Berry, Apple Cinnamon, Chocolate Chip, Strawberry and more. They also include vegetable extracts from spinach, broccoli, carrots, tomatoes, beets, and shiitake mushrooms, which are hidden in the dominant flavors of the bars. They are clearly labeled as "school safe" and 100% nut free. "We manufacture in our nut-free facility and our products are free from most common allergens, are organic, and contain nutrients equivalent to a serving of vegetables." (Allergens)
>> Buy Made Good bars now on Amazon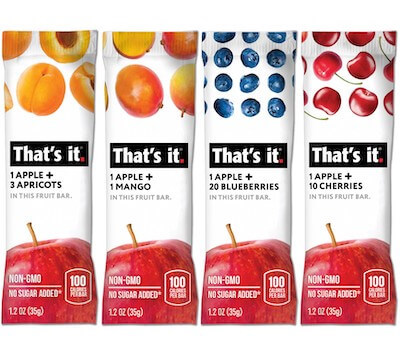 That's It. has fruit bars, mini fruit bars, probiotic bars, and truffles. All of their snacks are made in their own facility, which is free from peanuts, tree nuts (except for coconut), dairy products, eggs, soy, wheat, crustaceans, and fish. (FAQ)
>> Buy a variety pack bars on Amazon to try them out!
>> Sign up for Thrive Market and save on That's It. bars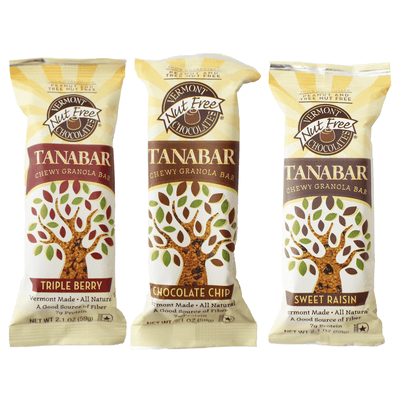 Did you know Vermont Nut Free Chocolates has granola bars? I practically lived on these when I was pregnant with my second baby. They're seriously good. And they're 100% nut free — made in a dedicated, nut free facility. Flavors include Triple Berry, Sweet Raison, and (of course) Chocolate Chip. (Allergen Statement)
>> Buy Vermont Nut Free bars now on Amazon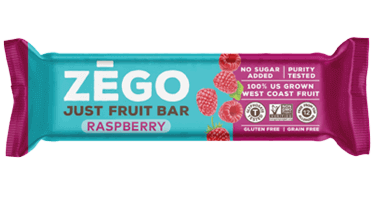 Zego's products are made in a facility that's free of peanuts, tree nuts, soy, dairy, egg, wheat, fish/shellfish, lupin, sesame, mustard, and sulfites. Corn is present in their facility, but not used in the same room or equipment. Their packaging is also free of corn by-products and corn dusting powder. Basically, their products are VERY allergy friendly! For healthy nut free snack options, choose from their seed+fruit bars, fruit-only bars, and fruit+chia bars. (Allergen Statement)
>> Buy Zego bars now on Amazon
More Yummy Nut Free Snacks
These don't quite fit the "healthy" bill, but they're kid favorites, they're nut free, and everyone can indulge in some less-than-healthy snacks every once in a while (read: daily), right?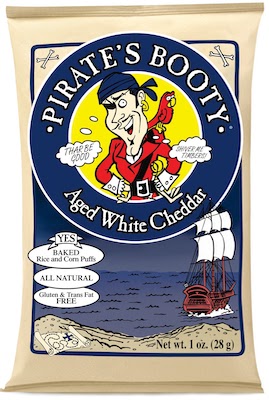 Yep, Pirate's Booty is 100% nut free (made in a peanut and tree nut free facility), including their Smart Puffs and Original Ting's. They do include a reminder on their FAQ page that you should *always* check their labels, since manufacturing practices can change. This is a good rule of thumb in general, and a great reminder to always be checking. (FAQ)
>> Buy Pirate's Booty now on Amazon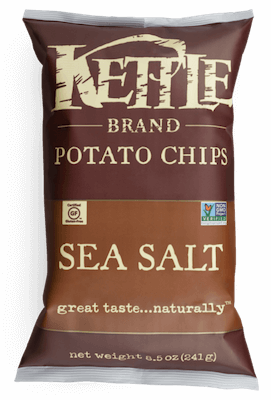 Kettle Brand potato chips were one of my favorite brands before I had to worry about finding nut free snacks. And when I discovered that they really stand behind the fact that they're nut free, I was thrilled! They're processed in a facility that's nut free (their nut products are produced in a separate facility). Cool. Because I heart Kettle Brand chips! And they have so many awesome flavors. (FAQ)
>> Buy Kettle Brand chips now on Amazon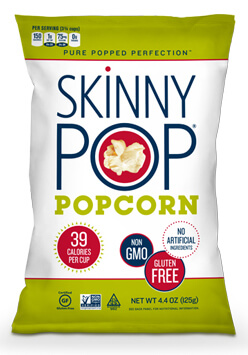 This popular pre-made bag of yummy popcorn is nut free! And made in a nut free facility. Again, I love supporting products that really stand behind being "nut free" by prominently labeling their packages and including detailed information on their website. (FAQ)
>> Buy SkinnyPop Popcorn now on Amazon
Any favorites of yours that I missed? Please let me know if you've found a 100% nut-free snack that you recommend that's made in a dedicated, nut-free facility and I'll add it to the list!
***
If you're a parent of a child with any type of food allergy, or if you're simply an allergy-aware parent looking for safe, non-food holiday and birthday treats to bring to school, then Oriental Trading Company is your friend. They have all sorts of fun party favors, and holiday-themed toys and gifts.
***
Does your child have a peanut allergy? I love recommending the book Peter Can't Eat Peanuts
to parents. It's an approachable story that has really resonated with and empowered my son. Available on Amazon!
Another favorite is Daniel Has an Allergy, featuring the beloved Daniel Tiger. Also available on Amazon.
More Nut Free Lists: