This simple recipe for ham and cheese quiche is a weekly staple in our house! Follow the basic recipe template and make your own creative combinations using different meats and veggies. It's a great option for dinner or brunch. Plus, it's healthy(ish) and kid friendly!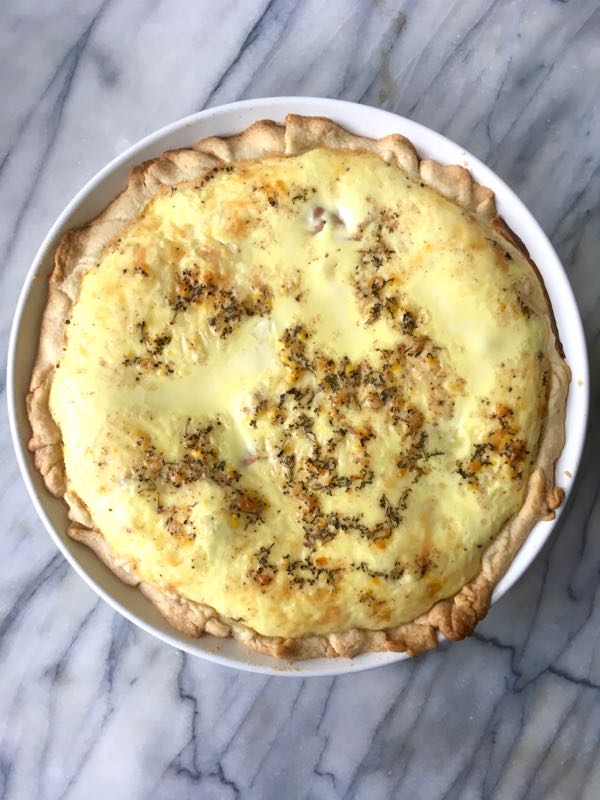 Quiche is a staple dinner at our house. I know it might not seem like a typical toddler food, but my kids love it! When my son was younger, I was able to sneak more veggies into the quiche, which made it a huge winner for me, too. Now, it's harder to get him to eat a spinach quiche (our former favorite), so I've tailored the recipe a bit to his current palette, simplifying the ingredients and making more of a Quiche Lorraine.
Introducing: My family's favorite, quick and easy, toddler-friendly ham and cheese quiche recipe!
But, of course, some other cool quiche combos include:
asparagus and leek quiche
sausage and cheese quiche
zucchini and tomato quiche
spinach and mushroom quiche
crumbled bacon, egg and cheese quiche
You get the idea. Basically, 1) Think Breakfast; 2) Think Tasty Veggie and/or Veggie and Meat Combos; 3) Whisk, Fill, Bake!
Another thing I love about making quiche is it's deceiving simplicity. You'll get high marks for making a fancy meal ( perfect for breakfast, lunch or dinner!), yet it's really quite simple to make.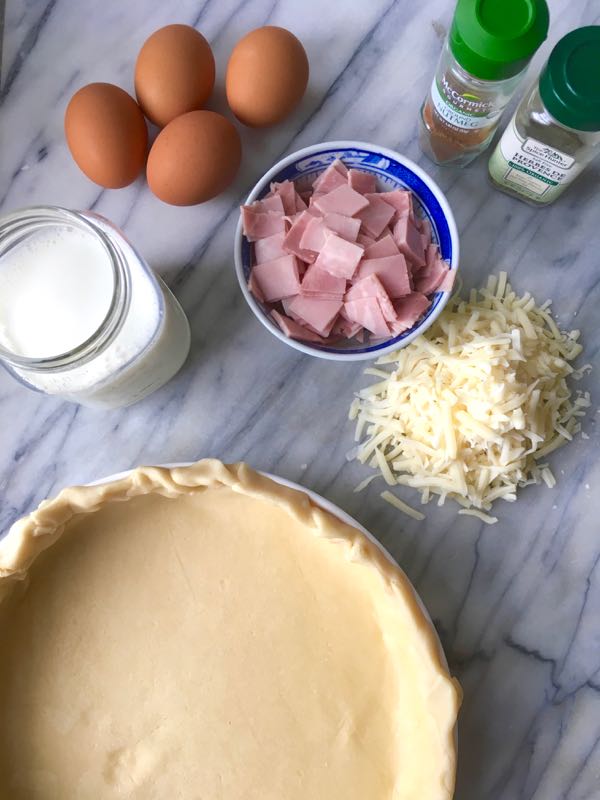 Healthy Quiche Recipe?
When you think "health food," quiche is not the first thing that comes to mind. But, depending on your toppings, it can actually present a pretty nice balance of fat, protein, carbs and vegetables. If you leave out the meat, it's also very vegetarian-friendly, which is a nice bonus. And, we make our quiche with whole milk instead of half-and-half, so we've cut a bit of the fat and calories out.
Special Dietary Notes
This recipe is considered safe for my son with peanut allergies. For the pre-made pie crust, we sourced one we feel safe and comfortable with locally. Shoot me an email and I'd be happy to share the store/brand with you, and then you can determine your comfort level with your own situation. Alternatively, you could make your own crust at home. When in doubt, make it yourself! Also, remember to source safe spices.
Quiche Pairing: I like to pair the quiche with a big salad of mixed greens, cucumbers, mushrooms, carrots, beets and whatever else I may have on hand.
Ham & Cheese Quiche
A quick, easy and healthy ham and cheese quiche recipe the whole family will enjoy! Perfect for dinner or brunch.
Ingredients
1 pre-made pie crust, rolled
1 ham steak, diced
4 oz Swiss cheese, shredded
4 oz Gruyère cheese, shredded
4 eggs
1 2/3 cups whole milk
Salt, pepper, nutmeg, dash of each
Herbes de Provence, dash sprinkled over the top
Instructions
Pre-heat oven to 375°F
Roll out pre-made pie crust, place in a pie, cake, springform, fluted, non-fluted pan of some sort. Crimp the edges.
Place the diced ham and shredded cheeses at the bottom of the pan (Hint: Trader Joe's sells a Swiss and Gruyère cheese blend that I buy and use for this recipe quite often.)
In a bowl, whisk the eggs, then add the milk and whisk again. Add in your salt, pepper and nutmeg and give it a final whisk. Pour the mixture into your pie pan. Use a fork to spread and submerge and toppings that might need leveling.
Sprinkle a dash of Herbes de Provence over the top and then place in the oven for approximately 40 to 45 minutes.
When a knife inserted in the center comes out clean, it's done!
Notes
If I don't have Swiss or Gruyère on hand, I've made this recipe with shredded mozzarella as well and it's still a winner.
Nutrition Information
Yield

6
Serving Size

1
Amount Per Serving
Calories

377
Total Fat

25g
Saturated Fat

12g
Trans Fat

0g
Unsaturated Fat

11g
Cholesterol

169mg
Sodium

491mg
Carbohydrates

20g
Fiber

1g
Sugar

5g
Protein

18g
This nutrition label is a product of an online calculator. Even though I try to provide accurate nutritional information to the best of my ability, these figures should still be considered estimates.