These easy oven fries are a healthier (and tasty!) alternative to fried potatoes. They're also a lot easier to make. And, they're crispy, kid-friendly and oh so good. They're naturally allergy friendly (peanut free, tree nut free, egg free, soy free, gluten free) and can easily be dairy free, Top 8 allergen free, and vegan if you leave out the Parmesan.
I am a fried potato lover. And this healthier, oven-baked French fries recipe does not disappoint! I've tried A LOT of different oven fries methods and this is by far the best (to me). And the secret is all about how to make them crispy. So…
How to Make Crispy Oven Fries
Soaking them in cold water (add ice!) for at least 30 minutes prior to baking them is key!
Drain.
DRY. DRY. DRY. Get some kitchen towels or paper towels into the mix and really toss those puppies around to get them as dry as possible.
Toss with olive oil (and garlic).
Place them in ONE LAYER on a parchment-lined baking sheet.
Season them with Parmesan cheese, and salt and pepper.
Bake at a HIGH temp, like 425℉ high.
Flip halfway through baking to make sure they're browned on both sides.
Eat them all! Trust me, they're just not as good as leftovers.

The Science Behind Soaking Fries Before Baking
I'm no food scientist, so this is a trick I learned from reading various food blogs and recipe websites. Apparently, soaking them helps to remove some of the starchiness from the potato after you cut it, which helps them to brown in the oven. I've tried it and it works, so there you have it! 🙂 Now, the recommendations for proper "soak time" vary quite a bit. I've seen some recommendations listed for as long as 24 hours (!). But, I never seem to have that kind of time. So, my recommendation of 30 minutes is where I landed in the realm of great results + a reasonable amount of prep/cook time.
Meal Prep Tip: Soaking them is also a great way to prevent sliced, uncooked potatoes from turning brown in the air if you're not able to cook them immediately after cutting them!
Allergy Friendly Oven Fries Notes
Fries have proven to be yet another difficult item to source from the grocery store. Although there could be safe fries available in the freezer section of my local grocery store — if I called some of the companies/brands to confirm — I get easily overwhelmed at the store and prefer to buy items that are labeled clearly right on the package, so I don't have to put in the extra research work. And, ultimately, I tend to just rely on making my own, since it gives me the peace of mind that I'm looking for when feeding my kids. This recipe can easily be Top 8 free. If you leave out the Parmesan cheese, it becomes dairy free and vegan as well. As is, Parmesan included, it's peanut free, tree nut free, soy free, egg free, and gluten free.
DID YOU MAKE THIS RECIPE?
Add a rating below, share it on Instagram, or save it to Pinterest with the tag #flavorpalooza, and spread the #peanutfree and #allergyfriendly food love! You can also find us on Facebook, too.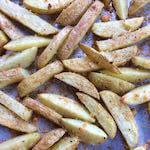 Easy Oven Fries with Garlic and Parmesan
Total Time:
1 hour
15 minutes
These easy oven fries are a healthier (and tasty!) alternative to fried potatoes. They're also a lot easier to make!
Ingredients
6-8 small white potatoes, peeled or unpeeled
3 tablespoons olive oil
4 cloves garlic, minced
2 tablespoons Parmesan cheese
salt and pepper, to taste
Instructions
Depending on your preference, either peel your potatoes first, or simply slice them into 1/4-inch fry strips with the peels on. Your choice.
Place all of your fries into a big bowl of cold water. Add ice. Let them soak for at least 30 minutes (or longer, if you have the time).
Toward the end of the "soak time," bring your oven up to temp (to 425℉).
Drain. Return the fries to your bowl and toss them around and pat them dry. Try to get them as dry as possible.
Then, drizzle them with olive oil, add in the minced garlic, and toss the fries around to coat them well.
Place your fries in a single layer on a parchment-lined baking sheet. Crack salt and pepper over the top to taste.
Place the fries in the oven and baked until golden brown. Flip the fries about halfway through to make sure they're browned on both sides.
Notes
You can also use russet potatoes or Yukon gold potatoes for this recipe. I tend to use whatever I have on hand, and they always turn out tasty.
For the potato amount listed, that can vary quite a bit depending on the size of the potatoes. We're looking to eyeball the amount so that you get approximately the right amount of fries to fit in one layer on a single baking sheet. If you end up with extra, you can bake two trays of fries. In this case, when I flip the fries halfway through baking, I also swap the trays from top and bottom, to bottom and top.
For the olive oil amount, you just want them to be coated well, so eyeball it, toss your potatoes and add more if necessary.
For the toppings, I chose minced garlic and Parmesan cheese for this recipe, but you can skip one or both, or experiment with other toppings. One of my other favorites is Old Bay seasoning.
Nutrition Information
Yield

4
Serving Size

1
Amount Per Serving
Calories

363
Total Fat

11g
Saturated Fat

2g
Trans Fat

0g
Unsaturated Fat

9g
Cholesterol

2mg
Sodium

153mg
Carbohydrates

60g
Fiber

6g
Sugar

3g
Protein

8g
This nutrition label is a product of an online calculator. Even though I try to provide accurate nutritional information to the best of my ability, these figures should still be considered estimates.
This post may contain affiliate links, which earns us a commission if you click through and make a purchase (at no additional cost to you!). Please note that we only share products that we use and recommend.